In case you hadn't noticed, we love food around here. We talk a great deal about design and DIY, but it always comes around to food… more commonly, treats. It always comes back to treats. This week wraps up our second year blogging. It's hard to believe that we have presented the Treat of the Week every week for 2 years.
This week we tried to tie together a few of the things we have been celebrating this month; oats, cherries, and chocolate. This chewy chocolate cherry oat bar is hearty and surprisingly easy to make. The base is a chewy bar that could be adapted for other ingredients.
We love this bar for our kids. It is incredibly close to some of the same bars we can purchase in the supermarket, but we have total control of the ingredients. I'll admit the dark chocolate is really meant for me, but it tastes so good with the cherries that I couldn't use any other kind. Lastly, we tossed in some pistachios for the unique taste and saltiness. This bar has it all… salty, sweet, chewy, and chocolatey.
savour… total package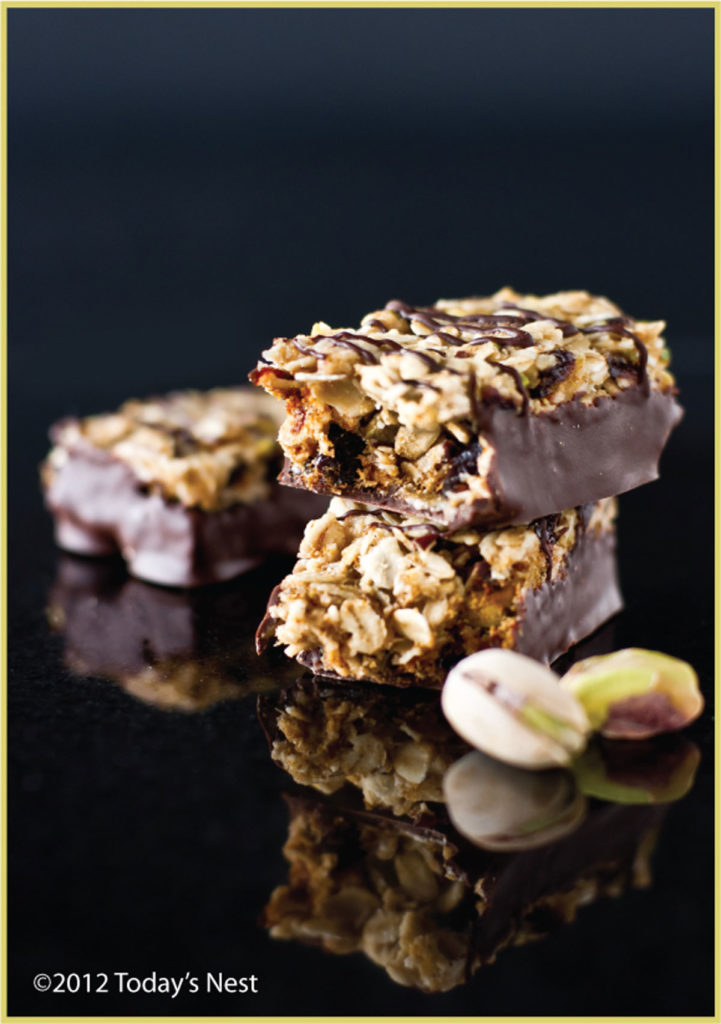 CHEWY CHOCOLATE CHERRY OAT BAR
Before you start:
Wrap these bars tightly in plastic wrap individually for lunch bags.
Tossing the chopped cherries in the flour before adding the remaining ingredients reduces the stickiness of them and keeps them separated which allows for more even distribution.
As the chocolate is a main focus in this treat, tempering is very important.
The ingredients:
2 ¼ cups rolled oats
½ cup all purpose flour
½ teaspoon baking soda
¾ teaspoon vanilla
5 tablespoons unsalted butter, softened
¼ cup honey
¼ cup packed light brown sugar
1 cup chopped dried cherries
½ cup chopped pistachios
10 oz bittersweet chocolate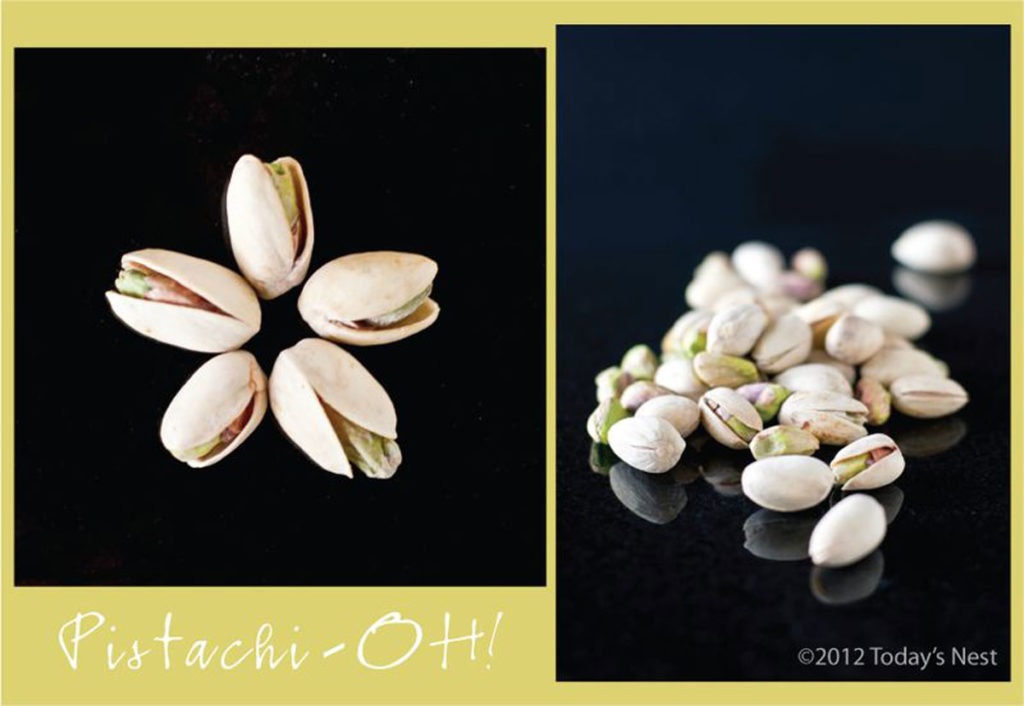 The method:
Preheat oven to 325˚F.  Line an 8×8 brownie pan with aluminum foil.  Spray lightly with cooking oil spray.
Toss cherries and flour in a large mixing bowl to coat.
Add remaining ingredients except for chocolate.
Mix completely by hand or with a spoon to evenly distribute ingredients.
Press mixture into pan and level out the top.
Bake for 20-22 minutes or until lightly browned on top.
Remove from oven and cool for 2 minutes in pan. Use aluminum foil to lift out and finish cooling on a wire rack.
When completely cool, use a very sharp knife to cut away the edges.  Cut the remaining square into 6 long strips and then each strip in half.
Temper the chocolate by melting 8 ounces in a heatproof bowl over a simmering pot of water until it reaches 110˚F.
Remove from the heat and pour it into a different bowl. Cool slightly.  Add the remaining chocolate and stir occasionally to melt.
When melted pour into a shallow bowl and dip each of the cooled bars in the chocolate.
Push some chocolate up the sides of the bars and then lift out with a fork under each end.
Allow excess chocolate to fall away and then place it on a parchment-lined sheet to set and cool.
Store in an airtight container. Makes 12 bars.