Sometimes when I set out to make the treat of the week, I am surprised that I haven't presented it here already. That is the case with today's treat. I have been moving this post along in the calendar for months now, and today is finally its day to shine.
Baklava is one of those desserts you've seen, maybe eaten, and possibly thought that is much too complicated for me to make. I am here to assure you that it is far easier than you may think. Some people say it's time-consuming, but even that is relative. Apart from the resting times, there is only a small time commitment.
The reward… super flaky pastry that is sweet and sticky and textured with loads of nutty flavor. In addition to the combination of nuts we used in the baklava, we topped it off with a bit Nutella glaze to drive our point home. It is perfect with a cup of coffee or a glass of wine.
savour… being nutty
BAKLAVA WITH NUTELLA GLAZE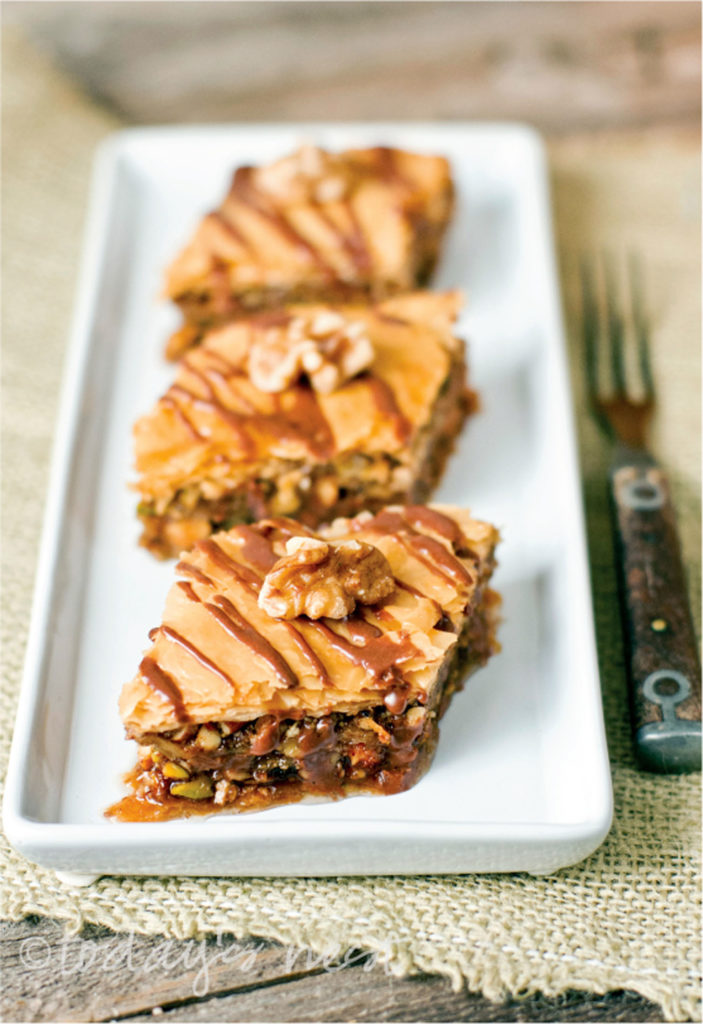 Speaking of nutty…
I do things in threes. In fact, my favorite number is nine (and not just because it is 3×3). You may have noticed that all of our Lola Finds articles have nine items. If I go too far into the explanation it will only confirm my insanity so I think I'll rest with that.
To wit, the layers in my baklava are multiples of three. Other recipes will suggest varying numbers of sheets per layer. There is no hard and fast rule. Stick to what you like. The only critical part to me is that the layers on the bottom and top are substantial enough to provide a bit of structure for the whole thing.
Before you start:
Phyllo dough dries out quickly. Keep your stack of sheets covered with a lightly damp towel if not using for more than a couple of minutes. For example, I cover mine each time I add a nut layer.
Phyllo dough is also quite delicate. You are likely to have some torn sheets or tear them in the process of buttering. Do not fear. You won't notice any issues with the finished product.
Be generous with the butter.
Cutting the dessert half way through baking and then again when complete will make your life so much happier and improve the outcome.
Be sure to get the syrup all over evenly and also distributed in the cracks to settle and be absorbed into the dessert.
The ingredients:
For the baklava:
1 pound phyllo dough
18 ounces assorted nuts
2/3 cup sugar
2 teaspoons cinnamon
1/2 teaspoon ground allspice
2 sticks butter, clarified and melted
For the syrup:
1 1/4 cup honey
1 1/4 cup sugar
1 1/4 cup water
1 cinnamon stick
Peel of one orange
2 teaspoons rose water (optional)
For the glaze:
½ cup Nutella
1 cup confectioners' sugar
4 tablespoons milk
The method:
For the baklava:
Preheat oven to 350°F.
Place nuts, spice, and sugar in a food processor. Grind until nuts are the size of small gravel. Set aside.
Clarify butter over medium heat. 
Using a pastry brush, butter the sides and bottom of the baking pan.
Lay one sheet of phyllo in the bottom of the dish and brush it with butter. Add another layer of phyllo and butter. Continue until you have 9 layers on the bottom.
Spread a third of the nut mixture evenly over the buttered phyllo.
Begin adding more phyllo / brushed butter layers until you have six.
Add another layer of nut mixture.
Add another 6 layers of phyllo and brushed butter.
Add another layer of nut mixture.
Add the final layers of butter brushed phyllo, but increase to nine layers as you did at the bottom.
Bake for 25 minutes. Remove from the oven. Cut into squares or diamonds.
Return to oven for another 25 minutes. Remove from oven and cool on a wire rack for 2-3 hours.
After cooling, cut again on over already formed cuts. Begin the syrup.
For the syrup:
Place all ingredients except rose water in a medium saucepan. Bring to boil over medium heat. Turn heat to medium high and boil for another 10 minutes, stirring occasionally.
Remove from heat and stir in rose water.
Immediately pour syrup evenly over cooled baklava. Let it rest for at least 8 hours at room temperature to cool and set.
Serve with a drizzle of Nutella Glaze.
For the Nutella Glaze:
Place all ingredients in a mixing bowl and mix together well on low speed for 30 seconds.
Beat on medium-high speed until smooth and creamy (about 3 minutes).
Drizzle glaze over pieces of baklava. Allow them to set.