Gin. The ultimate summer spirit. While some associate Gin with little old ladies and/or the country club crowd, it is in fact one of the most versatile and misunderstood spirits on the shelf. From the distinct class of a well-crafted martini to the refreshing barroom favorite of a gin and tonic. Gin has fortified the minds of some of the 20th century's greatest thinkers (and drinkers). From Churchill to Fitzgerald, London to New Orleans, gin has been there refreshing, enlightening, and evolving to become the ultimate summer spirit.
Seemingly pushed aside over the past few decades for its younger Russian cousin Vodka, Gin has been waiting for her moment to shine. She doesn't need artificial flavors (they're already part of her soul). She doesn't need fancy bottles or packaging; she's a sophisticated lady who can discuss literature and politics, but also knows how to strip down and jump in the fountain (ask Fitzgerald).
savour…good spirits
THE STORY OF GIN
At its core gin is a light grain spirit flavored by juniper berries and other botanicals. Every brand has its own special recipe ranging from 15 to 4 botanicals including anise, coriander, citrus peel, orris root, and many more. Hendrick's, for example, is known for its unique flavor utilizing rose petals and cucumber. But if it doesn't have juniper in it, it's not gin.
Genever:
Originally cooked up in Holland in the mid-1500s as a botanical cure for tropical diseases, Gin has come quite a long way. The original spirit called Genever is a distinctly different drink than what we now consider gin. Distilled from malted barley and other grains and sometimes aged in wood, its golden hue, and relatively sweet taste more closely resemble a whiskey. While mostly forgotten in the States after prohibition, Genever is beginning to make a comeback thanks to the current prohibition-style drink boom.
London Dry Gin:
The dominant style of gin in the United States, England, and former British Colonies. London Dry Gin is light and aromatic usually with a higher proof and use of citrus peel in its botanicals. Brands include Hendricks, Tanqueray, Bombay Sapphire, and Bookers. Perfect for well-balanced cocktails and summer sipping.
Plymouth Gin:
Another English Gin. Relatively full-bodied when compared with London Dry styles, Plymouth Gin is fruity and highly aromatic. This is the style preferred by Winston Churchill, especially in the form of a martini. Churchill, was said to simply bow in the direction of France when French vermouth supplies ran low during WW2.
Gin made its mark in the States in the 1920s with the advent of Prohibition. When whiskey became hard to come by, because of the need to age the spirit, gin was there to keep the party alive. Bootleg Gin gave the roar to the roaring twenties as it was cheap and easy to make, usually mixing grain alcohol with juniper extract and other flavorings in a large bathtub, hence the term bathtub gin. It was during this time that the great literary minds of the 20th century took hold of the spirit, and the spirit took hold of them. Most notably F Scott Fitzgerald and his wife Zola as well as Ernest Hemingway. Even Dr. Seuss himself, Theodor Seuss Geisel, was said to have adopted the Seuss pseudonym after be being barred from writing for the Dartmouth humor magazine after throwing a gin party while in school.
After Prohibition was repealed in 1933, the bathtub gin disappeared, but the spirit remained. Gin continued to be the dominant white spirit in the States until the rise of Vodka in the mid-1960s. Still, even then gin was the preferred spirit the cool and classy crowd, notably Dean Martin.
Gin today continues to evolve and has recently begun to make a comeback as Americans search for a more sophisticated and interesting cocktail. So this summer whether on the patio or in a swanky bar, give gin another try. You just might find the perfect summer cocktail you've been looking for.
CLASSIC GIN DRINKS
The Martini:
The real martini has nothing to do with vodka, but it does have vermouth. Most People say they hate vermouth in their martini, that's because they've never had fresh vermouth. Vermouth is a fortified wine. It spoils, giving that off flavor some many people associate with it. Crack a fresh bottle and try your first real martini. This is how Deano drank them…
In a shaker combine:
3 oz. of your favorite Gin ( I prefer Hendricks or Tanqueray 10)
1 tablespoon dry white vermouth (or to taste)
Ice to fill
Shake and strain and into a Martini glass, Garnish with an olive.
Or try it with Plymouth Gin for the Churchill version.
Papa's G&T
There is nothing better on a hot summer evening than the classic Gin and Tonic. This magical combination was stumbled upon in the British colonies as an anti-malarial compound. Gin was used to mask the bitter taste of quinine, the only available anti-malarial compound. Quinine was dissolved in water to form a tonic. The rest is history. This is the way Hemingway liked to drink them…
In a rocks glass:
Fill with ice
2 oz of your favorite gin
Tonic water to fill
3-4 dashes of aromatic bitters
garnish with a lime wedge (after giving it a healthy squeeze into the drink)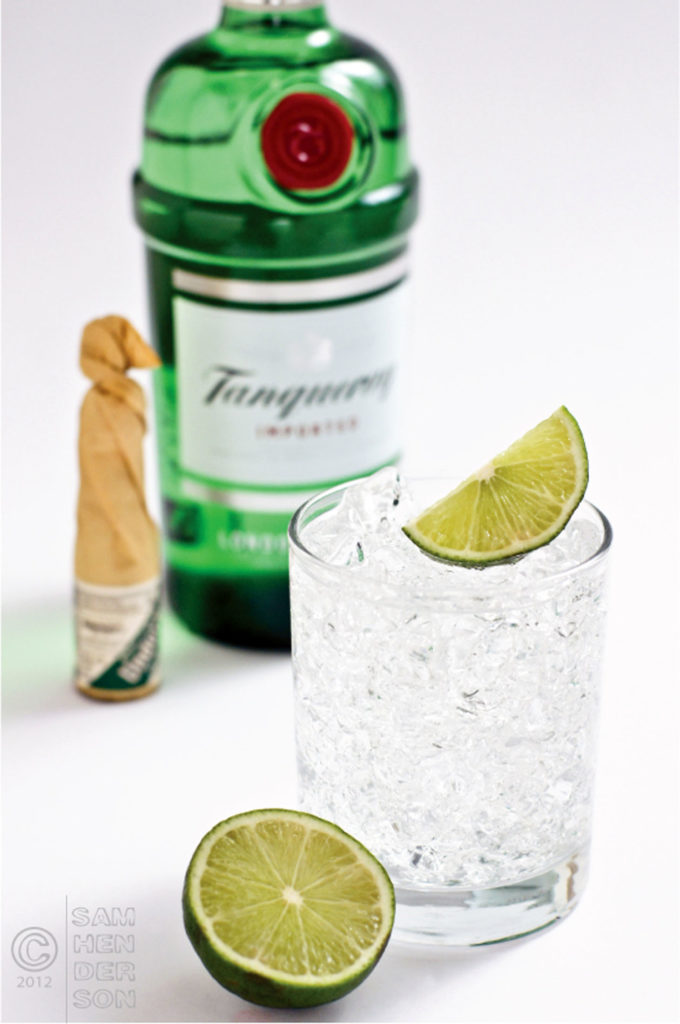 Tom Collins
Think of it as sparkling adult lemonade. This lively drink was made for summer sipping, preferably on a patio with friends.
In a tall Collins Glass:
Fill with ice
2 oz of your favorite Gin (you have one by now don't you)
1 oz of fresh squeezed lemon juice
1 tablespoon of sugar
stir together vigorously
top with club soda
garnish with lemon slices and a maraschino cherry
drink while lively! (fizzy)
The Negroni
Originally mixed in Italy, this bitter but refreshing cocktail is perfect for sipping in the late evening as an aperitif.
In a rock glass:
Fill with crushed ice
1.5 Oz London Dry Gin
.75 oz Rosso Vermouth
.75 oz Campari
stir and garnish with an orange peel