O Holy Smokes! We have reached the end of Cookie Week 2012… and we are going out with a *bang*. We saved the best for last with this flavor explosion… Maple Bacon Oatmeal. This may just be my Cookie of the Year. It is that good.
This cookie is quite plain to look at, but don't be fooled. Beneath the surface lies a maple-y, bacon-y goodness that your cookie box recipients will not soon forget. It is a bit crispy around the edge and still soft and chewy in the center. The bacon adds just the right amount of saltiness to the cookie and the flavor says 'home'.
savour...unexpected ingredients
MAPLE BACON OATMEAL COOKIE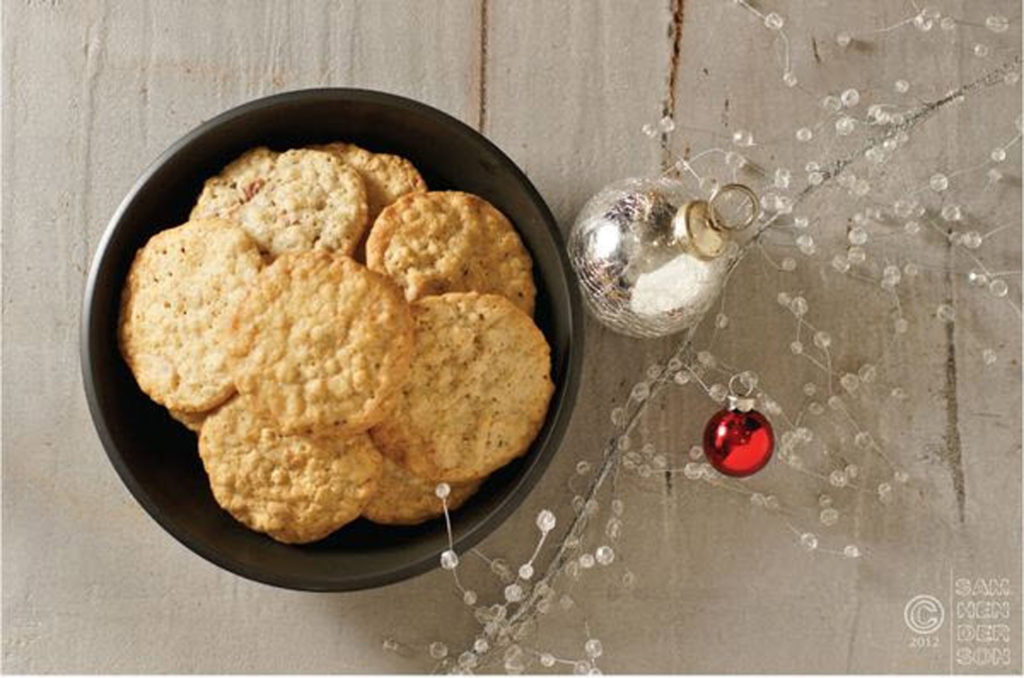 Before you start:
These cookies spread.
Be sure to leave plenty of space.
We placed two rows of four on our standard baking sheets.
Use REAL maple syrup.
The taste of it and the other brown, sugary liquid stuff do not compare.
You can bake two sheets at once. At the halfway point, just be sure to rotate tray from top to bottom and from front to back.
The cookies must cool on the paper because they are still quite soft in the middle when hot. After the sugar cools and does its magic you will find them simple to peel from the paper.
The ingredients:
1 ½ cups flour
½ teaspoon salt
½ teaspoon baking powder
11 tablespoons unsalted butter, softened
1/3 cup bacon drippings
1 cup sugar
¾ cup light brown sugar, packed
2 eggs
½ cup maple syrup
3 cups old fashioned rolled oats
8 strips bacon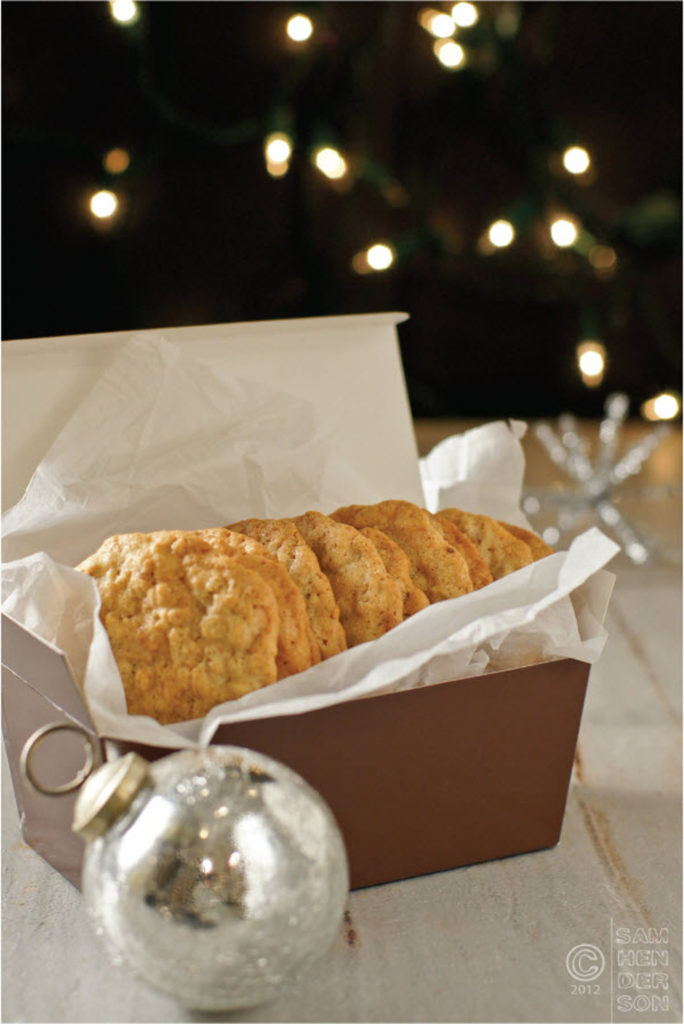 The method:
Cut bacon in half lengthwise. Cut strips into ½ inch pieces.
Cook bacon and strain over a small bowl to reserve drippings. Place drippings in the freezer to cool slightly.
Preheat oven to 350˚F.
Line baking sheets with parchment paper.
In a medium-sized bowl, whisk together flour, salt, and baking powder. Set aside.
Place butter in the bowl of your mixer. Beat on medium-high to make smooth for about 30 seconds. Add cooled bacon drippings. Beat for 30 seconds more.
Add both sugars. Beat on high speed until light and fluffy (about 3 minutes).
Add eggs one at a time mixing until fully incorporated after each.
Add syrup and mix until fully incorporated.
With your mixer on lowest speed, add dry ingredients gradually mixing only until just incorporated.
Add oats and bacon pieces and mix just until combined.
Using a medium scoop, place dough on parchment-lined sheets
at least 2 inches apart.
Bake until lightly browned on the edges but still soft in the middle (about 18-20 min.). Rotate trays at about 9 minutes.
Cool cookies completely on parchment paper. When cooled, peel cookies from paper and store in an airtight container.