I hope you are enjoying our Cookie Week 2012. To give you (and me) a little break I am about to change your cookie making world. This treat is ridiculously simple and tasty… and very pretty. Today we are making palmiers, but with a little twist. To punctuate it with some holiday flavor we have added cinnamon and orange zest to the mix. The result is fragrant, sweet, and flaky.
Palmiers are quite fun to make and even more fun to eat. The fancy look of these will take your holiday baked goods package right over the top. The truth is this should probably be classified as pastry, but because of its cookie nature, we added it here to go along with your holiday cookie boxes. This recipe alone is reason enough to keep a package of good puff pastry
in your freezer at all times.
savour…pretty and tasty
CINNAMON ORANGE PALMIERS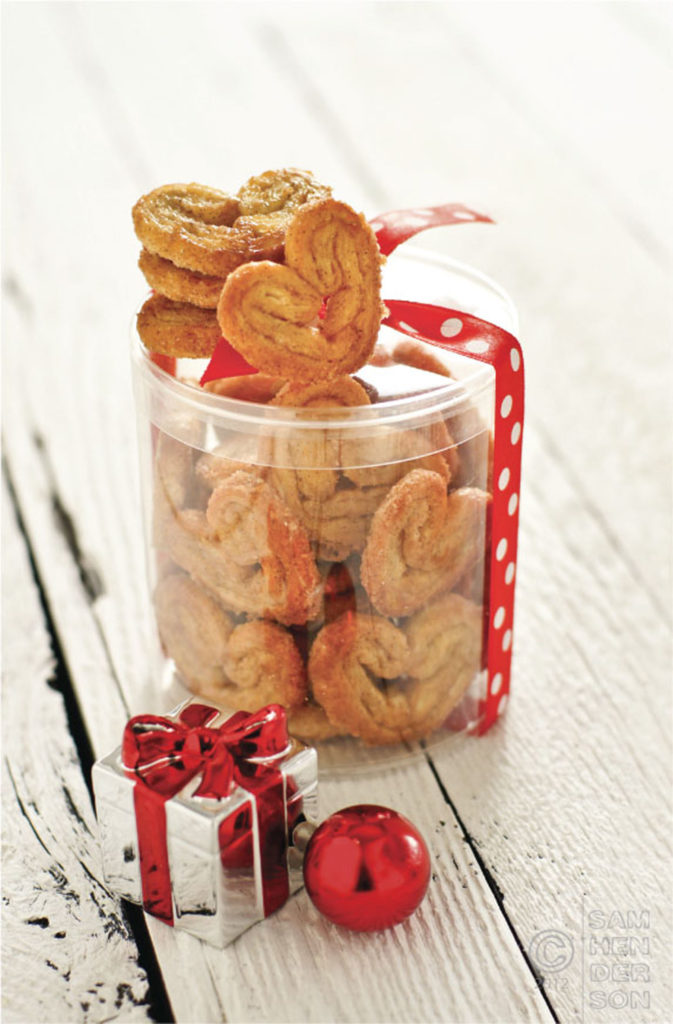 Before you start:
As we have not covered making puff pastry dough from scratch here yet, I have indicated using store-bought puff pastry. Be sure to look for a good butter-based puff pastry. If you are skilled at making puff pastry dough, then have a go at it. Otherwise, stay tuned for a full puff pastry tutorial early next year.
Take extra care when turning over the palmiers. The sugar will be very hot and can cause burns if not handled properly.
The ingredients:
1 package puff pastry
1 cup sugar
2 1/2 teaspoons cinnamon
Zest of 1 large orange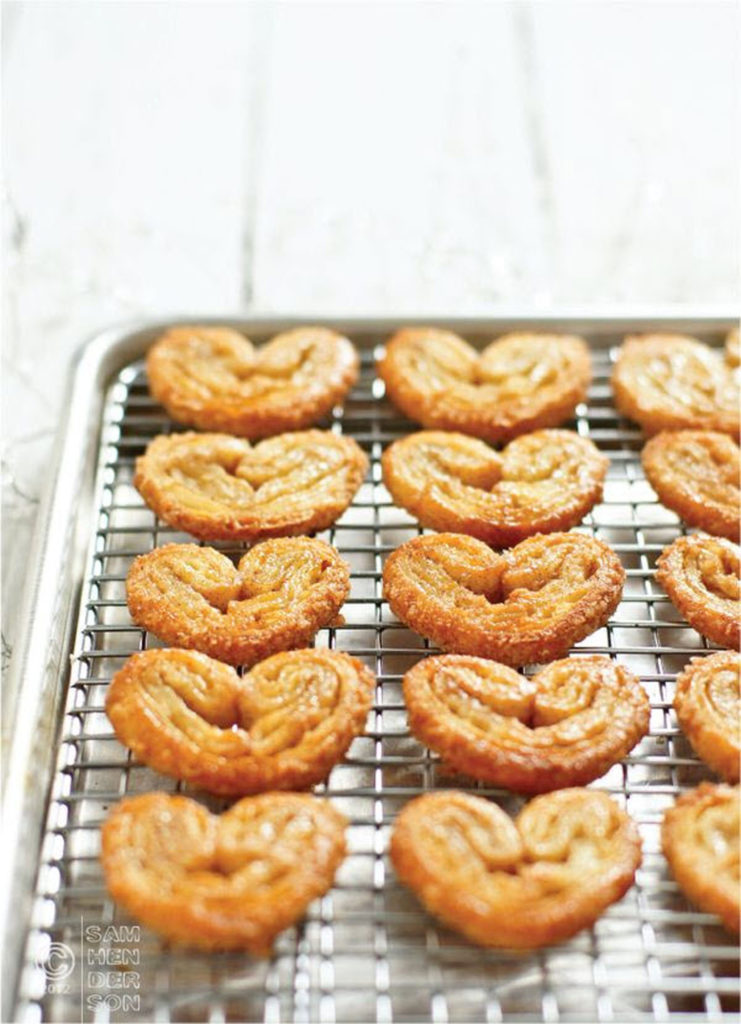 The method:
Place sugar, cinnamon, and zest in a bowl and mix well.
On a clean flat work surface, sprinkle some of the sugar mixture.
Place a 10 inch square of the puff pastry on top of the sugared surface and sprinkle the sugar mixture over it.
Use a rolling pin to gently press some of the sugar into the dough.
Bring one edge into the middle of the dough and then the opposite side. Sprinkle with sugar and lightly roll. Bring the outside edge of each folded side to the middle again and repeat the sugaring process.
Fold the two sides onto each other. Wrap loosely with parchment and place in the freezer for 30 minutes to firm up.
Remove pastry from the freezer and preheat oven to 400˚F.
With a sharp knife, cut the dough into ¼" slices. Gently press the cut sides of each slice into the sugar mixture.
Place the slices flat on a parchment-lined baking sheet and place in the oven on a center rack.
Bake until the bottom of palmiers begins to brown and caramelize (about 9-10 min). Remove from the oven and carefully turn the cookies over.
Continue baking for another 4-5 minutes until the other side is lightly browned.
Remove from oven and allow to cool slightly on the baking sheet.
Move cookies to wire cooling rack to cool completely.