All through September, while the temperatures still danced gleefully above the 100˚ mark, I told myself to just hold on a bit longer; October would be here soon and bring with it cooler days. Well, my friends, I made it. Now it's only mid to upper 80s here, but that is enough for me to start thinking fall.
I know many of you are already experiencing much cooler weather. You've traded dining al fresco on tomato cucumber salad for steamy plates of comfort food. I get you. Fall does that to us, and breaking out the slow cooker is a sure way to have that meal ready when you return to your home at the end of the day.
We have declared this month to be Crock-tober. We will be bringing you several recipes through the month of October written for slow-cooking, starting today with a lamb recipe that is loaded with flavor. The dish requires lots of onion, which gives it a subtly sweet undertone. And the earthiness of the thyme… well, what can I say. I love thyme. In fact, I'm going on record now to say that thyme is my favorite herb (sorry rosemary, you're a close second).
Spend 20 minutes or so getting this all prepped in the morning and put it on to cook… all… day. 8 hours on low will give you the tenderest lamb ever and one delicious sauce.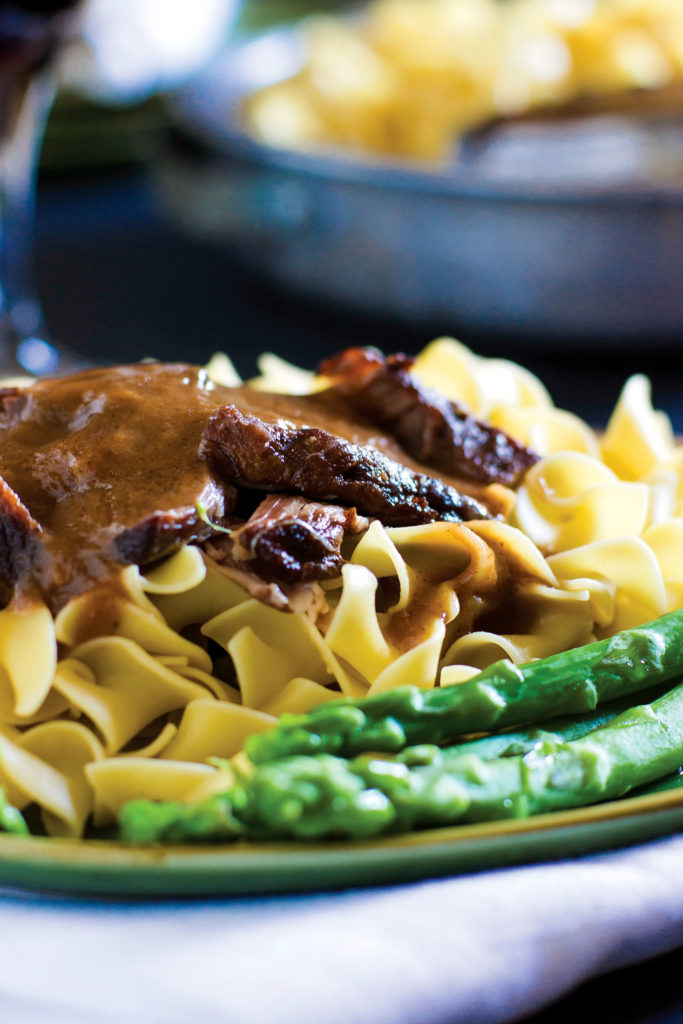 SLOW-COOKED ONION THYME LAMB
(serves 4-6)
Before you start:
Lamb can be tough. Slow-cooking is a great way to get the most out of this meat.
We served our lamb on a bed of egg noodles, but you could certainly substitute that for rice or couscous, etc.
Don't skimp on the onion. I promise it won't be as oniony as you may think after hours of slow-cooking.
Slice the onion and garlic before you begin the process. The oil will be hot and ready when the meat is done browning.
You could use a regular blender to puree the sauce, but be sure to leave the top hole open enough to let the steam out (cover it slightly with a tea towel) or you'll be spending the rest of the night removing sauce from cupboards.
There is no rule on which red wine to use, except use one that you like to drink. In fact, drink a glass with your lamb. You deserve a reward for making such a tasty dinner.
The ingredients:
3 tablespoons olive oil
Lamb breast w/rib, about 3 lbs
Salt and pepper
3 large yellow onions, thinly sliced
2 cloves garlic, roughly chopped
1 ½ tablespoons dried thyme (or 2 tablespoons
fresh thyme leaves)
1 ¼ cups red wine
2 tablespoons tomato paste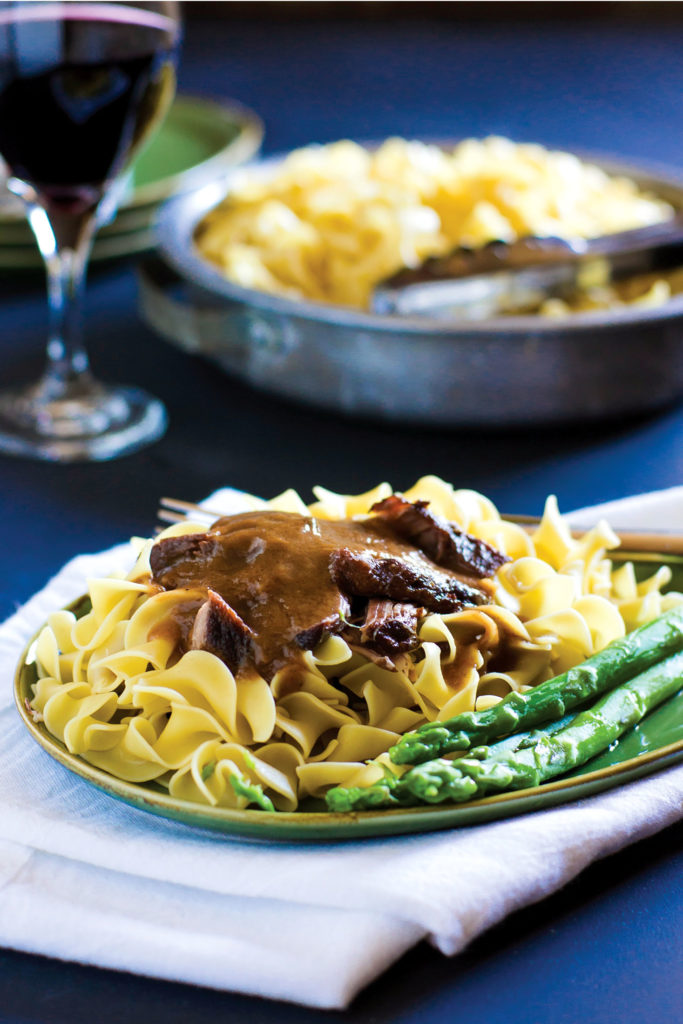 The method:
Remove any excess fat from the meat (I like to leave a little for extra flavor). Pat the meat dry with a paper towel and rub a healthy dose of salt and pepper all over the surface of the meat.
In a large skillet, heat olive oil over medium-high to high heat. Add the meat and brown evenly on all sides (about 9 minutes total). If your skillet is not large enough to accommodate all of the meat at once comfortably, do this in shifts. It is important to not over-crowd the pan to help with even cooking and give you enough room to maneuver the food in hot oil without splattering yourself.
Remove the meat from the pan and set aside. Add the onion to the hot oil and set heat to medium-high. Stir onions frequently while cooking for about 10-12 minutes or until soft and some lightly browned. Add the garlic and thyme and cook for another minute.
Pour onion mixture into the bottom of a slow cooker. Return the pan to the heat and add the wine. Use a whisk to deglaze the pan and capture the caramelized flavor. Add the tomato paste and whisk until it is incorporated.
Place the lamb on top of the onion in the slow cooker. Pour the wine over the lamb and cover. Cook on low for 8 hours or on high for at least 4 hours. Check the flavor of the sauce after a couple of hours and add salt to taste.
Remove the meat from the bone and discard any scraps. Spoon away any excess fat floating on top of the liquid in the slow cooker. Use an immersion blender to puree what is left in the pan. For a very smooth sauce (optional) consider pouring the mixture through a fine-mesh strainer.
Serve lamb on a bed of egg noodles topped with onion thyme sauce.