Cookie Week 2013 continues with this light and crispy cookie. The cookie itself is thin and crunchy. The almonds add a bit of texture and flavor and the citrus peel offers unexpected moments of chewiness and fruity goodness.
These are a great treat to be enjoyed with a cup of tea or coffee and will be a welcomed addition to your holiday baked goods gift boxes. Make some extra to keep around in an airtight container to enjoy with your tea on a chilly day.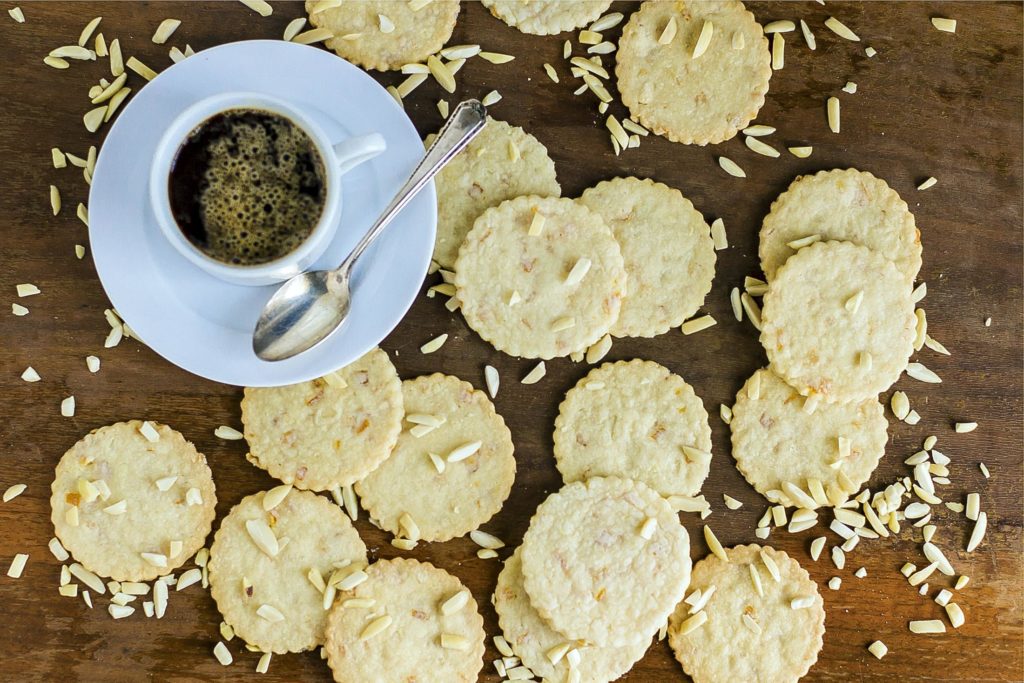 ORANGE ALMOND COOKIES
Before you start:
If you cannot find candied orange peel at your local supermarket make your own. See our article on Making Candied Citrus Peel for full instructions.
You may need a little more milk to moisten your dough. Do not add more than 1 teaspoon at a time.
A rolling pin with guides would be very useful here, but if you do not have guides use a pair of paint stir sticks positioned on either side of your dough as your guide.
The dough should rest in the refrigerator for at least 30 minutes before rolling it out, but it could stay there for many hours or even overnight. As a general rule, many (dare I say most) cookie doughs could benefit from spending some time in the refrigerator to allow the flavors to 'get to know each other'.
The ingredients:
1 cup (2 sticks) unsalted butter, softened
1 teaspoon vanilla extract
1 cup confectioners' sugar / 150g
2 cups all-purpose flour / 250g
1/2 cup almond slivers, toasted and chopped / 65g
1/2 cup candied orange peel, finely chopped / 55g
1 tablespoon milk
sugar for sprinkling
The method:
Preheat oven to 350°F. Line baking sheets with parchment paper.
Place butter and vanilla in a bowl and beat until creamy. Add sifted confectioners' sugar and beat until light and fluffy.
Add sifted flour, almonds, and orange peel to the butter and fold in just until incorporated. Add milk and stir just to moisten.
Place dough on a lightly floured surface and knead to make a ball. Wrap the ball in plastic wrap and refrigerate for at least 30 minutes.
Roll dough out between two sheets of parchment paper to a thickness of about 1/8 inch. Lightly dust with flour as needed to keep dough manageable. Remove the top sheet of parchment, lightly dust top of the dough, replace the parchment sheet and turn the dough over. Remove top parchment and cut out circles with fluted circle cutter dipped in flour.
Place circles on the baking sheet (see diagram below for baker's dozen) and sprinkle tops with sugar. Bake for 10-12 minutes or until slightly browned on the edges.
Cool for 3-5 minutes on the baking sheet before transferring to a wire rack to cool completely before handling.
Store in an airtight container.