We are finally getting settled into our new home. I hope you have taken some time to look around and see what's new at Today's Nest. We are excited about all of the upcoming projects and treats. Today is no exception.
These cupcakes are simply divine. We've updated the classic just a bit to make it easy to carry and limit the portion. They are quite rich. We cut the sweetness just a bit by using dark chocolate and buttermilk. There is a distinctly robust and slightly tart goodness about them.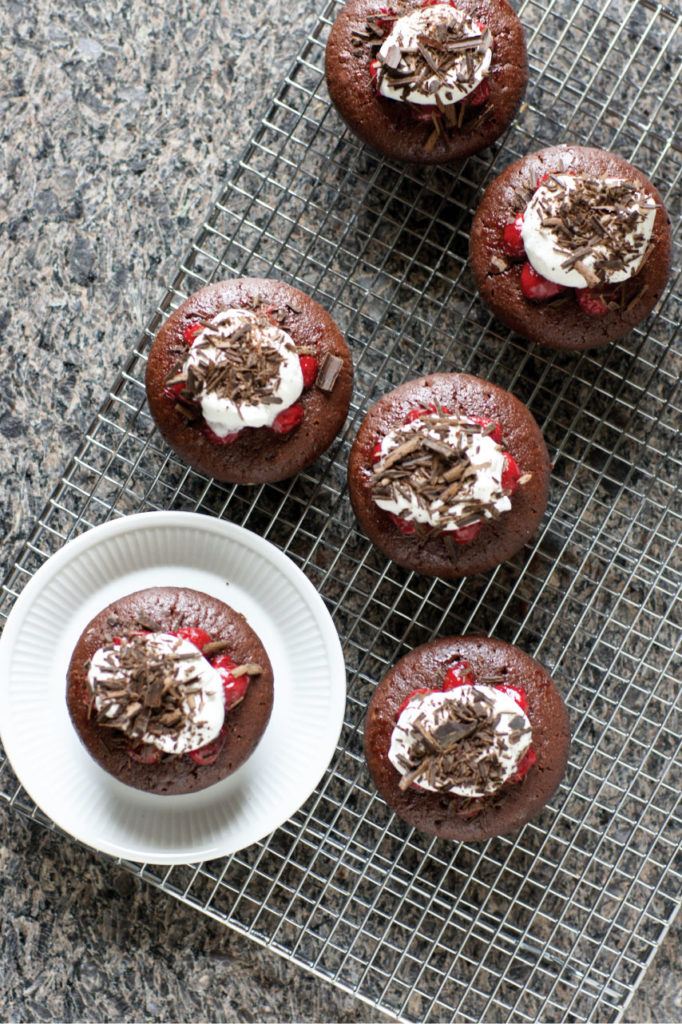 BLACK FOREST CUPCAKES
Before you start:
You'll find it easiest to have all of your ingredients prepped before you start. You can make life much easier for yourself by cutting, chopping, and whipping ahead of time.
If you don't have maraschino liqueur you could substitute some cherry brandy. Alternatively, you could leave the alcohol out altogether and add a bit of the cherry syrup to the whipped cream, as well.
The ingredients:
For the cakes:
1 can cherry pie filling (20 oz.)
11 tablespoons unsalted butter (1 stick + 3 tablespoons)
3.5 oz dark chocolate chopped
1 1/3 cups sugar
1/3 cup buttermilk
1 cup flour
3 tablespoons self-rising flour
3 tablespoons cocoa powder
Dash salt
1 egg
For the topping:
2/3 cup heavy whipping cream
2 teaspoons maraschino liqueur
1.5 oz dark chocolate

The method:
For the cupcakes:
Preheat oven to 325˚F.
Line cupcake tin with papers or lightly grease and flour.
Drain cherries from liquid, reserving liquid.
Add ½ cup cherries and ½ syrup to a food processor and blend until pureed.
Cut the remaining cherries in half for topping the cupcakes. Discard remaining syrup.
Add puree, butter, chocolate, and butter milk to a heatproof bowl and place it over a small saucepan filled with about an inch of water. Melt ingredients over low heat until smooth and completely melted.
Transfer mixture to a mixing bowl and cool for 15 minutes.
Sift flours, cocoa powder, and salt and add to wet ingredients. Mix thoroughly.
Add egg and mix until combined.
Pour batter into cupcake tin and smooth out tops.
Bake standard cupcakes for 40-45 minutes; large cupcakes for 50-55 minutes or until they pass the clean toothpick test. Cool completely on a wire rack.
For the topping:
Assemble the cherry halves in a circle around the top of the cupcakes.
Whip the cream and maraschino liqueur to soft peaks.
Top the cherries with whipped cream.
Using a vegetable peeler add curls of chocolate to the top.
Serve immediately.