Around here, January means Soup Month. Over the past 4 years, we have presented many soup recipes for you to enjoy. This month we have 4 more planned that are sure to take the chill off. Today we start out with a chunky borscht. This soup is loaded with flavor, nutrition, and an earthiness that feels so cozy.
We used canned beets for our soup, but you can certainly use fresh beets and cook them tender before adding them. The sour cream is optional (but delicious) and could be substituted for a little plain greek yogurt for even more healthful benefit.
savour… warm and cozy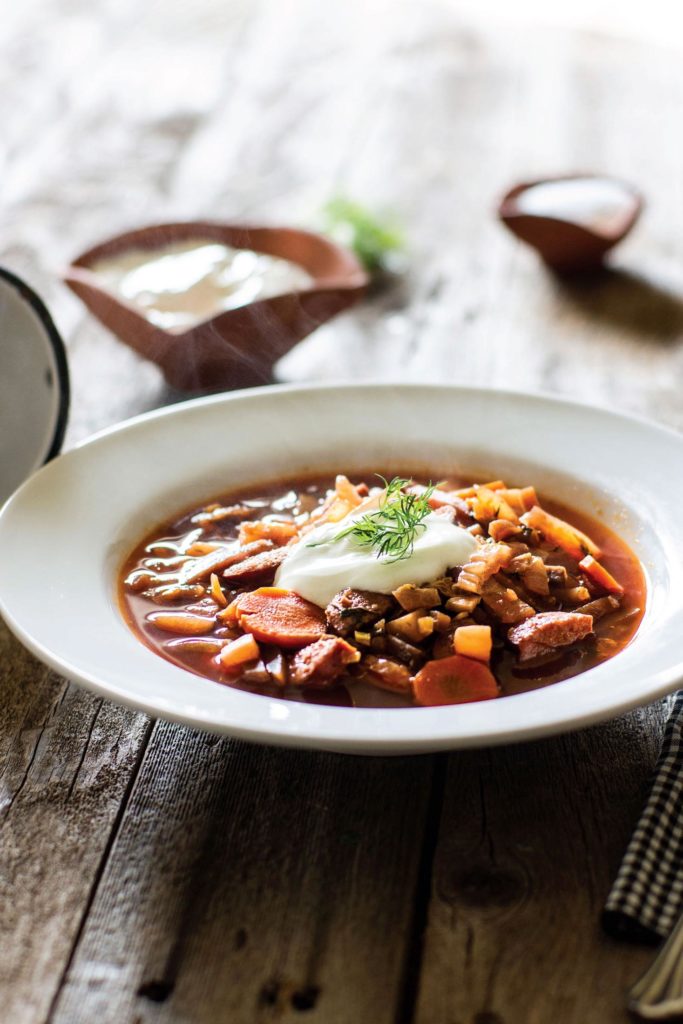 CHUNKY BORSCHT
Before you start:
To get long, crinkly pieces of cabbage, cut the leaves horizontally about 1/4 inch wide.
The sausage could be substituted with chunks of beef or omitted entirely if you wish.
The ingredients:
3 tablespoons olive oil
1 medium onion, chopped
3 cloves garlic, finely chopped
2 stalk celery, 1/4 inch slices
2 medium carrots, 1/4 inch slices
3 medium turnips, peeled and diced
2 cups napa cabbage, 1/4 shreds
2 cups diced or julienned beets, drained
3 tablespoons tomato paste
1/2 pound of polish sausage
1/4 cup fresh dill, finely chopped
1 teaspoon salt
1/2 teaspoon ground black pepper
3 cups beef stock or broth
3 cups water
The method:
Heat the oil over medium heat in a large skillet. Add onion and cook until soft (about 5 minutes). Add garlic, celery, carrot, turnips, and cabbage. Stir, cover, and cook until vegetables are tender (about 7 minutes).
Place cooked vegetables in a stockpot. Add beets, tomato paste, salt and pepper, beef stock, and water. Bring to a boil and then reduce heat to a simmer. Add sausage. Cook for another 20 minutes. Add dill and stir.
Serve with a dollop of sour cream and a garnish of fresh dill.