Every once in a while I make something and think, "Why haven't I made this sooner?" That is the case with the following recipe. The truth is, I love quinoa. It is a super alternative to some of the standard starches served with meals. It's loaded with nutrition and has a fun texture and nutty flavor. I use it quite often with savory dishes, but only recently tried it with something a little sweeter.
This is going to be our go-to fresh salad for the summer. The flavors are light and vibrant. The quinoa is the perfect backdrop for the softness of the berries and the crunch of the almonds. This makes 6 good portions and stores in the refrigerator in an airtight container for a couple of days. You could even make it a day ahead for a weekend picnic.
savour… fresh takes
QUINOA WITH FRESH BERRIES AND ALMONDS
Before you start:
If you don't have agave syrup, try substituting honey. I chose agave so the light flavor of it wouldn't overpower the berries.
The ingredients:
1 cup quinoa
2 cups water
1 cup raspberries
2 cups blackberries
3/4 cup almond slices
pinch salt
3 tablespoons agave syrup
3 tablespoons balsamic vinegar
juice and zest of one lime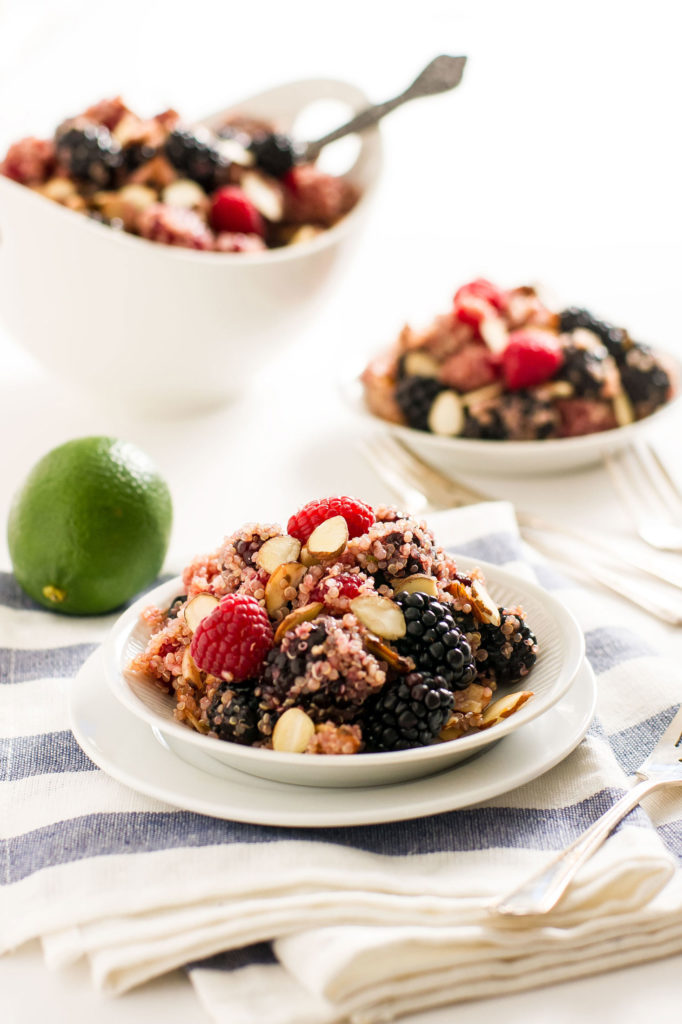 The method:
In a medium saucepan, add quinoa and water. Bring to a full boil over high heat. Reduce heat to medium, stir, cover, and cook for 12 minutes or until quinoa has absorbed the water. Remove from heat, fluff quinoa with a fork, replace the lid, and let stand for another 15 minutes. Remove lid. Allow quinoa to come to room temperature before proceeding.
In a small bowl, whisk together agave syrup, balsamic vinegar, juice and zest of lime, and salt to make a dressing.
Add the cooled quinoa to a medium bowl. Add berries and almonds. Pour dressing evenly over other ingredients and toss very gently.
Serve cold or at room temperature. Store in an airtight container.