You may not know this, but typically my articles are planned months in advance… and sometimes they are even produced and shot long before they appear here or elsewhere on the web. That is not the case with today's offering. I made it, shot it, and ate it last night. I had originally planned to post something completely different, but when I saw the bags of cherries in the supermarket on Monday, my mind was changed.
I often forget about them after they are gone, but every time cherries are in season I eat them and think to myself 'how could something be SO delicious?' As usual, for this recipe, I bought far more than I would need because I knew that many wouldn't make it to production day.
The treat today combines cherry's best friend, chocolate and runner up, almond. Unlike a customary trifle, I substituted the cake with almond biscuits. These light and airy Italian biscuits will soak up the moisture from the cherries very quickly and act a little more like ladyfingers. You'll most likely find them in the import section of your local supermarket.
The mousse is made with bittersweet chocolate and is light and fluffy, as is the mascarpone whipped cream. The dessert is quite rich so just a small amount per serving should do. The components can be made ahead of time and assembled just before serving. It's perfect for a summer dessert on the patio.
savour... change of plans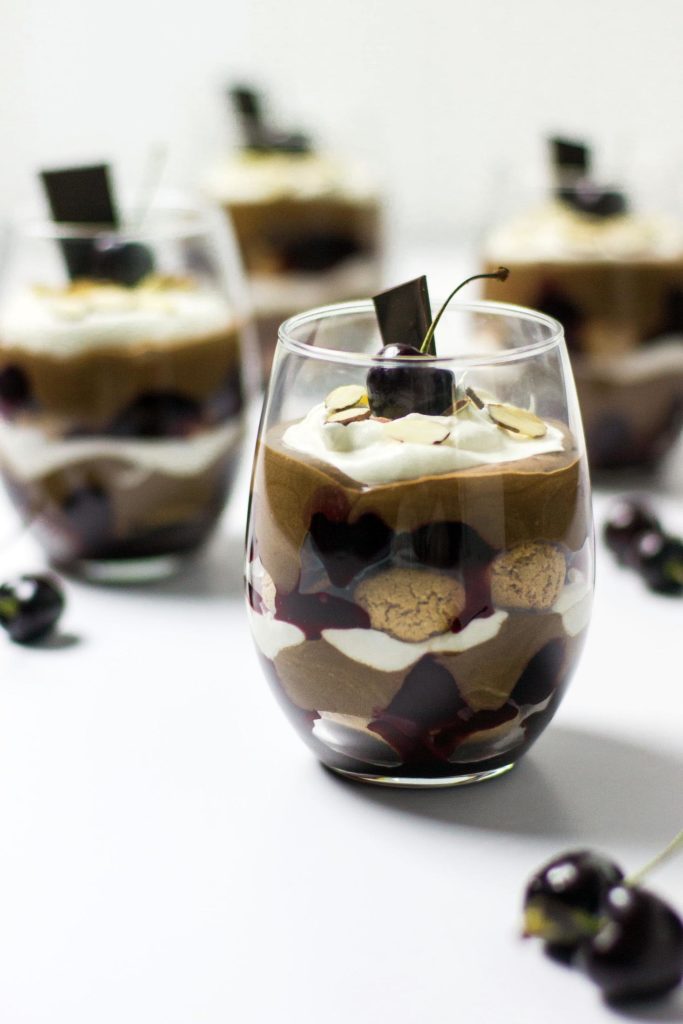 CHOCOLATE CHERRY TRIFLE
(serves 6-8)
Before you start:
There are a couple of things listed here that may not be in your cupboard. If you don't have orgeat you can substitute amaretto here with no problem. The intention is to get a little more almond flavor in the cherries. Orgeat is a great syrup to have around for cocktails, but don't buy the whole bottle just for this recipe. Licor43, on the other hand, is worth the investment. It's a wonderful spirit and goes great with Orangina for a dreamsicle-like summer drink. If you don't have it, you could substitute a vanilla liqueur here or perhaps a coffee or chocolate liqueur.
The ingredients:
For the cherries:
5 cups cherries (about 2 pounds)
3/4 cup sugar
3 tablespoons corn starch
1 tablespoon water
2 tablespoons orgeat
pinch of salt
2 tablespoon unsalted butter
For the mousse:
6 ounces bittersweet chocolate, chopped
3 tablespoons unsalted butter
2 tablespoon Licor43
3 large eggs, separated and at room temperature
3 tablespoons prepared coffee
3 tablespoons + 1/4 cup sugar
1/4 teaspoon cream of tartar
1/2 cup heavy whipping cream
For the cream:
1/2 cup mascarpone cheese, chilled
1 cup heavy whipping cream
2 tablespoons confectioners' sugar
3/4 teaspoon vanilla extract
For assembly:
sliced almonds
almond biscuits
chocolate chards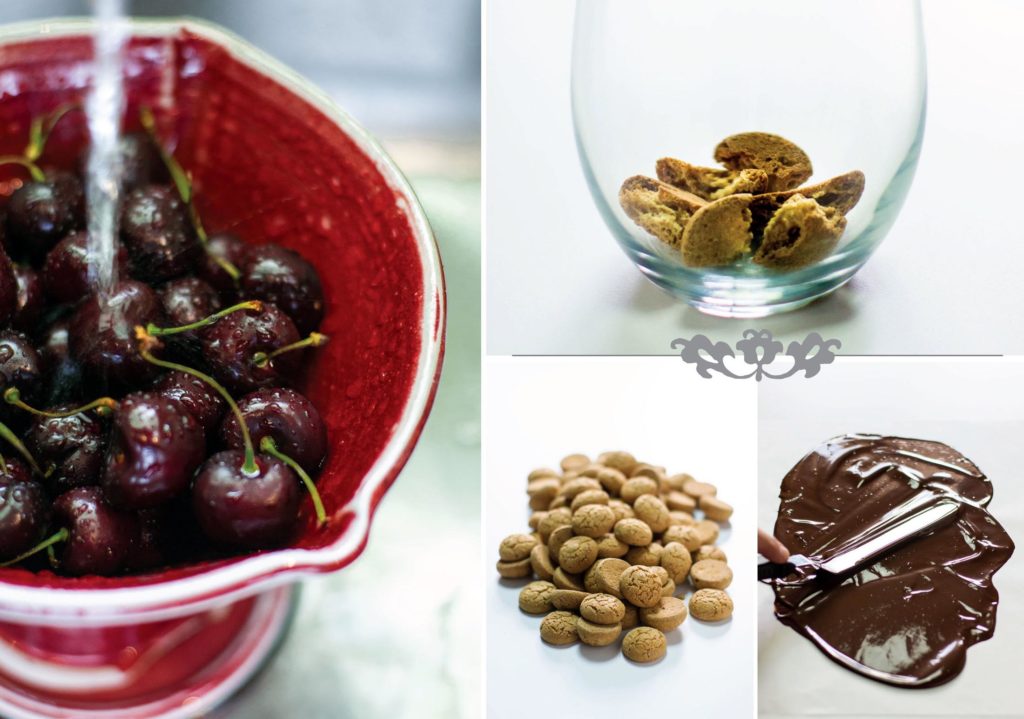 The method:
For the cherries:
Combine all ingredients, except butter, in a medium saucepan. Toss cherries to coat and heat over medium-low heat until thickened and bubbly (about 10 minutes), stirring frequently. Remove from heat and stir in unsalted butter. Set aside to cool to room temperature.
Cover with plastic wrap and refrigerate until ready for assembly.
For the mousse:
Place chocolate, butter, and Licor43 in a heatproof bowl over a small saucepan with about an inch of simmering water. Stir occasionally until the chocolate and butter are completely melted. Remove from heat and set aside.
In another heatproof bowl whisk egg yolks, coffee, and 3 tablespoons sugar until well combined. Place over simmering water and whisk continually until mixture becomes lighter in color, thickened and fluffy (about 5 minutes). Add the egg yolk mixture to the chocolate and whisk just until fully combined. Let cool to room temperature.
Add egg whites and cream of tartar to a clean metal bowl. Beat on medium speed until soft peaks form. Turn speed to high and slowly add sugar. Continue beating until stiff peaks form. Fold about a quarter of the egg whites into the chocolate mixture to loosen it up. Add the remaining egg whites and carefully but thoroughly fold them in. Set aside.
Beat whipping cream until soft peaks form. Gently fold the whipping cream into the chocolate mixture making sure to fully incorporate it. Cover mousse with plastic wrap and refrigerate for at least 3 hours before assembly.
For the cream:
Add all ingredients to a cold mixing bowl and beat on high speed until soft peaks form. Cover bowl with plastic wrap and refrigerate until ready for assembly.
For assembly:
To make the chards, melt 3 ounces of chocolate using the water bath method described above. When the chocolate has melted, add 1 ounce more and stir until it is melted. Immediately pour the melted chocolate onto parchment paper and smooth out with an offset spatula. Cool until hardened and break or cut pieces for decoration.
Begin assembly by breaking a few biscuits in half on the bottom of your serving glass. Add a thin layer of cherries in sauce followed by chocolate mousse and mascarpone cream. Repeat all of the layers a second time and finish with sliced almonds, chocolate chards, and a fresh cherry (if you have any left). Serve cold.