I have a lot of sage. My herbaceous abundance coupled with my burning desire to coax fall into the picture have resulted in several sage themed dishes lately. I'm certain my kids will be glad when that ride is over.
For my latest weeknight meal post I am bringing you a delicious pasta dish that can be ready in about 35 minutes. How's that for a delicious meal made fast? This recipe is full of flavor and super light in spite of it.
The 'sauce' is actually a flavorful butternut squash puree. The sage is fried up crispy with a bit of bacon and added at the end for texture and a little extra something. Of course, we added some cheese, but just enough to add a little density and flavor. This dish is pure fall magic.
savour… falling leaves
RIGATONI WITH BUTTERNUT SQUASH AND SAGE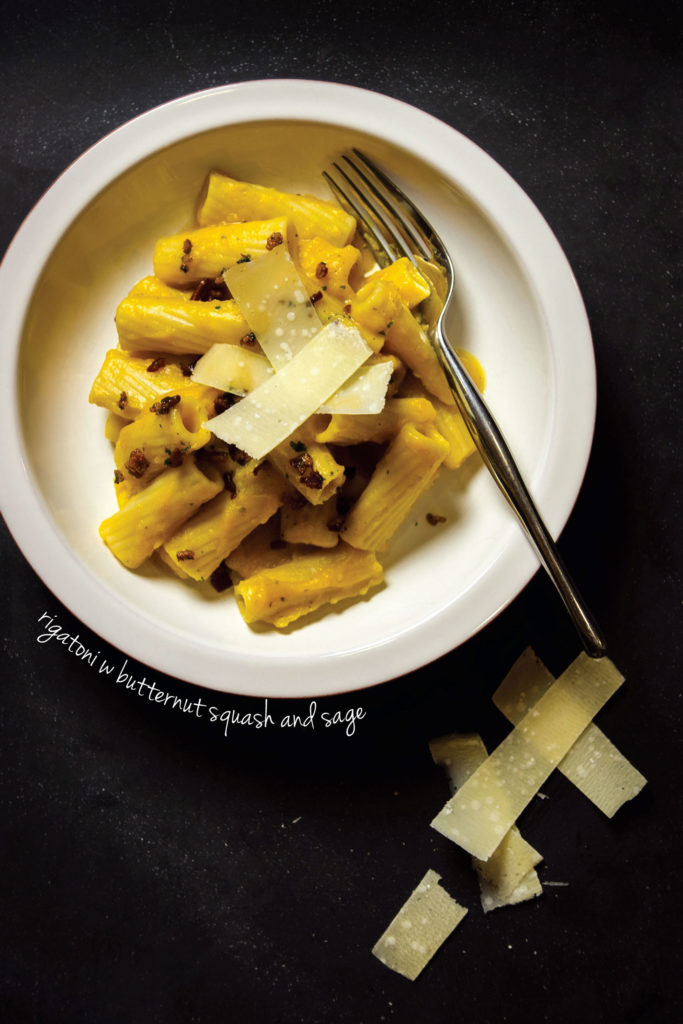 Before you start:
The outside of butternut squash is very thin. I like to use a vegetable peeler to remove it. It sometimes takes a couple of passes but leaves nearly all of the flesh intact.
You could use a different pasta, but I like rigatoni for this dish. The ridges help the sauce adhere to the pasta and stick to each piece.
I used Grana Padano cheese for this recipe, but feel free to substitute with another hard, Italian cheese like parmesan or pecorino.
The ingredients:
2 tablespoons olive oil
2 slices thick-cut bacon
2 tablespoons finely chopped fresh sage leaves
1/2 large onion, diced
1 medium butternut squash, peeled, seeded, and cubed
2 cloves garlic, finely chopped
2 cups chicken stock (or vegetable stock)
salt and pepper
1 pound rigatoni and water for boiling
1/3 cup grated Grana Padano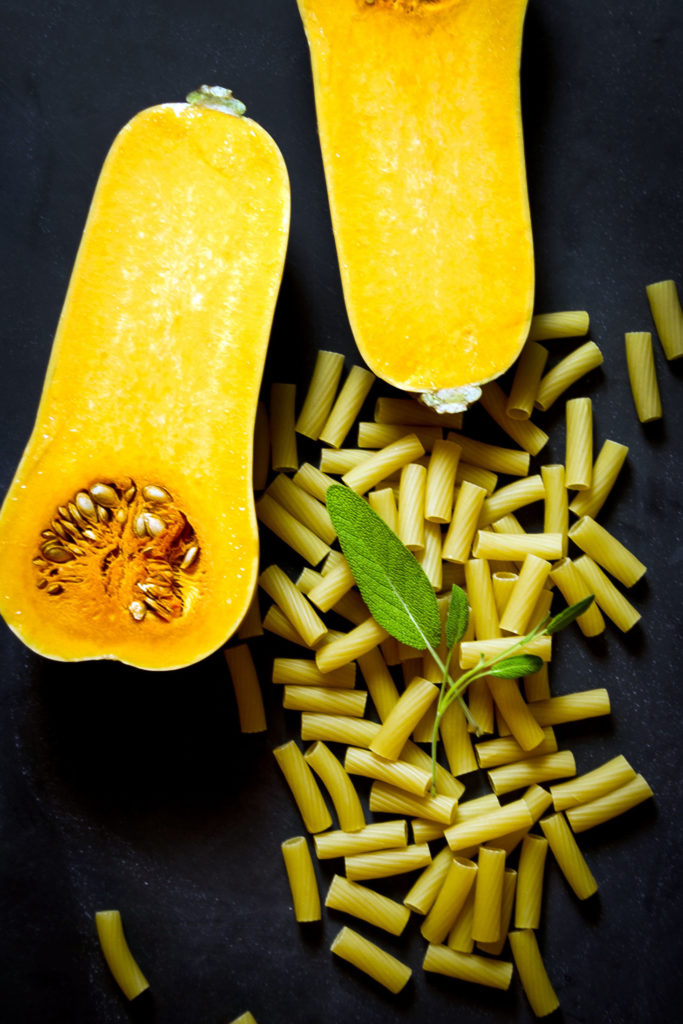 The method:
Ready. Set. GO!
Heat the oil in a large skillet over medium heat. Add the bacon and cook until crispy (about 5-7 minutes), stirring occasionally. While it is cooking chop the sage leaves, onion, garlic, and squash. Add the sage to the bacon and cook until crispy (just another minute or so). Remove the bacon and sage from the oil with a slotted spoon, draining well before placing it in a small bowl for later. Put pasta water on to boil in a lidded pot so it will be ready when you are finished with the squash puree prep.
Add the onion and squash to the hot oil. Cook for 5-7 minutes or until onion is softened. Add garlic after about 3 minutes. Add stock, salt, and pepper. Stir and turn heat to high to bring mixture to a boil. At boiling point, reduce heat and simmer for 18-20 minutes, stirring occasionally.
While squash simmers, generously salt the pasta water and add rigatoni. Cook pasta to al dente stage (usually about 12-13 minutes). While pasta cooks, grate cheese and make a few shavings for garnish. Set the table.
Drain the pasta, reserving at least 2 cups of the water. Set aside. Remove the squash from the heat and process in a food processor (use caution with food processors/blenders and hot food). You may have to do this in two passes. Add salt and pepper to puree to taste.
Return the puree to the skillet over medium heat. Add the pasta and the grated cheese. Stir to coat completely. Stir in pasta water as needed to make a creamy sauce that completely coats the pasta. Cook, making additions of pasta water for about 3-5 minutes. Remove from heat and serve with a sprinkling of bacon and fried sage. Top with a shaving or two of Grana Padano.