So it's not Monday, but I made this on Monday. Does that count? Actually, Monday Menu is really meant for you to have food and drink recipes for everyday occasions. These will be dishes (and cocktails) that you can throw together after a busy day and still feel like you've got something tasty that doesn't come in a paper sack.
The dish today can be made in about half an hour. Shrimp may not be something you typically turn to for weeknight meals, but I urge you to consider it. They cook incredibly fast and make wonderfully flavorful dishes. This particular one has an Italian spin and is loaded with peppery goodness.
savour… everyday meals
SPICY SHRIMP BUCATINI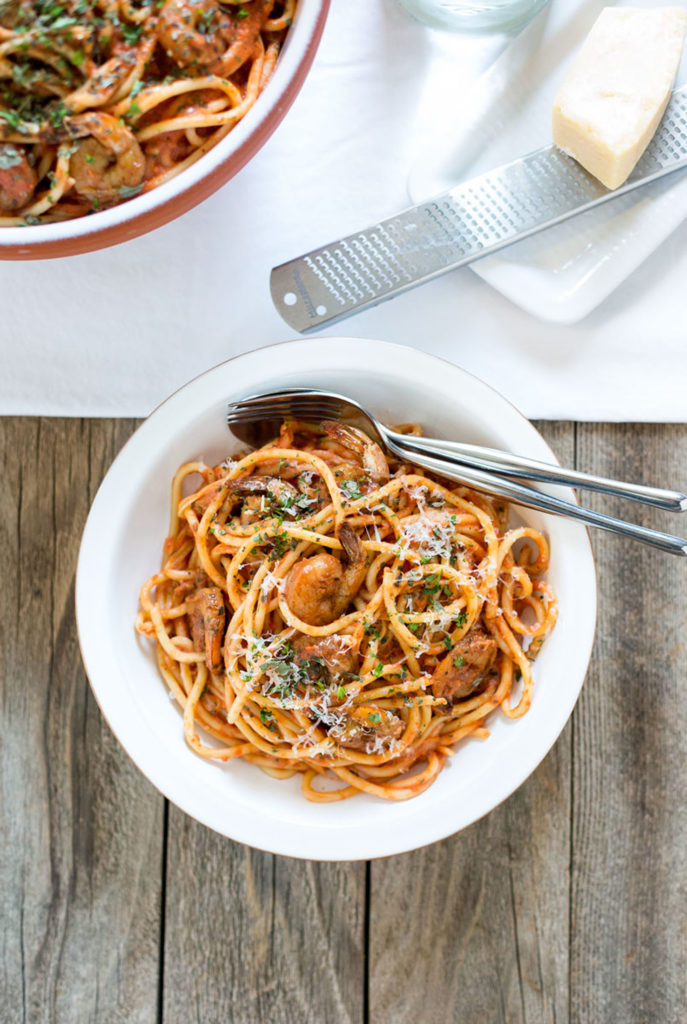 Before you start:
Don't forget to add plenty of salt to your pasta water before adding the pasta… and reserve some of the pasta water just in case you need to loosen up the sauce a bit.
The heat is up to you. One teaspoon is a good place to start, but feel free to add more or less to suit your taste.
You could probably substitute half and half for heavy cream if you wanted.
The ingredients:
2 tablespoons olive oil
1 pound medium shrimp, shelled and deveined
½ teaspoon salt + more to taste
2 teaspoons paprika
1 teaspoon crushed red pepper flakes + more to taste
1 medium onion
3 cloves garlic
½ cup chicken stock
1 (22 ounce) can crushed tomatoes
1 tablespoon basil, finely chopped
1 tablespoon parsley, finely chopped
½ teaspoon oregano
12 ounces bucatini
½ cup heavy cream
grated parmesan for garnish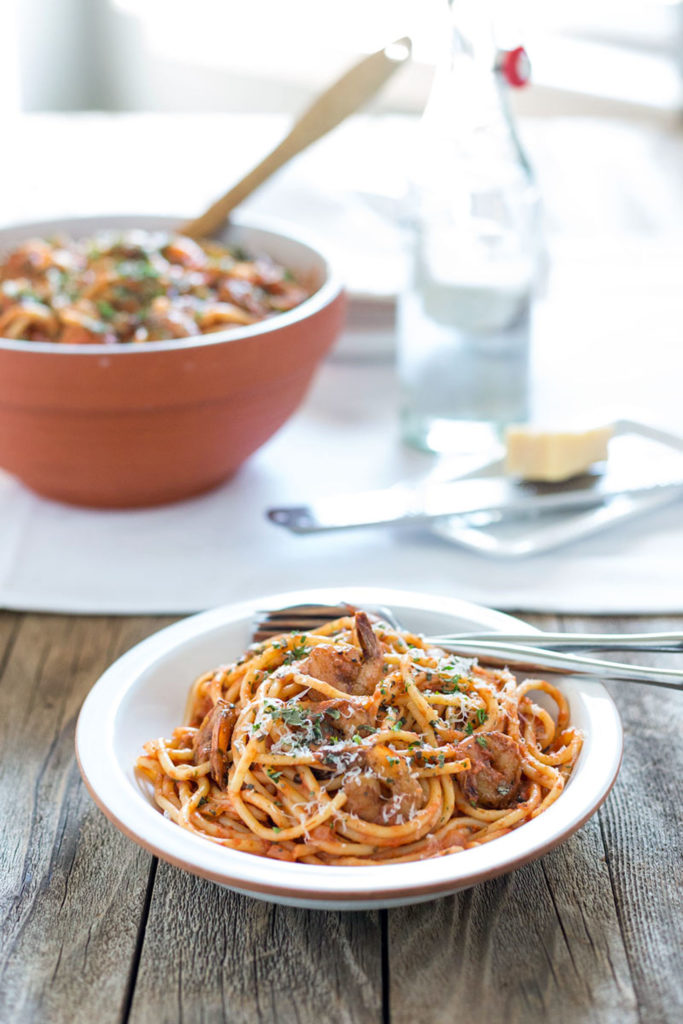 The method:
Heat a large skillet over medium-high heat. Add olive oil to skillet and heat. Add shrimp in a single layer and sprinkle with half of the salt, paprika, and red pepper flakes. Turn after 1 minute and sprinkle the other side with remaining salt, paprika, and pepper flakes. Cook for 2-3 minutes or until slightly caramelized and cooked through. Transfer the shrimp to a plate leaving behind any excess oil.
Add chopped onion to the skillet and reduce heat to medium. Cook for 2-3 minutes, stirring occasionally until the onion is slightly softened. Add garlic and cook for another minute or two until softer and fragrant, but not burned.
Add chicken stock and use a spoon or spatula to deglaze the pan, releasing all of the caramelized bits on the surface of the skillet. Add the tomatoes, basil, parsley, and oregano. Reserve a little of the basil and parsley for garnish. Reduce the heat to medium-low and allow to simmer while pasta cooks.
Cook pasta to al dente.
Add heavy cream to the sauce and stir to fully combine. Taste for salt and adjust as necessary. Add shrimp and pasta. Stir to coat. Serve immediately topped with the reserved herbs and grated parmesan.