Sometimes you feel like a nut.
Cookie Week continues with this delicious little nugget. These chocolate striped coconut cookies are just the right amount of everything. Because they are made with unsweetened coconut powder and not the super sweet flaked stuff, they are perfectly sweet without being too much. The chocolate and almond make it reminiscent of the classic candy bar that is oh so tasty. These cookies are super simple to make and are sure to be a hit in your baked goods baskets.
savour… feeling nutty
CHOCOLATE STRIPED COCONUT COOKIES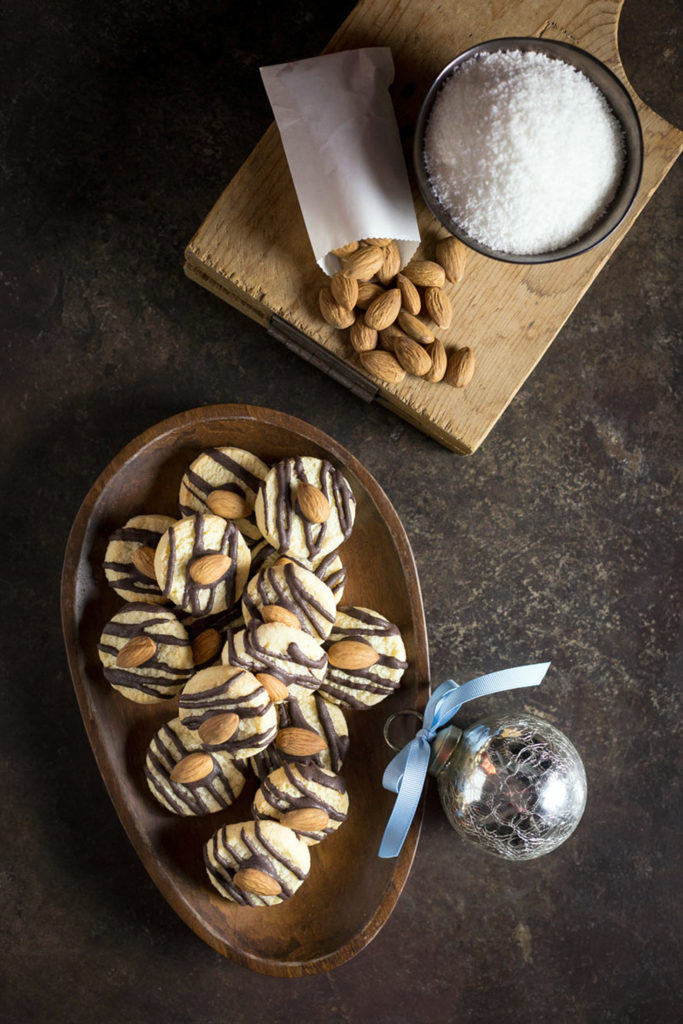 Before you start:
The texture of these cookies is wonderful largely due to the use of coconut powder. If you can't find coconut powder, finely grind unsweetened, desiccated coconut to coarse sand consistency. Do NOT use the sweetened shredded coconut typically found in the baking aisle at most supermarkets. Well, I guess you could, but you won't get the same cookie.
I used dark chocolate because I like it. You could certainly substitute semi-sweet or milk chocolate if you prefer.
The whole almonds I used are raw, but dry roasted, lightly salted almonds would be good, too.
The ingredients:
4 tablespoons unsalted butter, at room temperature / 65g
⅓ cup sugar / 75g
1 large egg
½ teaspoon vanilla
½ cup flour / 65g
½ teaspoon baking powder
1½ cups unsweetened coconut powder / 135g
6 ounces dark chocolate / 170g
24 whole almonds
The method:
Sift flour and baking powder together. Set aside.
Add butter and sugar to mixing bowl and beat until smooth and fluffy. Add egg and vanilla and beat until well combined.
Add flour and baking powder and beat on low speed just until combined. Add coconut and mix on low or by hand just until combined.
Divide the dough into two equal parts and shape into logs 1½ inches in diameter. Wrap the logs tightly in cling film and refrigerate for at least 1 hour or up to 2 days.
Preheat oven to 325˚F. Line two baking sheets with parchment paper.
Remove the logs and cut them into ¼ slices. Place the slices on the baking sheets. Bake for 12 to 15 minutes or until lightly golden brown on the edges. Cool for 2 minutes on the tray before transferring them to a wire rack to cool completely.
Melt chocolate in a heatproof bowl over a small pot of simmering water or in the microwave.
Use the tines of a fork or a piping bag to drizzle stripes of chocolate over the cookies on the wire rack. Place a small dot of chocolate in the center of each cookie and gently press an almond into the center of each cookie. Allow to cool/harden completely before serving.
Store in an airtight container.