All good things must come to an end. We have reached the finale of #CookieWeek 2015, but I saved the best for last. This cookie is a crowd-pleaser. Not only will the crowd LOVE it, but the recipe also makes more than enough to share with loads of people.
The familiar and well-loved combination of peanut butter and chocolate make this a cookie that is sure to be requested year after year. Mind you, this is no whoopie pie. The cookies become a little softer after sitting with filling between them for a while, but they are meant to be slightly crunchy. This is something more like an oreo.
Although I'm not sure the photos fully capture it, one of my favorite things about these cookies is how the light catches the sugar that you press into the tops, making them sparkly on the plate. The sparkle on the outside is surely indicative of the sparkle on the inside. Make these and make memories.
savour… baking memories
PEANUT BUTTER CHOCOLATE SANDWICH COOKIES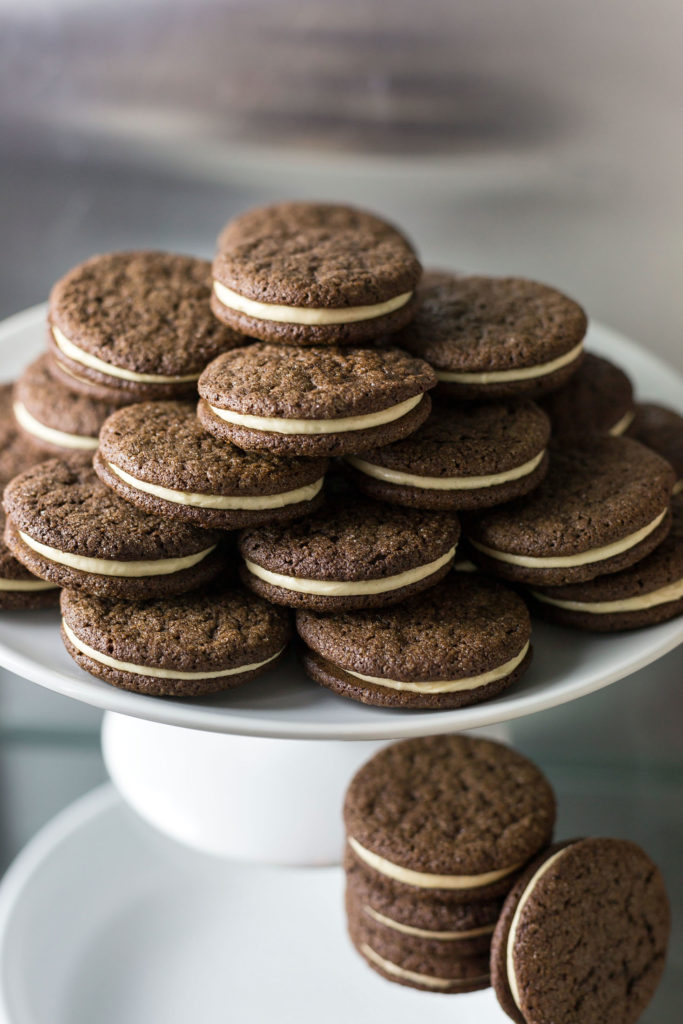 Before you start:
The peanut butter for the cookies should be smooth, but if you prefer chunky peanut butter you could certainly use that for the filling.
This recipe makes a LOT of cookies. If you don't need 5 dozen, place about half of the dough and filling in the freezer for up to a month in an airtight container with cling film pressed directly to the surfaces.
makes about 5 dozen sandwich cookies
The ingredients:
For the cookies:
1 cup butter, cubed
2 tablespoons shortening
1 cup baking cocoa
1/2 cup chocolate syrup
1/4 cup peanut butter
3 eggs
2 1/2 cups sugar
2 1/2 teaspoons vanilla
2 1/2 cups flour
1 1/2 teaspoons baking soda
1/2 teaspoon salt
For the filling:
1/2 cup peanut butter
1/4 cup butter, at room temperature
1/2 cup milk
1 teaspoon vanilla
5 1/2 cups confectioners' sugar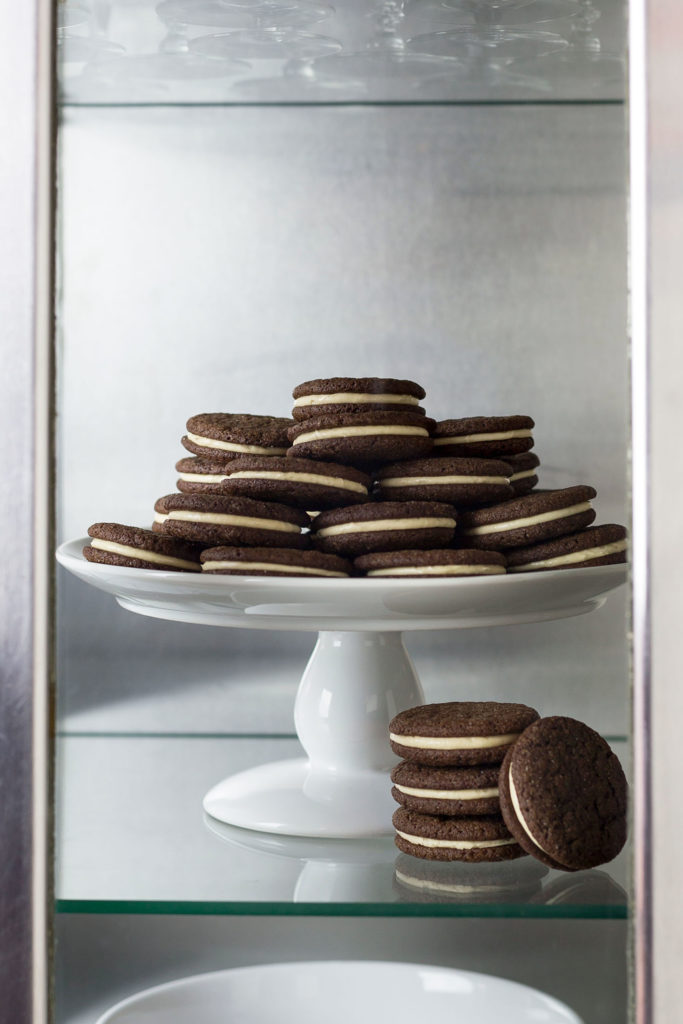 The method:
For the cookies:
Preheat oven to 350˚F.
Add butter and shortening to a large saucepan and melt over low heat. Remove from the heat and add cocoa, syrup, and peanut butter. Whisk until smooth.
Place eggs and sugar in a mixing bowl and beat until light and smooth. Add chocolate mixture and mix until well combined.
Sift together the flour, baking soda, and salt. Add the dry ingredients to the mixing bowl in three additions mixing just until combined after each addition.
Using a small cookie scoop, place mounds of dough on parchment-lined baking sheets. Press each mound down slightly with the bottom of a glass dipped in sugar.
Bake for 12-15 minutes or until cookies have firm edges and surfaces begin to crack. Cool for at least 2 minutes on the tray before transferring to a wire rack to cool completely before proceeding.
Place a rounded teaspoonful of filling on the backside of one cookie and press another cookie, bottom down, on the filling, smashing the filling down until it reaches the edges of the cookies.
For the filling:
Place the peanut butter and butter in a large mixing bowl. Beat on medium speed until smooth. Add milk and vanilla. Beat until smooth.
Add confectioners' sugar in thirds. Beat on low speed and then increase to medium after each addition, mixing just until blended. After the last addition, beat until smooth and fluffy (about 3 minutes).