Fire up the grill and get ready for deliciousness. This salad with grilled halloumi, peaches, and plump, fresh cherries is a perfect light addition to any al fresco dinner. There is just the right amount of sweet, tart, and salt. The textures will leave you wondering why you weren't always making this.
If you haven't used halloumi before, you will be delighted with your new discovery. It is something like mozzarella or provolone, but a little more salty and definitely more hearty. So much so, in fact, that it happily stands up to frying and grilling, taking on a lovely crust. If it is not available in your local supermarket, find the nearest Mediterranean grocer.
savour… food discoveries
GRILLED HALLOUMI, PEACH, AND CHERRY SALAD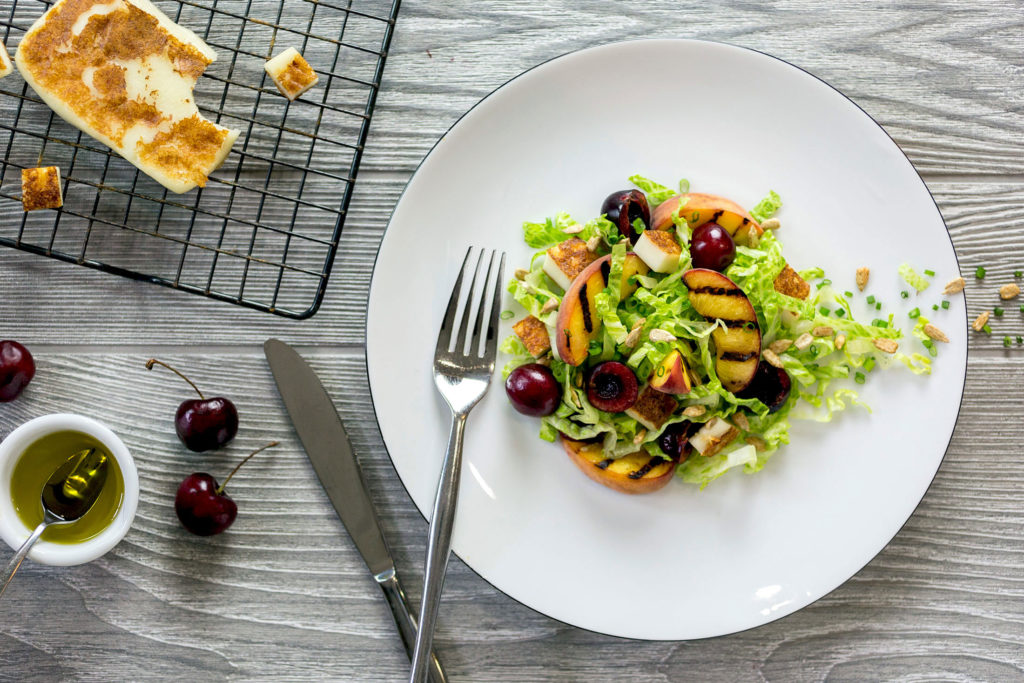 The ingredients:
serves 6
1 head romaine lettuce
20-30 fresh cherries, pitted and halved
3 peaches
2 tablespoons olive oil
12 oz. halloumi cheese, sliced ½ inch thick
3 scallions, thinly sliced
¼ cup toasted sunflower kernels
raspberry vinaigrette (optional)
The method:
Slice the romaine thinly. Pit the cherries and cut them in half. Set aside.
Heat the grill (indoor or outdoor) to medium high heat.
Cut the peaches in half, remove the pit and cut each half into 6 wedges. Brush the peach wedges with olive oil.
Grill the peaches for 3-4 minutes on each side to soften and create grill marks. Remove from the heat and set aside.
Cut the haloumi blocks into ½ inch slabs and grill either on the grates or flattop ( if you don't have a flattop on your grill, you can place a stainless steel or cast iron skillet on the grates). Cook the haloumi until golden brown (about 4-5 minutes on each side). Cut the haloumi slabs into ½ inch cubes.
Add the lettuce, cherries, peaches, and haloumi to a large bowl. Toss gently.
Divide the salad over 6 plates. Sprinkle sliced scallions and sunflower kernels over each salad.
Dress with raspberry vinaigrette, if desired.
Chef's notes: I eat this salad without dressing. However, if I was going to dress it, I would use raspberry vinaigrette. It has a bit of sweetness with plenty of vinegar kick. On the other hand, I think this would be equally good with a simple mustard vinaigrette.