Looking for a cookie a little out of the ordinary? These black sesame cookies might just be the answer. For starters, they definitely do not look like a typical cookie. They are, we'll say, dark and mysterious (and a little sparkly). The flavor is, as you might imagine, sesame. It's nutty and delicious. In terms of  texture, there is an added surprise with crunchy whole sesame seeds on top. This is no ordinary cookie. It's surprising… and surprisingly delightful.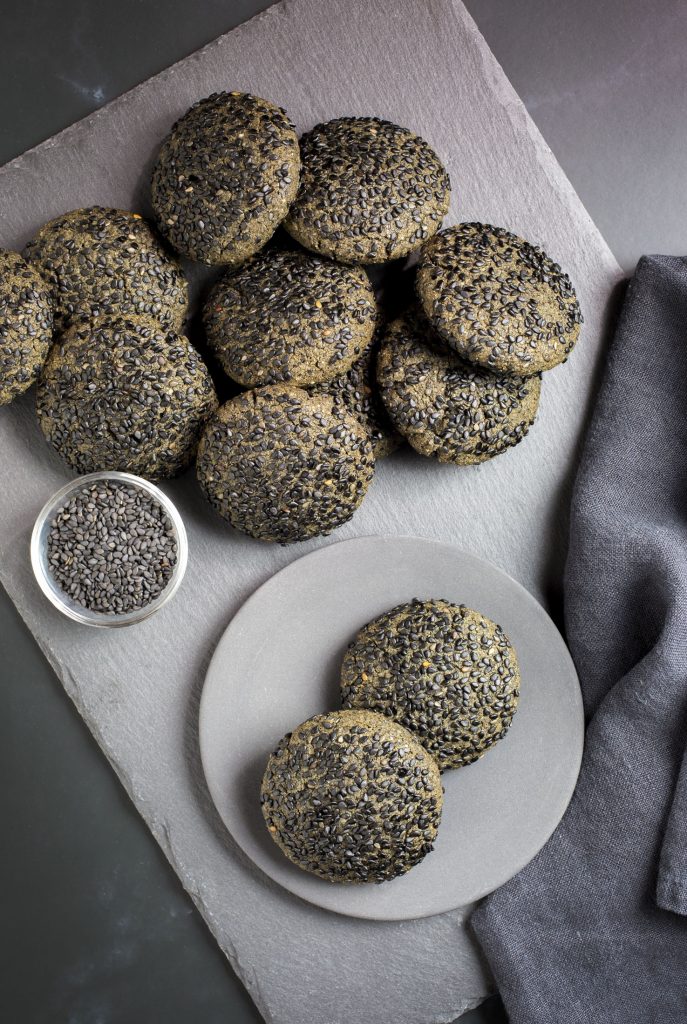 Black tahini or black sesame paste may not be easy to find in your local supermarket. Try a gourmet market or a natural foods store.
Your black tahini or black sesame paste may have separated in the container. If so, be sure to stir it until it is back to a smooth, fully incorporated consistency before adding it to the recipe. The oil is crucial to the recipe.
If your dough is too hard when you remove it from the refrigerator, let it warm at room temperature just until it is manageable, but do not let it come completely to room temperature.
Black Sesame Cookies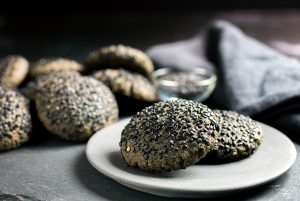 And now for something a little different…
Prep Time

25 min

Cook Time

20 min

Total Time

45 min

Yield

2 dozen

Serving Size

1 cookie

Energy

153 cal
Cuisine

Course

Cooking Method
The ingredients:
⅔ cup black sesame seeds + ½ cup for coating
½ cup unsalted butter
½ cup brown sugar, packed
½ cup sugar
1 egg
¾ cup black tahini or black sesame paste
¾ cup all-purpose flour
½ teaspoon baking soda
½ teaspoon fleur de sel
The Method:
1
Place ⅔ cup black sesame seeds in a skillet and toast them, tossing frequently, over medium heat for 4-5 minutes or until they become slightly toasted and fragrant. Allow them to cool and then grind them in a spice grinder or food processor until very finely ground, but not sticking together.
2
In a saucepan over medium-high heat, melt butter until it has foamed and is lightly browned (about 5-6 minutes). Pour through a fine mesh strainer to remove any solids into a mixing bowl. Add the sugars and whisk to fully incorporate. Whisk in the egg until fully combined. Add the black tahini or paste and whisk until fully combined.
3
In a separate bowl, sift the flour and baking soda together. Add the ground sesame seeds and the fleur de sel. Whisk to fully combine. Add half of the dry ingredients to the wet ingredients and fold until combined. Add the remaining dry ingredients and fold again just until fully combined. Cover with plastic wrap and refrigerate for at least 2 hours before baking.
4
Preheat oven to 350˚F. Line baking trays with parchment paper.
5
Place remaining black sesame seeds in a shallow bowl. Make balls of dough with 1½ tablespoons of dough (#40 cookie scoop). Flatten the balls in the palms of your hands to make disks. Press one side of each disk in black sesame seeds then place the disks on the baking trays, sesame seed side up. Leave 1½-2 inches between each disk.
6
Bake for 17-20 minutes or until the edges have just started to firm, rotating the tray at 9 minutes. Remove from the oven and cool cookies completely on the trays.
Serving Size

1 cookie

Amount per serving

Calories

153

% Daily Value*

Total Fat

10.3 g

13.21%

Total Carbohydrate

13.9 g

5.05%

Protein

2.8 g

5.6%

* The % Daily Value (DV) tells you how much a nutrient in a serving of food contributes to a daily diet. 2,000 calories a day is used for general nutrition advice.
NOTE: These nutritional values have NOT been verified by any laboratory. They are estimates based on publicly available information to help you make informed food choices.
calorieking.com