Pumpkin soup is good. Curry pumpkin soup with warm, soul satisfying spices is better. This creamy pumpkin soup recipe takes a solid pumpkin soup base and adds just the right amount of curry and ginger to take it to a whole new level. Served in small roasted pumpkins, this dish will "wow" and warm your guests.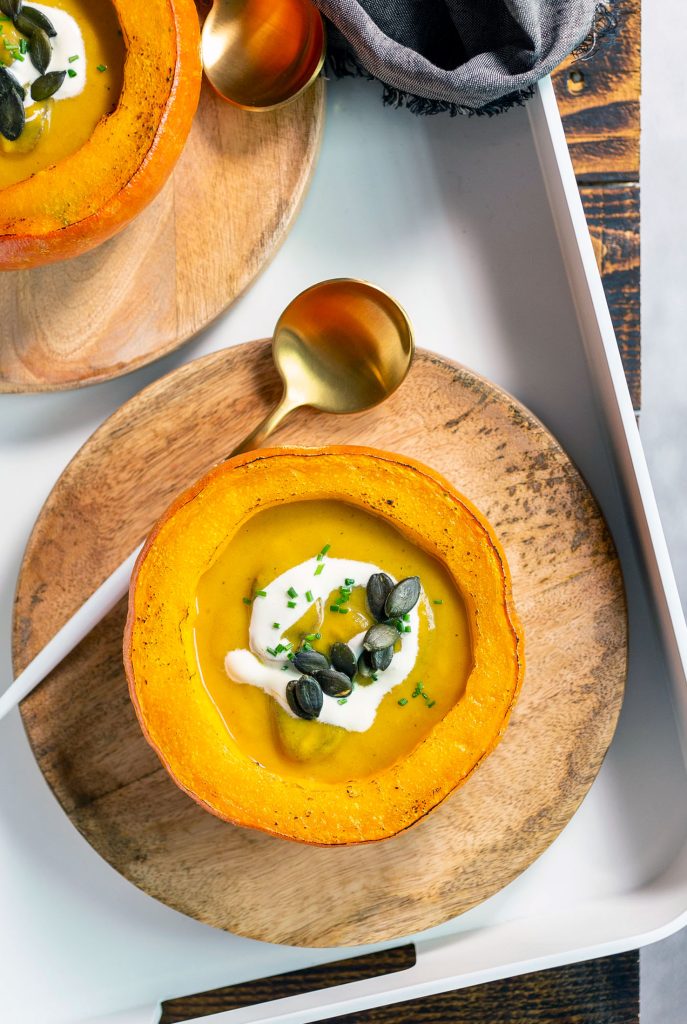 This recipe has an average amount of curry powder. If you like stronger curry flavor, you might want a bit more. Start with the recipe quantity and taste to make any adjustments after you have added the pumpkin and milk.
The mushrooms are an excellent addition to this soup. They add texture and a bit of complexity to the flavor. However, they are not necessary for the soup to be a grand success.
If you prefer, the sour cream can be substituted with non-flavored yogurt. For a little more protein and no fat, opt for non-fat Greek yogurt.
Some squash seeds are rich in dark color. They add a nice visual to the dish, but these could certainly be replaced with toasted pumpkin seeds, sunflower seeds, or another of your choice.
Like a little extra heat? Consider adding red pepper flakes to the soup when you add the curry and ginger.
Curry Pumpkin Soup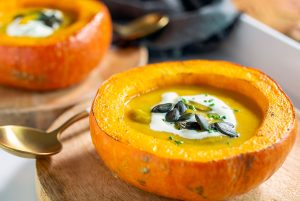 Take advantage of seasonal pumpkin with this soup.
Prep Time

15 min

Cook Time

45 min

Total Time

1 hr

Yield

6 servings

Energy

188 cal
The ingredients:
6 small pumpkins for serving
½ pound fresh mushrooms, sliced
¾ cup chopped onion
1 clove garlic
2 tablespoons butter
2 tablespoons all-purpose flour
1 teaspoon curry powder
1 teaspoon fresh ginger
3 cups vegetable stock
1 can (15 ounces) pumpkin
1 can (12 ounces) evaporated milk
½ teaspoon salt
¼ teaspoon pepper
¼ teaspoon ground nutmeg
finely chopped chives, sour cream, and pumpkin or squash seeds for garnish
The Method:
1
To prepare the pumpkins, preheat the oven to 350˚F. Cut off the top third of the pumpkins with a serrated knife. Scrape out the insides with a spoon.
2
Brush the insides and outsides with olive oil. Sprinkle each with salt. Bake on a baking sheet for 20-30 minutes, or until fork tender. For a little extra color and caramelization, place the pumpkins under the broiler for just a few minutes. Set aside.
3
In a large skillet saute the mushrooms on medium heat in 1 tablespoon of butter until tender. Remove the mushrooms and add onions and the other tablespoon of butter. Salt the onions lightly and allow them to cook, stirring occasionally, until tender. Add the garlic and cook for one minute. Stir in the flour, curry, and ginger and mix until well blended. Add the vegetable stock and bring to a boil. Cook for 2-3 minutes or until thickened.
4
Transfer the mixture to a saucepan. Add the pumpkin, milk, salt, and pepper. Cook on medium heat for 10 minutes.
5
Allow the soup to cool a bit and then blend it in a blender or food processor until smooth. Return the soup to the saucepan and stir in the mushrooms.
6
Serve the soup in the prepared pumpkins garnished with chives, sour cream and seeds.
Amount per serving

Calories

188

% Daily Value*

Total Fat

8.8 g

11.28%

Total Carbohydrate

20.4 g

7.42%

Protein

7 g

14%

* The % Daily Value (DV) tells you how much a nutrient in a serving of food contributes to a daily diet. 2,000 calories a day is used for general nutrition advice.
NOTE: These nutritional values have NOT been verified by any laboratory. They are estimates based on publicly available information to help you make informed food choices.
calorieking.com