You deserve an upgrade. Our haute chocolate recipes give you 3 hot chocolate upgrades to take your hot cocoa from bland to bling.
Is making hot chocolate from scratch really better?… YES! Forget the instant powder. With just a few extra minutes you can have a rich and thick chocolatey experience that simply does not compare. You're in control, so pick the kind of chocolate you like and indulge. Then take it up a notch with one of the delicious ideas below for an elevated experience your taste buds will thank you for during cold winter months.
Salted Caramel Hot Chocolate
(photo above)
Place 1 teaspoon of caramel sauce in a cup. Add 8 ounces of our hot chocolate (recipe below). Stir to combine. Add marshmallows and caramel waffle sandwich cookies (Stroopwafel). Drizzle a bit more caramel sauce over the marshmallows and sprinkle with fleur du sel.
(photo below)
Begin with 8 ounces of our basic hot chocolate recipe (see below). Before serving, stir in one ounce of amaretto liqueur. Top with tiny meringues, crumbled amaretto cookies, and chocolate of your choice.
mallows and sprinkle with fleur du sel.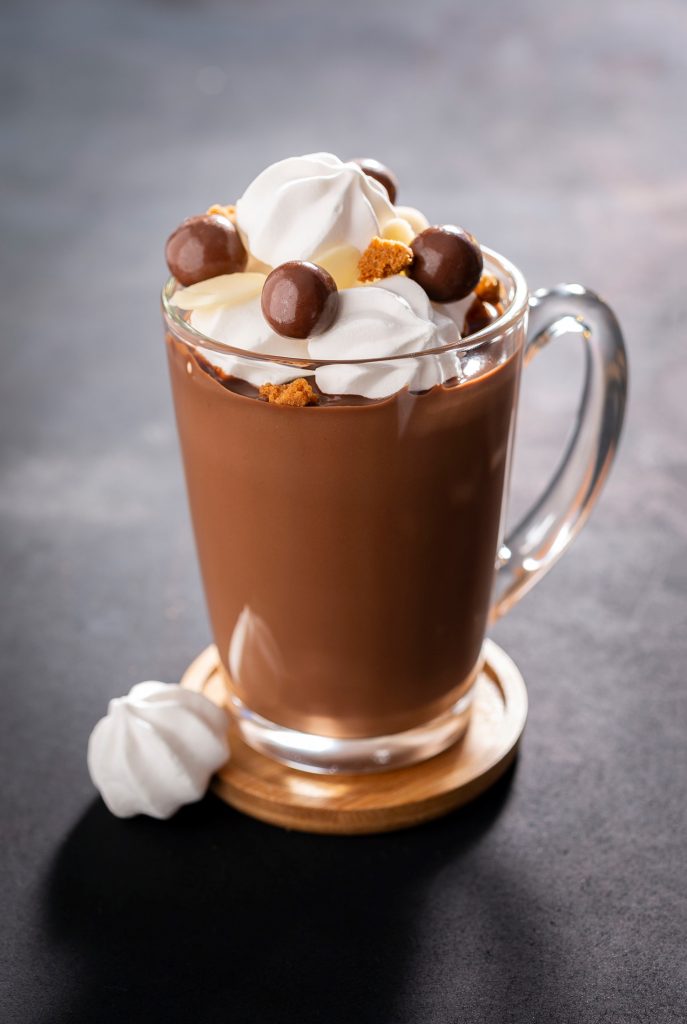 (photo below)
Stir one ounce of Kahlua into 8 ounces of our basic hot chocolate recipe (see below). Top with whipped cream. Dust with espresso powder. Add chocolate covered espresso beans and chocolate cookie sticks.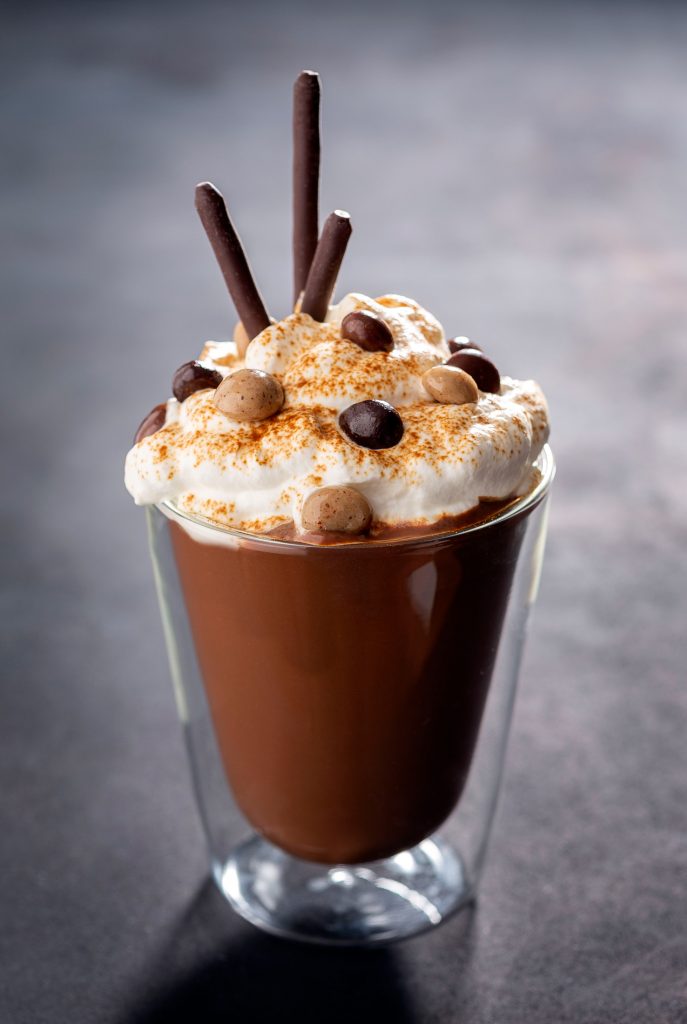 Heavy cream is not necessary. The longer the milk simmers, the thicker it will become.
Use good quality chocolate. Choose bitter sweet to very dark and adjust the brown sugar level to your liking.
Make smaller marshmallow disks by rolling whole marshmallows under a very sharp knife of a cutting board.
Haute Chocolate: 3 Hot Chocolate Upgrade Recipes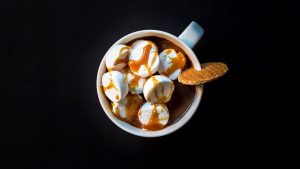 Your hot chocolate never had it so good!
Prep Time

3 min

Cook Time

7 min

Total Time

10 min

Yield

4

Energy

574 cal
The ingredients:
4 cups whole milk
10 ounces dark chocolate, chopped
6 tablespoons brown sugar
The Method:
1
Heat milk in a medium saucepan over medium-low heat. When it begins to simmer, remove it from the heat.
2
Add chocolate and whisk until all of the chocolate is melted.
3
Return to medium heat and simmer for 5-6 minutes. Whisk occasionally until it reaches the desired consistency.
4
Turn off the heat and add brown sugar. Whisk to fully incorporate.
5
Garnish as desired and serve immediately.
Amount per serving

Calories

574

% Daily Value*

Total Fat

29.2 g

37.44%

Total Carbohydrate

45.4 g

16.51%

Protein

13.4 g

26.8%

* The % Daily Value (DV) tells you how much a nutrient in a serving of food contributes to a daily diet. 2,000 calories a day is used for general nutrition advice.
This nutritional data is for the our basic hot chocolate recipe. What you do after that is up to you. It will, no doubt, be delicious, but it will also change the numbers.
NOTE: These nutritional values have NOT been verified by any laboratory. They are estimates based on publicly available information to help you make informed food choices.
calorieking.com