These kourabiedes are a Greek holiday classic. They are a simple walnut shortbread, sprayed with orange blossom water and coated in confectioners sugar. It seems almost too simple to taste so good. These easy-to-make cookies might just become a standard for your holiday baking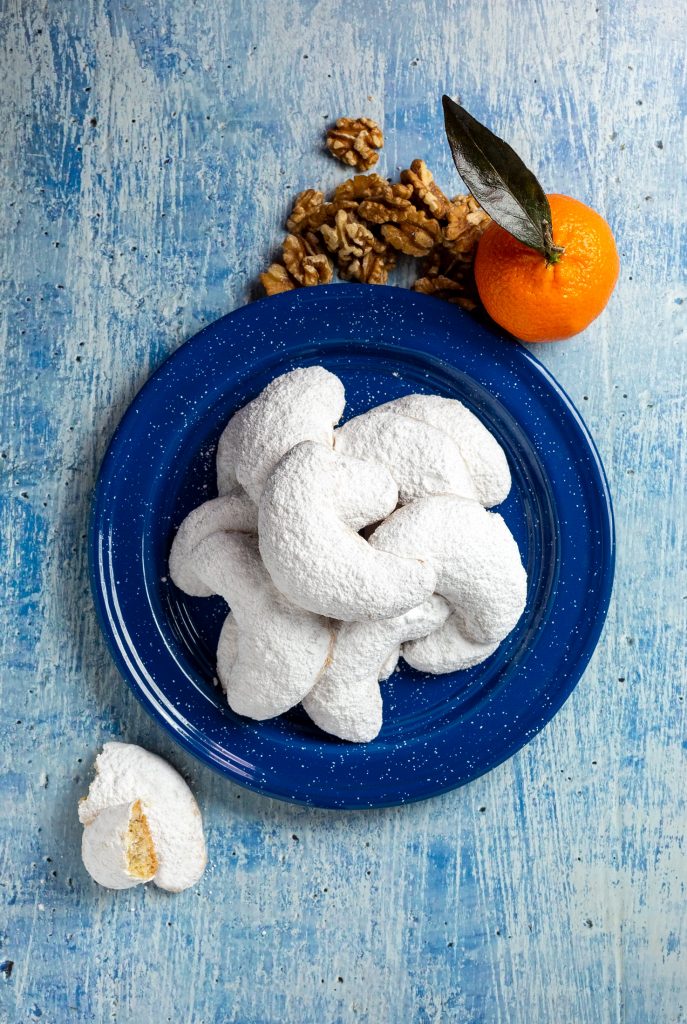 The temperature of the butter matters. Start with room temperature butter to make sure you have a smooth base to begin.


We used a mister for the orange blossom water to get the best possible coverage and make sure that the subtle flavor was consistent. You could sprinkle the orange blossom water with your fingers, but a mister will give you better results.
Kourabiedes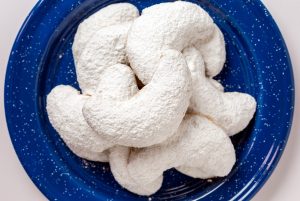 Holiday classic, done right. Give it up for the Greeks.
Prep Time

20 min

Cook Time

20 min

Total Time

40 min

Yield

2½ dozen

Serving Size

1 cookie

Energy

113 cal
The ingredients:
1 cup unsalted butter, at room temperature
1 cup confectioners sugar + more for coating
1 teaspoon vanilla extract
1 egg yolk
2 cups all-purpose flour
½ teaspoon baking powder
pinch of salt
¾ cup walnuts, finely chopped
orange blossom water
The Method:
1
Preheat oven to 325˚F. Line baking sheets with parchment paper.
2
Place butter in a mixing bowl. Beat on medium high speed until butter is light and creamy. Add sugar, vanilla, and egg yolk and beat until well combined.
3
Sift together the flour, baking powder, and salt. Add the dry ingredients to the wet ingredients and mix on low speed just until combined. Add chopped walnuts and mix just until incorporated.
4
Using 1½ tablespoons of dough (#40 cookie scoop), roll the dough into balls and then into 2-3 inch lengths. Then, starting at the center and working towards the ends with both hands roll the lengths gently to taper the ends and lengthen the dough. Curve the dough slightly to form a crescent and place them on the baking trays. Bake for 15-20 minutes or until they just start to lightly brown along the bottom and sides.
5
Transfer the cookies to wire racks immediately and, while still warm, use a clean mister to spray the tops of the cookies with orange blossom water, coating them completely. Then dust the cookies with confectioners sugar and allow them to cool completely.
6
When cooled, dust the cookies in confectioners sugar again to completely coat.
Serving Size

1 cookie

Amount per serving

Calories

113

% Daily Value*

Total Fat

8.2 g

10.51%

Total Carbohydrate

10.8 g

3.93%

Protein

1.4 g

2.8%

* The % Daily Value (DV) tells you how much a nutrient in a serving of food contributes to a daily diet. 2,000 calories a day is used for general nutrition advice.
NOTE: These nutritional values have NOT been verified by any laboratory. They are estimates based on publicly available information to help you make informed food choices.
calorieking.com