Seafood Lover? Your new favorite pasta dish has arrived.
The flavor of the sea comes to life in this vibrant pasta dish. A simple (and suprisingly delicious) roasted tomato sauce acts as the base for fresh herbs, creamy feta, and plenty of colorful roasted cherry tomatoes. Dive in!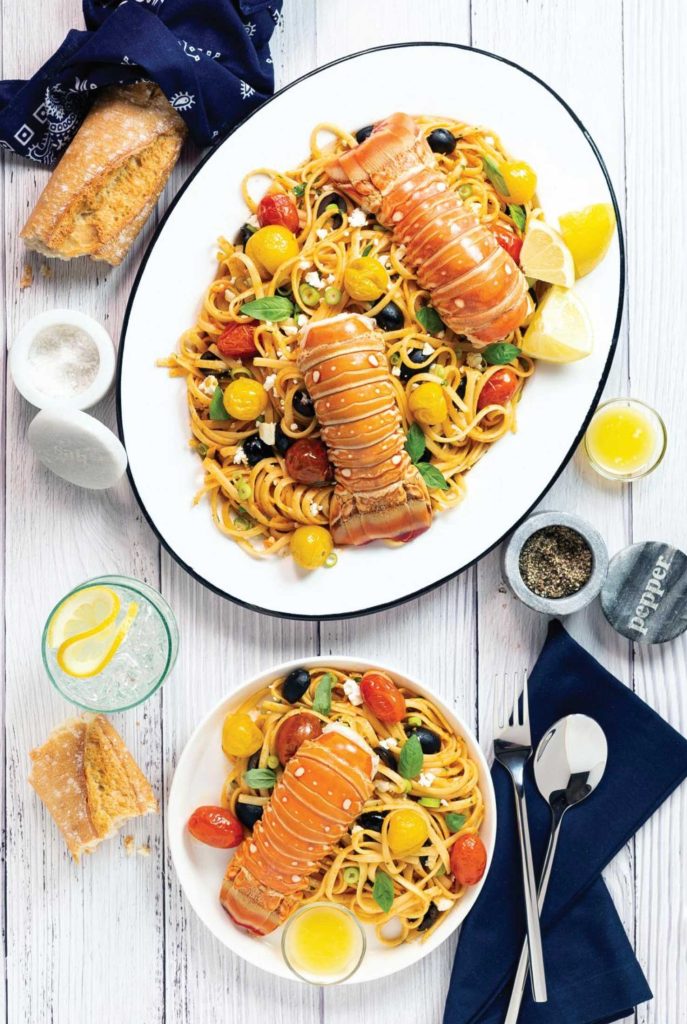 As an alternative, the dish could equally be made with lobster or even shrimp
Six cloves is a good starting point. If you like a stronger garlic taste, make it eight. If garlic isn't your thing, make it four.
Linguine is the pasta of choice here, but the dish would work with spaghetti or angel hair, too… long and stringy is the key.
You will find fish stock in most good supermarkets. However, you can make a good shrimp stock by combining the heads and shells of shrimp with carrot, parsley, bay leaf, pepper, lots of salt, and about 3 liters of water. Also, you could make the pasta with just salted water, but the stock will add a unique, more complex flavor.
You can roast the tomatoes a day in advance. Separate the cherry tomatoes and make the sauce as directed with the tomato quarters and garlic. Keep both refrigerated in an airtight container and bring to room temperature before preparing the dish.

Linguine Langoustine with Roasted Tomato Garlic Sauce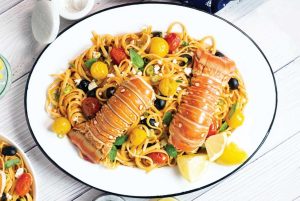 A perfect combo for lovers of pasta and seafood.
Prep Time

35 min

Cook Time

1 hr 15 min

Total Time

1 hr 50 min

Yield

6 servings

Energy

385 cal
The ingredients:
6 langoustine tails, fresh or frozen
4 medium tomatoes, quartered
2 cups cherry tomatoes, yellow and red
6 cloves garlic, smashed
1 tablespoon + ½ cup olive oil
1 teaspoon lemon zest
3 tablespoons fresh lemon juice
¼ cup water
1 teaspoon coarse salt + ¼ cup for pasta
½ teaspoon pepper
1 teaspoon smoked paprika
12 ounces linguine
12 cups (or three 32oz. boxes) fish stock
⅔ cup olives (black or kalamata), halved
4 scallions, thinly sliced
½ cup fresh parsley, finely chopped
½ cup fresh basil, finely chopped
½ cup feta cheese, crumbled
The Method:
1
Thaw langoustine tails in advance, if frozen.
Preheat oven to 250˚F. Line a baking sheet with aluminum foil for easy cleanup. Add the quartered tomatoes cherry tomatoes, and garlic to the baking sheet. Drizzle 1 tablespoon of oil over all of it and toss to coat. Turn quartered tomatoes so one cut side is down. Roast for 1 hour and 15 minutes.
2
Remove the baking sheet from the oven and separate the cherry tomatoes for later use. Add the tomato quarters, garlic, and juices to a blender. Cool slightly.
3
Add ½ cup olive oil, lemon zest, lemon juice, water, 1 teaspoon salt, pepper, and smoked paprika to the blender. Blitz until smooth. Set aside.
4
Bring the fish stock to a boil in a large pot. Once boiling, add ¼ cup salt and linguine. Cook for the time indicated on the package or to al dente stage. While the pasta cooks, prepare the olives, scallions, parsley, basil, and feta. Set aside.
5
Drain the pasta, but retain the stock, returning it to the large pot. Bring the stock back to boiling. Place the pasta in a large bowl.
Add the sauce to the pasta and toss to coat. Add the cherry tomatoes, olives, scallions, parsley, basil, and feta. Toss lightly to combine.
6
When stock returns to boiling, add langoustine tails and cook for 4 minutes. Drain langoustine and cool slightly. TIP: to prevent tails from curling, insert a wooden skewer into the meat of each tail before boiling and remove before serving.
7
Place finished pasta in a serving vessel and top with langoustine. Sprinkle with any remaining fresh herbs, if available.
Amount per serving

Calories

385

% Daily Value*

Total Fat

14.0 g

17.95%

Total Carbohydrate

52.1 g

18.95%

Protein

16.9 g

33.8%

* The % Daily Value (DV) tells you how much a nutrient in a serving of food contributes to a daily diet. 2,000 calories a day is used for general nutrition advice.
NOTE: These nutritional values have NOT been verified by any laboratory. They are estimates based on publicly available information to help you make informed food choices.
calorieking.com