What is more comforting than a soft and savory meatball? This recipe for our best, easy meatballs is going to make you wish you were making them far more often. They are simple to make and well worth the effort. In fact, they are so good that you might want to consider doubling the recipe and freezing some for later.
This recipe is a keeper just as it is. It is perfect for the best easy meatballs. However, you could certainly make some modifications to flavor the meatballs differently. This would be done primarily through the herbs and spices you add. For example, going Mexican? Swap out the parsley for cilantro and add a bit of cumin and chili powder. Want something for your Greek-inspired dinner? Load up on the oregano.
Be sure to cook a small sample meatball before cooking the rest. This will be your only chance to ensure the seasoning is to your taste.
If the recipe yields more than you need at the time, you can freeze the meatballs after they are rolled, but before they are cooked. Simply place them on a parchment-lined baking sheet, cover them with plastic wrap, and freeze them. When they are frozen transfer them to a freezer bag and store them in the freezer for up to one month.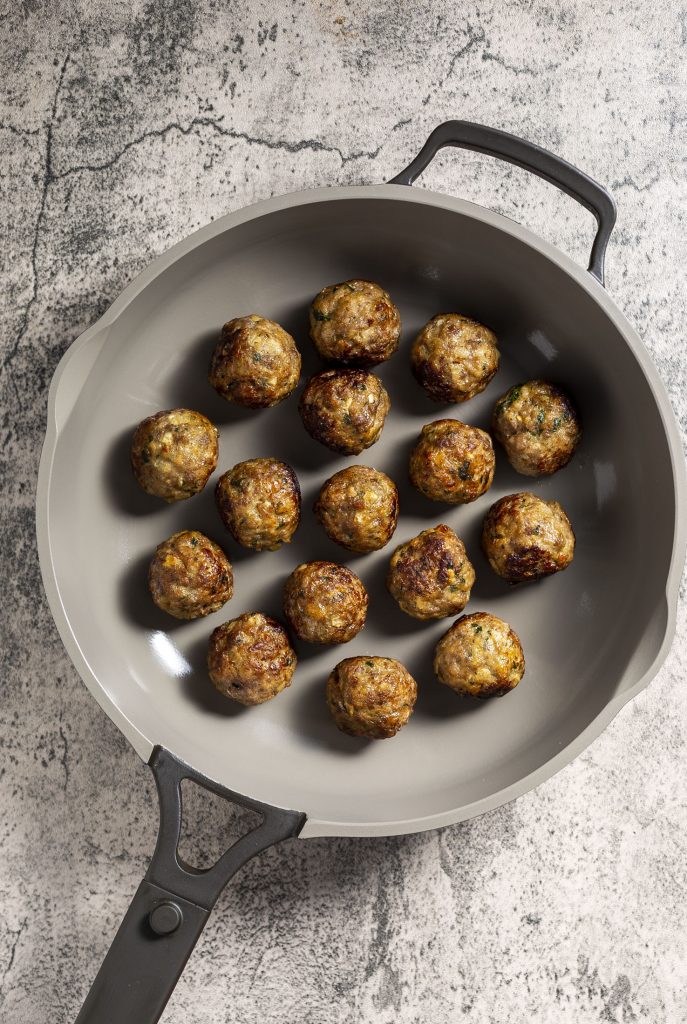 Our Best Easy Meatball Recipe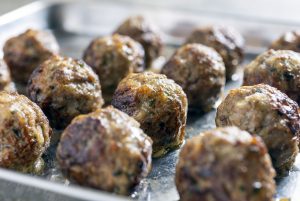 Loads of flavor all rolled up into a little ball of joy.
Prep Time

35 min

Cook Time

35 min

Total Time

1 hr 10 min

Yield

24-30 meatballs

Serving Size

3 meatballs

Energy

214 cal
The ingredients:
1 large onion, diced small
2 cloves garlic, minced
2 tablespoons fresh parsley, finely chopped
2 tablespoons olive oil
1 cup white bread cubes, crust removed
½ cup milk
½ pound lean ground beef
½ pound ground pork
½ pound ground veal
¾ cup parmesan, grated
1 large egg
1 teaspoons salt
½ teaspoon red pepper flakes
½ teaspoon freshly ground black pepper
a bit of olive oil for browning
The Method:
1
Over medium-low to medium heat, sweat the onions in the olive oil and a light sprinkling of salt until soft and translucent (5-7 minutes). Add the minced garlic and continue to cook for another minute, just long enough to release the flavor from the garlic, but not brown it. Next, add the chopped parsley. Toss it a bit to fully combine and then remove the mixture from the heat and allow it cool.
2
Add the bread cubes and milk to a shallow bowl. Toss the bread cubes to ensure they are completely covered. Set aside and allow at least 10 minutes for the bread to absorb the milk.
3
Add the meats to a large bowl and mix lightly to make the mixture more homogenous, but do not over mix. Squeeze the soaked bread cubes to remove the excess milk. Break the bread into small pieces and add it to the meat. Discard the remaining milk. Mix the bread with the meat just until combined.
4
Add the cooled onion, garlic, and parsley mixture, and the egg, salt, pepper flakes, and ground black pepper. Mix just until fully combined.
5
Heat a skillet over medium-high heat. Add a bit of olive oil and heat it. Add a small meatball and cook, turning frequently, until fully cooked (about 5 minutes). Allow the meatball to cool slightly and then taste it. Adjust the seasoning of the remaining mixture as desired.
6
Roll the remaining mixture into uniform balls for cooking consistency. The size is up to you, but golf ball size or a little bigger works very well. A cookie scoop or kitchen scale is ideal for this. Place the meatballs on a parchment lined baking sheet and lightly cover them with plastic wrap. Refrigerate for at least 30 minutes before cooking.
7
Preheat the oven to 350˚F. Heat a skillet over medium-high heat and then add a bit of olive oil and heat it. Add the meatballs to the skillet in two the three phases depending on the size of your skillet. The meatballs should have at least one inch of space between them so you can easily turn them. Cook the meatballs until completely browned. Transfer them to a parchment-lined baking sheet.
8
When all of the meatballs are browned, bake them 15-18 minutes or until the internal temperature reaches 160˚F. A cooking thermometer (recommended) is ideal for best results.
9
Remove the meatballs from the oven and add to your sauce or dish.
Serving Size

3 meatballs

Amount per serving

Calories

214

% Daily Value*

Total Fat

13.3 g

17.05%

Total Carbohydrate

3.8 g

1.38%

Protein

18.7 g

37.4%

* The % Daily Value (DV) tells you how much a nutrient in a serving of food contributes to a daily diet. 2,000 calories a day is used for general nutrition advice.
NOTE: These nutritional values have NOT been verified by any laboratory. They are estimates based on publicly available information to help you make informed food choices.
calorieking.com