Pistachio lovers, rejoice! These cookies are loaded with pistachio color and flavor. Regular flour is replaced with ground nuts resulting in a cookie that is incredibly chewy on the inside and crunchy on the outside. You are going to be surprised at how simple this recipe is to make and what you get in return for so little effort.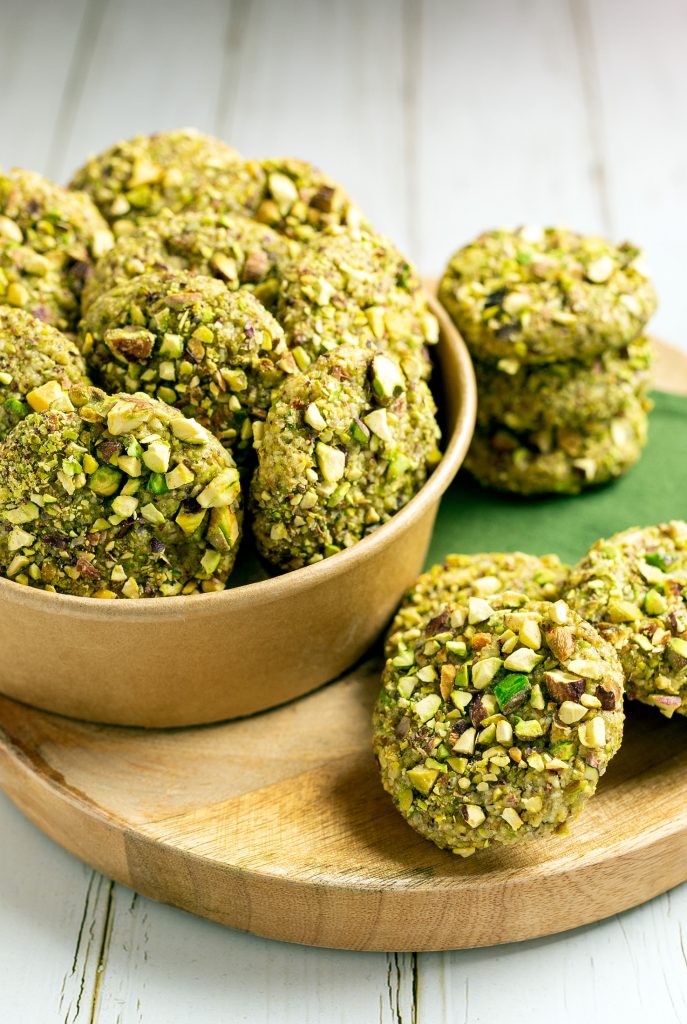 Raw, unsalted nuts are used in this recipe. If you can't find them, you could use salted pistachios, but your cookies will be a bit salty, obviously. In this case, omit the pinch of salt from step 2.
It is critical that you let the cookies cool on the trays. While the outsides will be somewhat firm when you pull them from the oven, the insides will be quite soft and your cookies could break if you try to remove them too soon.
Pistachio Cookies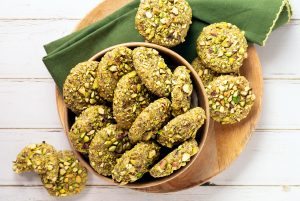 Crunchy, chewy pistachio satisfaction.
Prep Time

15 min

Cook Time

15 min

Total Time

30 min

Yield

2 dozen

Serving Size

1 cookie

Energy

138 cal
The ingredients:
1¾ cups raw pistachios, shelled and whole
½ cup raw pistachios, chopped
⅔ cup sugar
1½ cups blanched almonds
pinch of salt
½ teaspoon vanilla
The Method:
1
Preheat oven to 325°F. Line two baking sheets with parchment paper.
2
Place 1¾ cups pistachios, almonds, and sugar in a food processor. Blitz to a fine meal. Transfer the meal to a mixing bowl and add the egg whites, salt and vanilla. Mix by hand with a wooden spoon or rubber spatula until the mixture comes together. Set aside.
3
Chop the remaining ½ cup pistachios and set aside in a shallow bowl. Make balls that are about 1½ tablespoons of dough. For best (consistent) results, use a cookie scoop. We used a #40 cookie scoop, which is about 30g of dough for each cookie. Flatten the balls slightly between your palms or using the bottom of a glass. Press one side of each cookie disk into the chopped pistachios. Arrange on the baking trays.
4
Bake the cookies for 12 – 15 minutes or until the edges start to brown, rotating the trays at 6 minutes. Remove them from the oven and allow the cookies to cool completely on the trays before attempting to remove them.
Serving Size

1 cookie

Amount per serving

Calories

138

% Daily Value*

Total Fat

9.7 g

12.44%

Total Carbohydrate

10.5 g

3.82%

Protein

4.6 g

9.2%

* The % Daily Value (DV) tells you how much a nutrient in a serving of food contributes to a daily diet. 2,000 calories a day is used for general nutrition advice.
NOTE: These nutritional values have NOT been verified by any laboratory. They are estimates based on publicly available information to help you make informed food choices.
calorieking.com