Potato chip cookies? Yeah, we know it sounds a little strange, but we assure you that after you make them you will wonder where potato chip cookies have been all of your life. They hit all the best notes… sweet, salty, soft, crunchy. Trust us when we say these will not last long.
Before you start:
Either plain or rippled potato chips will work for this recipe. These cookies are made with salted potato chips. You could use unsalted potato chips if you prefer, but you will need to taste the dough to determine if you need to add a bit more salt to the recipe.

show me more cookies


Potato Chip Cookies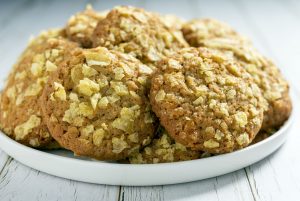 Sweet, salty, soft, and crunchy… pure satisfaction.
Prep Time20 min
Cook Time30 min
Total Time50 min
Yield24 cookies
Serving Size1 cookie
Energy222 cal
The ingredients:
1 cup unsalted butter, at room temperature
½ cup light-brown sugar, packed
¾ cup sugar
2 eggs
1 teaspoon vanilla
2¼ cups all-purpose flour
1 teaspoon baking soda
½ teaspoon salt
4-5 cups roughly crushed potato chips, divided
The Method:
1Preheat the oven to 375˚F. Sift together the flour, baking soda, and salt. Set aside.2Place the butter and sugars in a mixing bowl. Beat on medium-high speed until light and fluffy (about 3 minutes). Add the eggs and vanilla and beat until combined.3Add the sifted flour mixture to the bowl and beat on low speed just until combined. Add 2 cups of crushed potato chips and beat just until combined.4Make dough balls using 1½ tablespoons of dough (#40 cookie scoop). Roll the balls to make them round, flatten them just a bit, and then press them in the remaining potato chips.5Place the dough on a parchment-lined baking sheet with at least 1½ inches between them. Bake for 12-15 minutes or until lightly browned. Let the cookies cool for at least 5 minutes on the baking sheet before transferring them to a wire rack to cool completely.

Serving Size1 cookie
Amount per serving
Calories222
% Daily Value*
Total Fat12.6 g16.15%
Total Carbohydrate25.6 g9.31%
Protein2.6 g5.2%
* The % Daily Value (DV) tells you how much a nutrient in a serving of food contributes to a daily diet. 2,000 calories a day is used for general nutrition advice.
NOTE: These nutritional values have NOT been verified by any laboratory. They are estimates based on publicly available information to help you make informed food choices.
calorieking.com