The holiday vibe is, in a word… chill.
Fortunately, our sorrel snowball cocktail and Möet & Chandon have you covered with their Ice Imperial Champagne. This champagne has been specially formulated to work with ice… in the glass.
Keep your champagne cocktail cold longer by simply pouring the champagne over ice. This would be a great recipe to use as your party's signature drink. It combines a traditional Caribbean beverage with plenty of festive fizz.
If you are serving this as your signature cocktail for the evening, consider making the base in bulk. Simply multiply the first four ingredients by the number of drinks you want to have ready. Put it in the fridge for extra chill and then add about 4 ounces to each glass before adding 4 ounces of champagne.
The 'snowball' part of this cocktail come from the ice sphere floating at the top. Ice sphere molds are commonly available in kitchen shops or online.
Hibiscus syrup can usually be found in gourmet supermarkets, generally in the international section, or in finer stores where spirits are sold.


Sorrel Snowball Cocktail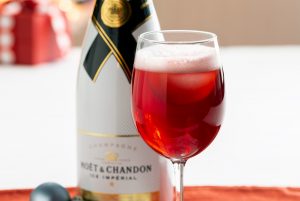 A fizzy, festive take on a Caribbean drink.
Prep Time

3 min

Total Time

3 min

Yield

1 cocktail

Serving Size

1 cocktail

Energy

329 cal
The ingredients:
1 ounce vodka
2 ounces hibiscus syrup
1 ounce pomegranate juice
1 teaspoon lime juice
4 ounces champagne
The Method:
1
Add vodka, hibiscus syrup, pomegranate juice, and lime juice to a wine glass. Stir.
3
Top with Möet & Chandon Ice Imperial.
Serving Size

1 cocktail

Amount per serving

Calories

329

% Daily Value*

Total Fat

0 g

0%

Total Carbohydrate

47.9 g

17.42%

Protein

0.5 g

1%

* The % Daily Value (DV) tells you how much a nutrient in a serving of food contributes to a daily diet. 2,000 calories a day is used for general nutrition advice.
NOTE: These nutritional values have NOT been verified by any laboratory. They are estimates based on publicly available information to help you make informed food choices.
calorieking.com