There is so much that is GOOD about this strawberry farro salad with balsamic glazed pecans. It is just the right amount of fresh, bright, tang, and sweet, and has wonderful crunchy texture from the nuts and a toothiness from the farro. You will not be disappointed. Frankly, the balsamic glazed pecans are reason enough to try it.
savour… striking a balance
STRAWBERRY FARRO SALAD WITH BALSAMIC GLAZED PECANS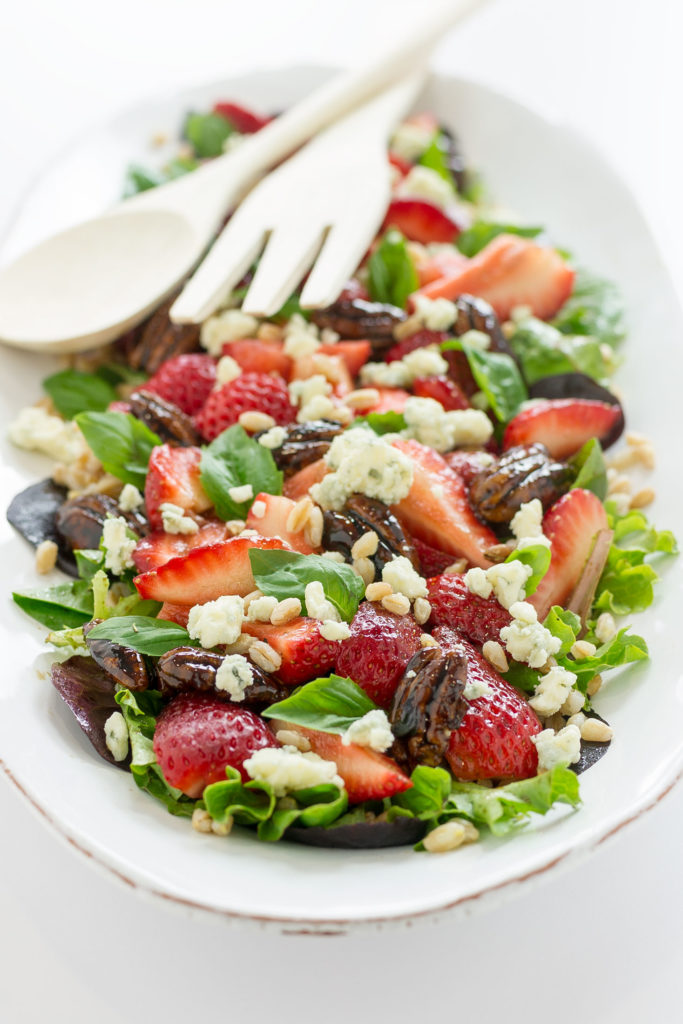 Before you start:
Farro, an ancient Italian grain, is more and more common. Most good supermarkets will stock it near the rice, barley, etc.
For best results crumbling the Gorgonzola cheese, use a fork and be sure that the cheese is quite cold. Then place the crumbles back in the fridge until you are ready to put them on the salad.
You might want to make some extra balsamic glazed pecans. They are so good that you will want some when the salad is gone.
The ingredients:
For the salad:
½ cup farro
3 cups water
4 cups of mixed greens
12-15 strawberries, hulled and quartered
¼ cup Gorgonzola cheese, crumbled
¼ cup small basil leaves
1 cup balsamic glazed pecans (recipe follows)
balsamic vinaigrette (recipe follows)
For the vinaigrette:
2 tablespoons balsamic vinegar
1 tablespoon raspberry vinegar
1 tablespoon honey
pinch salt
pinch ground black pepper
3 tablespoons extra virgin olive oil
For the pecans:
1¼ cups pecan halves
¼ cup brown sugar, firmly packed
4 tablespoons balsamic vinegar
½ teaspoon table salt
½ teaspoon chili powder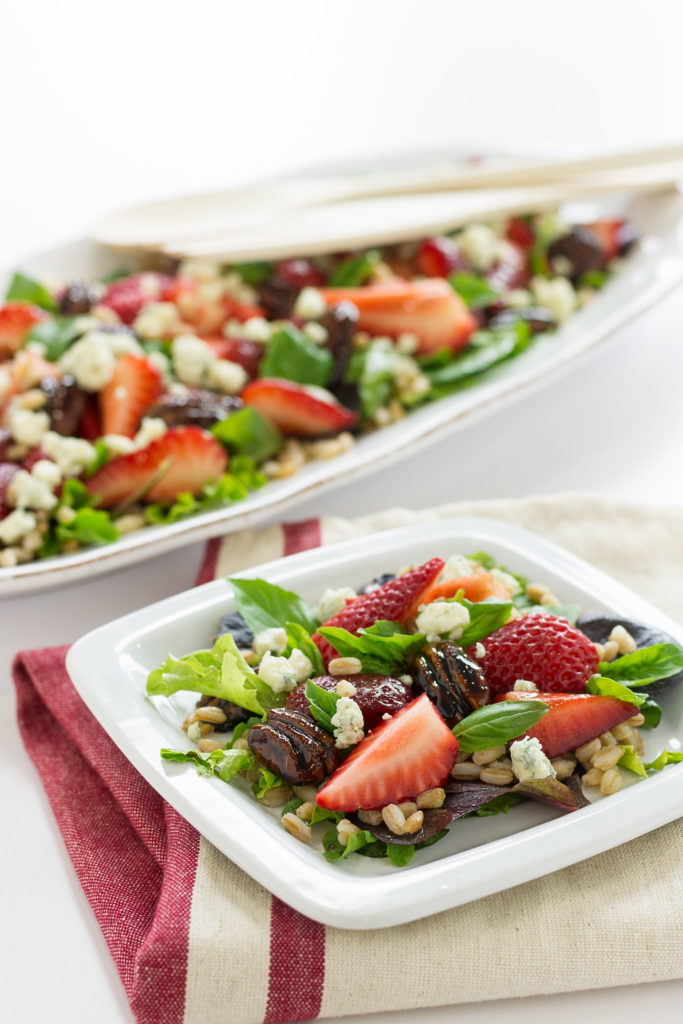 The method:
Prepare the farro by bringing it and the water to a low boil in a medium saucepan. Cover and continue cooking at a low boil for 15 minutes. Strain farro from the liquid and cool slightly before refrigerating to cool completely.
To make the glazed pecans, line a baking sheet with parchment paper. Stir the sugar and vinegar together in a large non-stick skillet over medium heat. Add the nuts and stir occasionally until all of the liquid evaporates (about 6-8 minutes). Add the salt and chili powder and stir for another 30 seconds. Pour the nuts onto the parchment-lined baking sheet and immediately separate them using a couple of forks. Do NOT use your fingers. They will be very hot and sticky. Allow to cool completely before proceeding.
Make the vinaigrette by whisking together the vinegars, honey, salt, and pepper in a medium bowl. While whisking briskly, slowly drizzle the olive oil into the bowl.
Place a tablespoon of dressing in a large bowl. Add the greens and toss them to coat them completely. Add greens to your serving platter. Sprinkle about ¾ of the farro over the bed of greens. Place berries and two tablespoons of dressing in the large bowl and toss. Add the strawberry quarters and nuts to the platter. Sprinkle the remaining farro over the top. Drizzle the remaining dressing over the salad. Top with cheese and a sprinkling of basil leaves. Serve immediately.