Want to be a kitchen wizard (or at least seem like one)? These sweet and spicy shrimp skewers might just do the trick. They'd be good for dinner, but even better to 'wow' guests at a cocktail party. You'll find them very easy to make and cook quickly, right when you need them.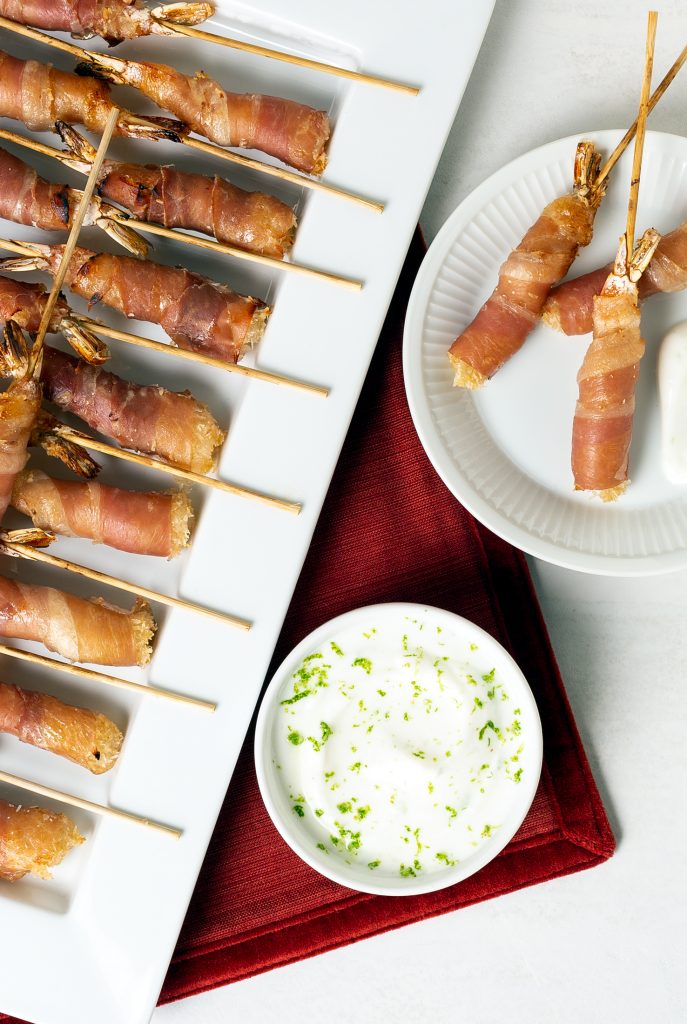 You can make these with frozen shrimp (after thawing), but fresh shrimp would be far better.
If you are making them for a party, consider making a couple of trays well in advance. Cover them in plastic wrap and store them in the refrigerator until you are ready to serve. Preheat the oven and then bake them about 15 minutes before you need them. This will allow a little more time if necessary to make up for the refrigeration and a couple of minutes to rest before serving.
Sweet and Spicy Shrimp Skewers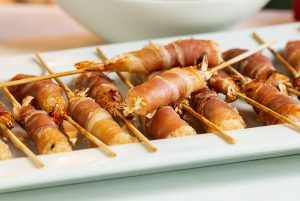 Easy appetizers that will make you look like a genius.
Prep Time

30 min

Cook Time

10 min

Total Time

40 min

Yield

30
Cuisine

Course

Cooking Method
The ingredients:
12 ounces fresh or frozen medium shrimp
⅓ cup honey
1 lime, juice and zest
1 teaspoon fresh ginger, grated
¼-½ teaspoon cayenne pepper
30 wooden skewers, 6 inches long
1 cup shredded, unsweetened coconut
10-12 ounce package thinly sliced prosciutto, cut into long 1-inch strips
The Method:
2
Peel clean, and devein shrimp, if necessary, leaving tails in place.
3
Add honey, lime zest and juice, ginger, and cayenne to a small bowl. Whisk to fully combine.
4
Make a few tiny cuts on the inside curve of the shrimp to allow them to remain straight on the skewers. Add the shrimp to the skewers, tail end first, until the tip of the skewers meets the top of the shrimp.
5
Roll the shrimp in the honey mixture and shake them gently to remove the excess. Roll the shrimp in shredded coconut and set aside.
6
Starting just above the tail, wrap each shrimp in one prosciutto strip ending at the top. Place wrapped shrimp on a parchment-lined baking sheet with a bit of space between them.
7
Bake for 7-10 minutes or until the shrimp is opaque. Rotate the pan once during baking. Remove from the oven and cool slightly before serving.