Stir things up this Thanksgiving without discussing politics. This recipe for sweet potato gnocchi with chimichurri sauce is an "out of the ordinary" way to serve up the holiday favorite… or just to eat anytime you want sweet potatoes. It is sure to become a new favorite.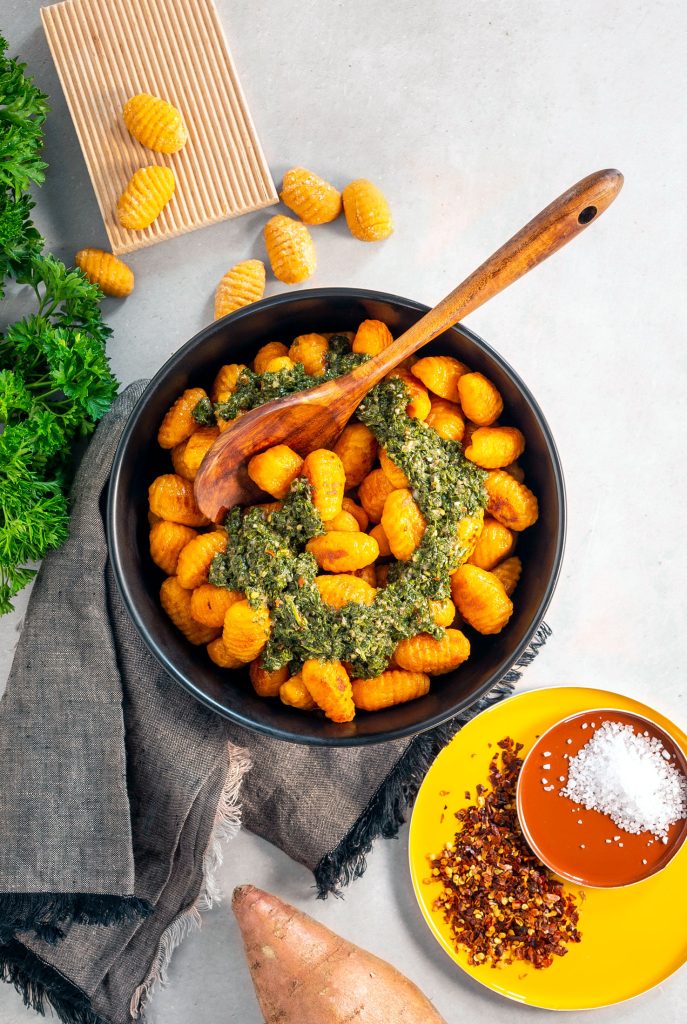 The dough will be very loose. The idea is to add as little flour as possible to obtain a dough that sticks together. This is where the pillowy magic occurs.
The chimichurri sauce can be made in advance… and doubled if you want to use it for other applications afterward.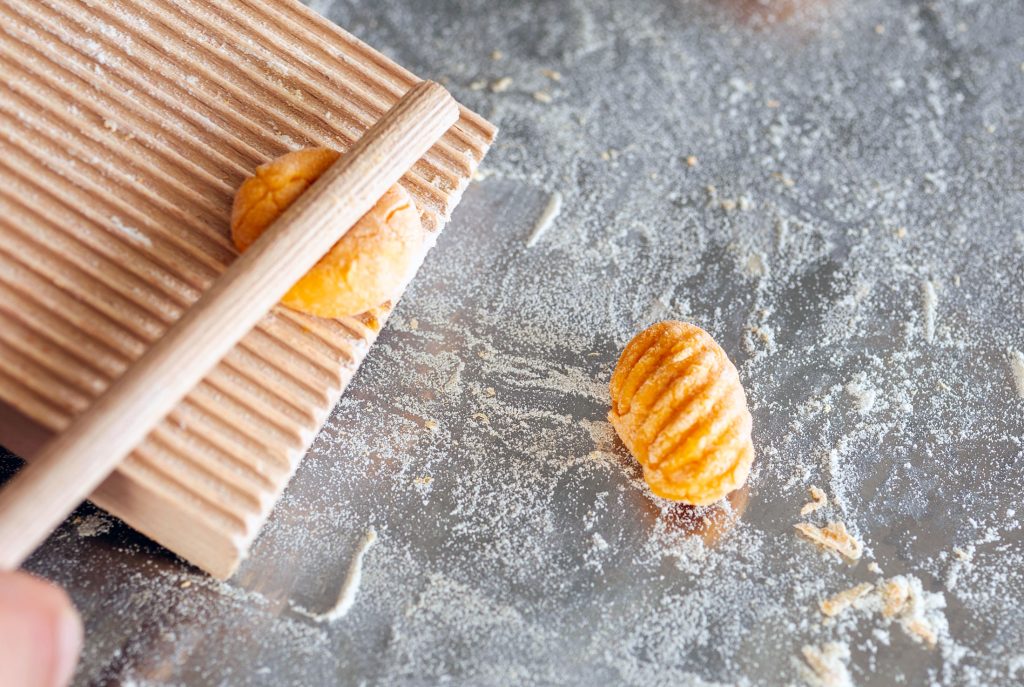 Sweet Potato Gnocchi with Chimichurri Sauce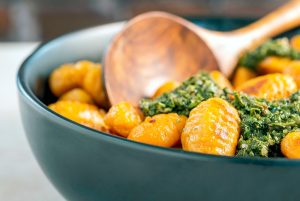 A comforting, pillowy, and delicious dish.
Prep Time

20 min

Cook Time

1 hr

Total Time

1 hr 20 min

Yield

6

Energy

305 cal
The ingredients:
For the gnocchi:
3 cups mashed, cooked sweet potato (about 3 potatoes)
1 egg
1 teaspoon salt
2 to 2½ cups flour + more as needed
olive oil to sauté
For the chimichurri sauce:
1 cup fresh parsley
¼ cup fresh cilantro
¼ cup fresh oregano
⅓ cup red onion, chopped
3 cloves garlic
½ teaspoon red pepper flakes
¼ cup red wine vinegar
3 tablespoons fresh lemon juice
1 teaspoon kosher salt
½ cup extra virgin olive oil
The Method:
For the gnocchi:
1
Preheat oven to 425˚F. Wash sweet potatoes, then poke them liberally with a fork. Place the potatoes on a foil-lined baking sheet and roast for 45-50 minutes or until fork tender.
2
When the potatoes are just cool enough to handle remove the skins. Use a ricer or food processor to puree the potatoes. Add 3 cups of the puree to a mixing bowl. Add the egg and salt and stir to fully combine.

3
Add 2 cups of the flour and fold it in to combine. Do not over-mix. Add enough additional flour to create a sticky, somewhat loose ball of dough. The goal is to achieve a dough that will hold together using the least amount of flour possible.
4
Divide the dough into 6 or 8 portions on a clean, flat work surface. Roll each portion into a rope shape about 1 inch thick. Using a knife or pastry cutter, cut each rope into ½-inch portions. Toss them lightly in flour, if necessary, to keep them from sticking.
5
For classic gnocchi ridges, roll the portions over a gnocchi (or butter) board with your thumb pressing them down as you roll. This can also be done on the back side of a fork. However, the gnocchi can also be rolled into football shapes for cooking.
6
Bring a large pot of water to a boil. Add a generous amount of salt to the water, just as you would for pasta. Cook the gnocchi in batches to make sure there is enough room for them to move around. When the gnocchi float to the top of the water, they are done. Remove them with a spider or slotted spoon and place them on paper towels to dry.
7
Add a bit of olive oil to a non-stick skillet over medium-high heat. When the oil is hot add the cooked gnocchi in batches. Do not overcrowd the skillet. Toss the gnocchi frequently to brown all sides. Remove to drain away excess oil and continue with the remaining gnocchi.
8
Place gnocchi in a serving bowl and top with chimichurri sauce. Toss before serving.
For the chimichurri sauce:
9
Place all of the ingredients except the oil in a food processor. Pulse several times reduce ingredients to small pieces.
10
With the food processor on the lowest speed, drizzle in olive oil. Taste the sauce for seasoning and adjust the salt as desired. Pulse again to incorporate.
Amount per serving

Calories

305

% Daily Value*

Total Fat

10.5 g

13.46%

Total Carbohydrate

46.6 g

16.95%

Protein

6.6 g

13.2%

* The % Daily Value (DV) tells you how much a nutrient in a serving of food contributes to a daily diet. 2,000 calories a day is used for general nutrition advice.
NOTE: These nutritional values have NOT been verified by any laboratory. They are estimates based on publicly available information to help you make informed food choices.
calorieking.com