Not sure what to do with all of those Thanksgiving leftovers? Thanksgiving Pot Pie is the solution. Pull them all together in a dish that is easy to eat and keeps the holiday spirit going. You can even prepare them and freeze them for another day.
Option two… skip the traditional meal and make this for your Thanksgiving meal. Serve it with a few small bite dishes and a couple of dessert options and you're done.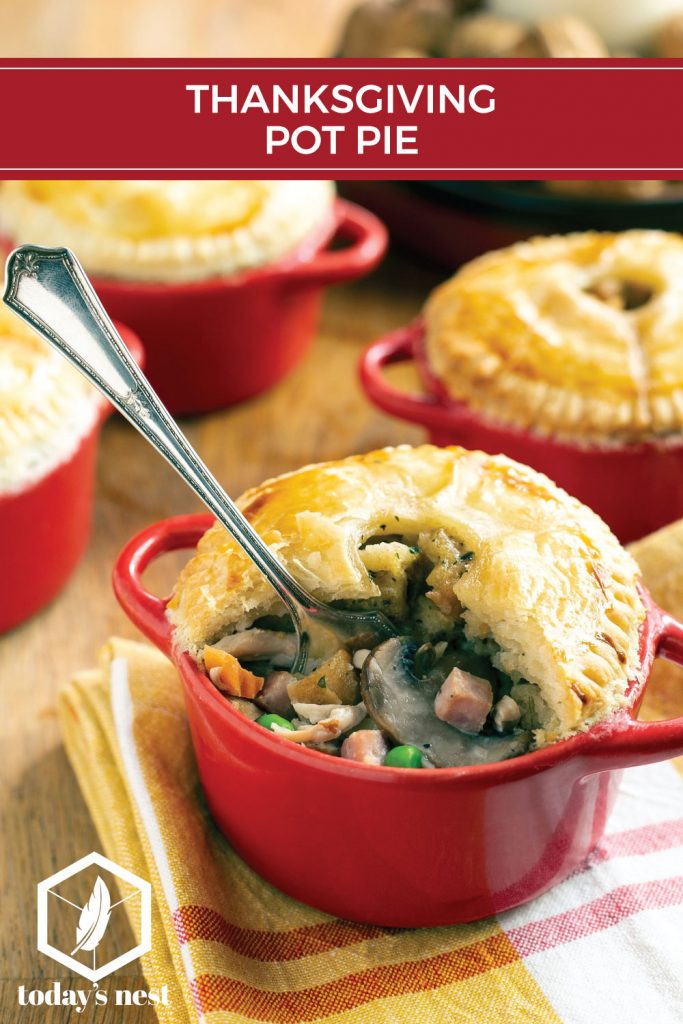 When brushing the pastry with egg wash, be sure to avoid the edges. This will ensure that the pastry rises correctly.
Thanksgiving Pot Pie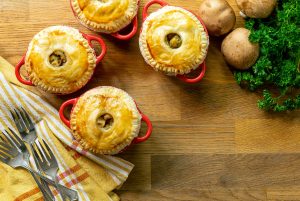 The taste of Thanksgiving in every bite.
Prep Time

40 min

Cook Time

40 min

Total Time

1 hr 20 min

Yield

6 servings

Energy

535 cal
Cuisine

Course

Cooking Method
The ingredients:
2 tablespoons unsalted butter 
2 leeks, fInely chopped 
2 cups sliced fresh mushrooms 
1 cup cooked ham, cubed 
3 tablespoons all purpose flour 
2 cups chicken stock 
⅔ cup sour cream 
3 cups roasted turkey, shredded 
salt and pepper to taste 
2 tablespoons fresh parsley, fInely chopped 
¾ cup frozen peas 
¾ frozen carrots, diced 
½ cup chopped pecans 
2 cups basic stuffIng
two sheets puff pastry
The Method:
1
Melt butter in a large skillet over medium heat. Add leeks and cook until softened (about 5 minutes). Remove the leeks and set aside. 
2
Add mushrooms to pan over medium heat. Add a pinch of salt and cook until tender (5-7 minutes). Add ham and flour and stir to fully incorporate, moisten flour, and remove any lumps. 
Add chicken stock and bring to a boil. Add sour cream and reduce heat to simmer and cook until sauce thickens (3-5 minutes). Remove from the heat and add in turkey, parsley, peas, carrots, and pecans. 
4
Roll the two sheets of puff pastry together to create one thicker sheet. Use the top of a cocotte or ramekin to cut out circles for the top crusts with the point of a paring knife. Cut a small circle in the center of each of the top crusts to allow the steam to escape during baking. Cut 6 long strips (about ½ inch wide) from the remaining pastry dough. Wrap one strip around the edge of each of the cocottes, folding it over the rim. 
5
Fill each of the cocottes or ramekins to ½ inch below the rim. Add a layer of stuffng to the mixture, making it slightly rounded at the center. 
6
Brush each of the wrapped rims with beaten egg. Press the top crusts to the wrapped rims and crimp with a fork to seal. Use a paring knife to cut away excess dough. Brush the tops of the pastry dough with beaten egg, taking care to avoid the cut edges. 
7
Place the cocottes/ramekins on a baking sheet and bake until the crusts have risen and are golden brown (35-40 minutes). 
Amount per serving

Calories

535

% Daily Value*

Total Fat

22.1 g

28.33%

Total Carbohydrate

38.6 g

14.04%

Protein

35.2 g

70.4%

* The % Daily Value (DV) tells you how much a nutrient in a serving of food contributes to a daily diet. 2,000 calories a day is used for general nutrition advice.
NOTE: These nutritional values have NOT been verified by any laboratory. They are estimates based on publicly available information to help you make informed food choices.
calorieking.com