We conclude the July FitFood FitTip series with quinoa stuffed zucchini. This is a fairly simple dish to prepare and it is loaded with goodness. Beyond the texture and slight crunch that the quinoa adds, it also brings a great deal of health benefits.
While there is a noted absence of meat here, there is protein in the quinoa. It is considered one of those "superfoods" as are the almonds in the stuffing. However, if you are someone who has to eat meat with your meal, use this as a side dish and serve it up with a baked chicken breast.
FITTIP
The FitTip for this week may seem a bit obvious, but it is the roadblock for many trying to manage their body fat/weight and those trying to stay healthy… rest. Our bodies need sleep. For the majority of us leading this modern life, we simply are not getting enough. 8 hours is just about right. This doesn't mean 9 hours one night and 7 the next. It means a routine 8 hours each night.
What you should know:
Most of us don't get past the first couple stages of sleep. The last stages are the most important ones because they contribute to healing, repair, and growth.
When your body is in these repair and growth stages it uses FAT to get its energy. That might be reason enough to get the right kind of sleep.
The best way to get to these last stages of sleep is to go to bed prepared to sleep – relax, stretch, meditate. Calm your mind and turn off the TV at least 30 minutes before you plan to go to sleep.
Get your body used to a healthy routine and stick to it with few exceptions.
Proper rest improves so many aspects of our lives. Fitness is at the forefront because it, in turn, improves even more aspects of our lives (including overall mood and stress level). Form the right habits and your body will thank you. Those around you might thank you, too.
savour… ZZzzzzzzz
QUINOA STUFFED ZUCCHINI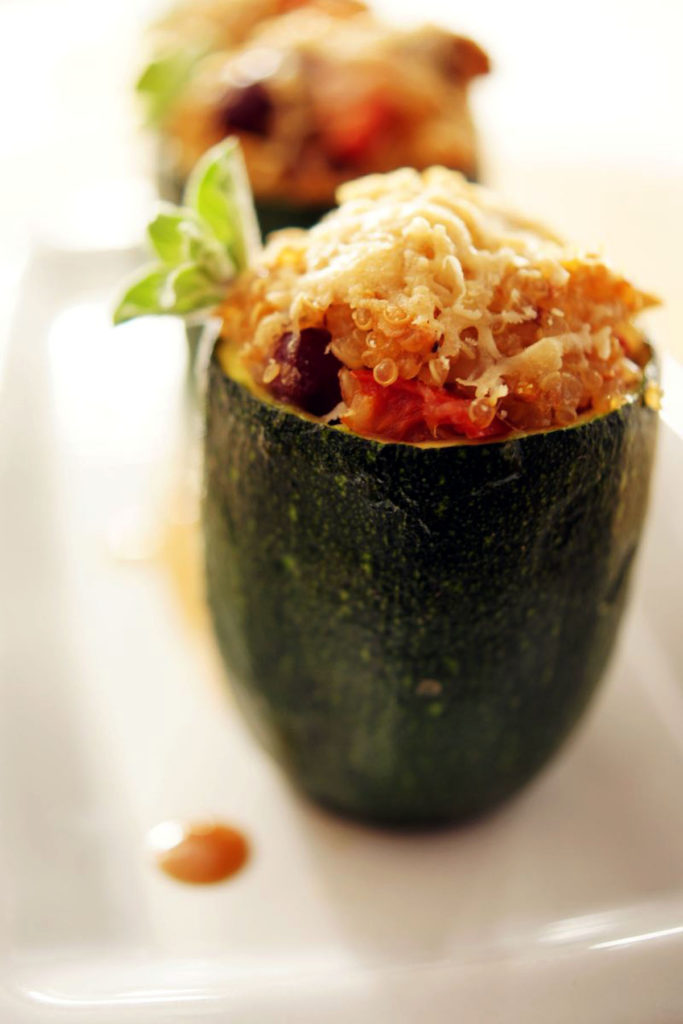 Before you start:
You could also cut your zucchini into long boat like shapes.
Feel free to stuff other foods such as a tomato (shown at bottom) or red onion.
The ingredients:
1/2 cup quinoa
1 cup chicken stock
4 medium zucchini
1 can kidney beans (15 oz) – drained
1 cup fresh tomato – diced
1/2 cup almonds – chopped
1 clove garlic – minced
3/4 cup parmesan cheese – grated
4 tablespoons extra virgin olive oil
1 teaspoon fresh thyme
1 teaspoon fresh oregano
1 tablespoon fresh basil
salt and pepper to taste
The method:
Preheat oven to 400˚F.
In a medium pot, bring quinoa and chicken stock to a boil.
Cover pot and reduce heat to medium-low and simmer until quinoa has absorbed all liquid (about 15 min).
While you are waiting, prepare the zucchini by cutting it into 2 1/2 in chunks. If you are using the end, be sure to cut a flat surface on the bottom so it will stand. Place on the baking sheet.
Scoop out some of the zucchini flesh with a melon baller to make room for the stuffing. Reserve zucchini flesh.
Fluff quinoa with a fork when done.
Mix together quinoa, beans, tomato, almonds, garlic, 1/2 cup parmesan, 3 tablespoons olive oil, herbs, and 1/2 cup diced zucchini flesh in a bowl.
Fill zucchini cups with stuffing.
Drizzle remaining tablespoon of olive oil over the top.
Bake, covered with foil, for 25 minutes.
Remove foil.
Sprinkle remaining 1/4 cup of parmesan on tops.
Bake uncovered for additional 10-15 minutes or until parmesan turns golden brown.