Macaroni and cheese might just be the world's most perfect comfort food. It is the king of comfort foods. For me, it is the perfect solution to turn any bad day right around. Even as a child, my outlook would change completely if I knew mac & cheese was in my immediate future.
Today I am sharing with you my recipe for macaroni and cheese. I have used this recipe for twenty years and it never fails. I will say that I mostly 'eye-ball' the measurements these days, but following what is listed here will yield the same result… a hot, gooey, cheesy, coma-inducing dish that is sure to put a smile on everyone's face.
savour… carb therapy
MACARONI AND CHEESE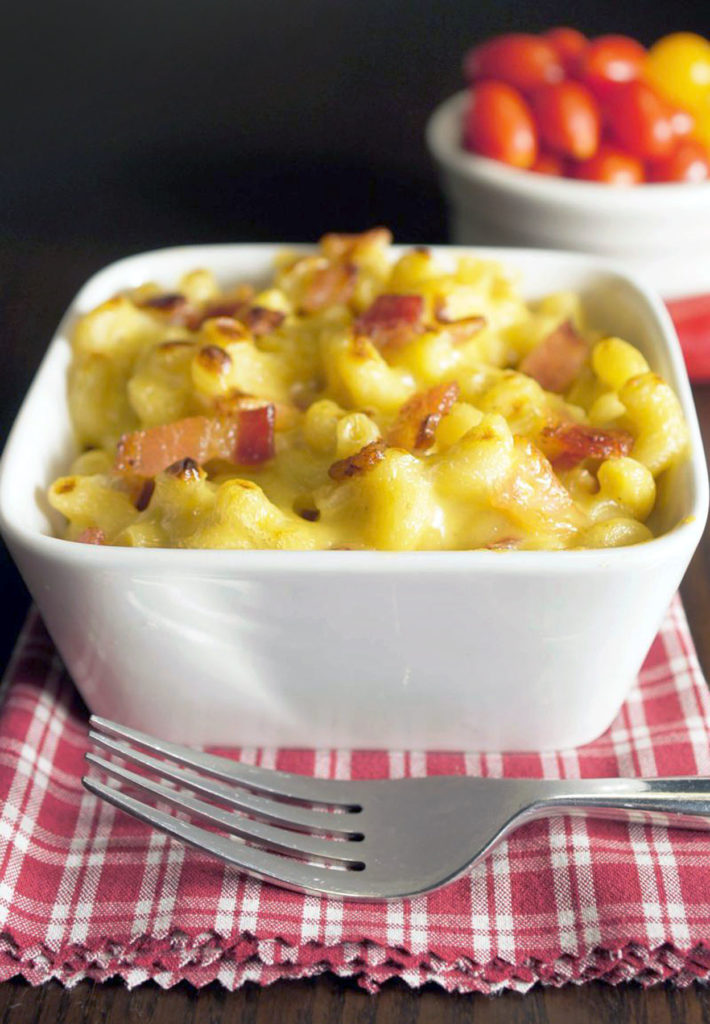 Before you start:
Start bacon in a cold pan over medium heat.
You can use whatever cheese you have as long as it includes some soft white cheese such as provolone or mozzarella. Use some yellow cheese like cheddar or Colby. I always throw in some hard cheese such as parmesan or romano. And lastly, bits and pieces of cheeses that are leftover. For today's example, I had a small piece of smoked gouda left in the fridge. I put them all in a two-cup measuring cup including the Velveeta. When it's full… I'm done.
This recipe is rather cheesy. If you prefer creamier add 1/4 cup more milk.
I have pulled in the reins on the salt and pepper here. Add more if you prefer.
The ingredients:
2 tablespoons butter
2 tablespoons all-purpose flour
1/4 teaspoon salt
1/4 teaspoon pepper
1/4 teaspoon onion powder
1/2 teaspoon dry ground mustard
2 cups milk
2 1/2 cups assorted cheese including 8 oz. Velveeta
4 slices thick-cut applewood smoked bacon
2 cups dried elbow macaroni
The method:
Preheat oven to 350˚F.
Prepare macaroni following the instructions on the box. Set aside.
Prepare bacon over medium heat while the macaroni is cooking. Set aside.
Strain pasta in a colander, but do not rinse.
In the same large pot, you used for the pasta, melt the butter over medium heat.
Add the flour and stir until you have a smooth paste.
Continue stirring (3-5 minutes) until the paste turns slightly brown and has a nutty fragrance.
Add the milk all at once.
Stir frequently until the milk becomes thick and begins to bubble.
Add the cheese, salt, pepper, onion powder, and mustard. Stir until cheese is melted.
Cut bacon into small pieces and stir into macaroni and cheese.
Bake in a 350˚F oven for 20-25 minutes or until golden brown on top.
Allow to cool slightly before serving.