This Friday is the last Friday of our first year at Today's Nest. Next week we will celebrate our blogiversary. It has been an exciting and rewarding year. We weren't really sure how things would go in the beginning, but we knew for sure that we would have the Treat of the Week. We kicked off the Treat of the Week series with Saffron Shortbread Stars as a nod to the Academy Awards. They would be great for this weekend, too.
Today, however, we are bringing you a new treat. Meringues are one of my favorites. They are light and crispy and melt in your mouth. While there is plenty of sugar, there is very little fat involved so I fool myself into thinking they are a "healthy" dessert.
Once you've made meringues you will see how very easy it is. I follow a very basic rule for making them. Based on the volume of egg whites I have, I match with superfine sugar and confectioners' sugar (1 cup egg whites+1 cup superfine sugar+1 cup confectioners' sugar). I use superfine sugar because it dissolves nicely and a little cream of tartar for stability. I sometimes deviate from this formula slightly, but this is my go-to ratio. It's not short on sugar, but it is great for stabilizing and the cornstarch in the confectioners helps even more.
For our version this week, we have added pistachios for extra crunch and flavor. These would be fine eaten 'as is', but to make it a real treat we have added some rose cream. This pairing is common in Middle Eastern desserts. It is wonderful and the flavors make something simple seem very special.
savour… simply elegant
PISTACHIO MERINGUES WITH ROSE CREAM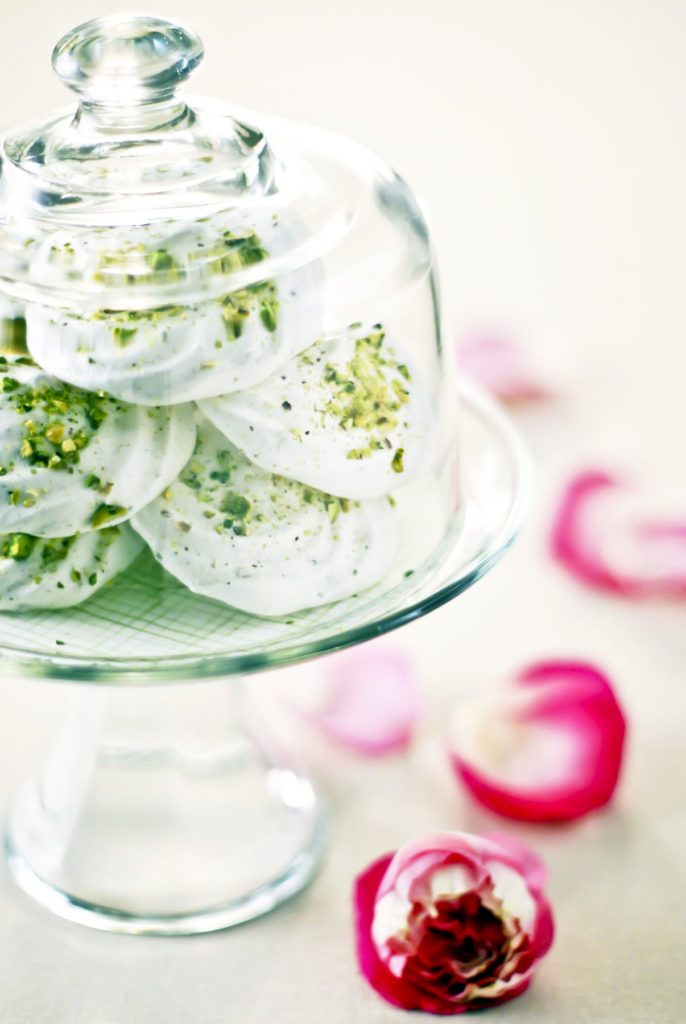 Before you start:
An impeccably clean mixing bowl is critical for success. Any oil inside can slow the expansion of the egg whites. To be sure your bowl is clean, simply swirl around a little white vinegar and rinse out with warm water. Be sure to dry the bowl completely before using.
Eggs whip up best when they are at room temperature. Get your eggs out and separate a few hours before you intend to whip them. Keep egg whites in an airtight container on the counter until ready.
If you don't have superfine sugar, put granulated sugar in a food processor or grinder for 30 seconds to make it much finer.
Don't skip the step of leaving them in the oven for at least an hour after you turn it off. This will dry them out sufficiently. As a side note, I have been known to forget mine and leave them overnight. They were perfectly light and crispy in the morning.
If you are not sure where to find rose water, check where the cocktail mixers are kept.
The ingredients: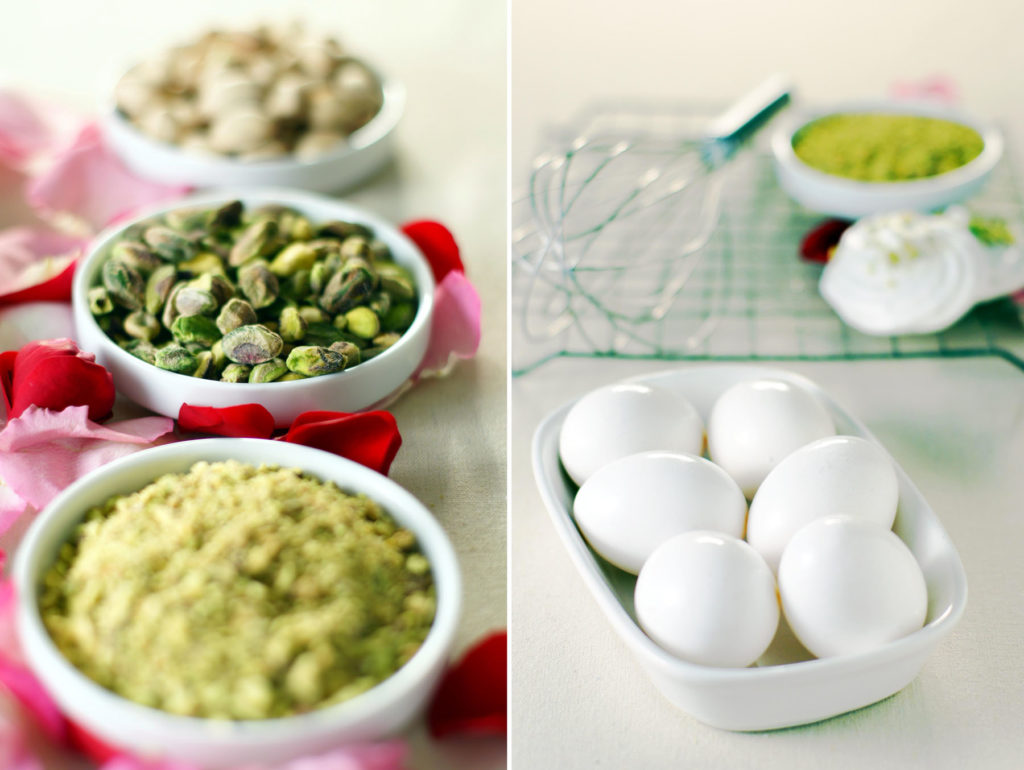 For the meringues:
200 ml egg whites (6 large eggs)
200 ml superfine sugar / 190g
200 ml confectioners' sugar / 110g
½ teaspoon cream of tartar
pinch of salt
¼ teaspoon vanilla
½ cup chopped pistachios (medium-fine)
For the rose cream:
4 oz. mascarpone cheese at room temperature
5 tablespoon rose water
4 tablespoons confectioners' sugar
6 ounces heavy whipping cream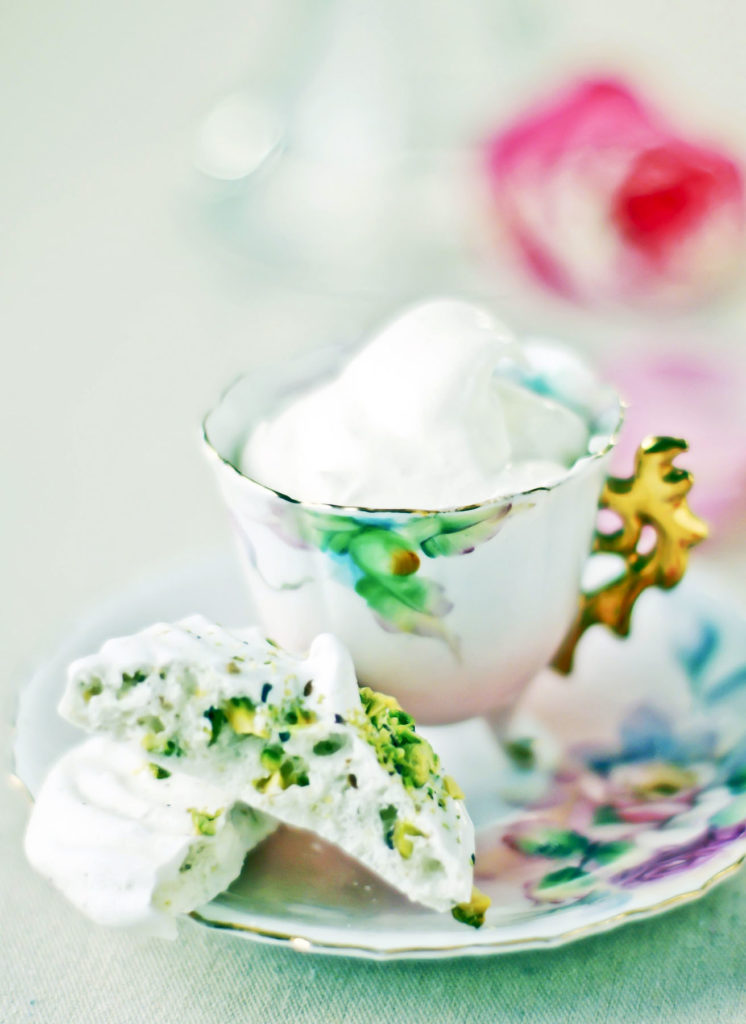 The method:
For the meringues:
Preheat oven to 175˚F.
Line baking sheets with parchment.
Sift sugars and salt together.
Place egg whites and cream of tartar in a very clean bowl.
Mix on medium-low speed with the whisk attachment until frothy.
Turn speed up to medium-high and mix until soft peaks form.
Turn speed up to high and with the mixer still running gradually (slowly) add-in sugars.
Beat on high speed until stiff, glossy peaks form.
Add vanilla and ⅓ cup of the pistachios reserving remainder for sprinkling on top.
Mix on high for 10 seconds.
Put batter in piping bag and pipe into disks or kisses on the parchment.  Leave 1-2 inches of space between meringues.
Sprinkle chopped pistachios on top.
Bake for about 3 hours.  Turn off oven, but leave meringues for another hour.
Store in an airtight container until ready to serve.
For the rose cream:
Place mascarpone, rose water, and sugar in a bowl. Mix on medium until smooth.
Place whipping cream into a chilled metal bowl and beat on high until stiff peaks form.
Gently fold whipping cream into the mascarpone mixture.
Keep chilled until ready to serve.