Week two of kids being back to school and already things seem to have calmed down a bit. We are getting used to our normal routines. Normal sleep schedules have resumed. I'm not sure the pets have caught on yet, but I'll give them another week or two.
Earlier this week we brought you the skinny on Trail Mix. We decided to use some of what we made for a treat that can't be beat. The rice crispy treat meets trail mix. Our smooshbars get their name from the idea that after you get it all in the pan you smoosh it all down to make it stick together in one big clump. When cut into bars this is just the right amount of treat and snack.
We made the marshmallow from scratch. This is far easier than you might have imagined. Also, we used agave syrup to make ours, but there are other methods that use sugar or corn syrup. The result is a marshmallow that is less starchy than store-bought marshmallows as we use no corn starch.
Your kids are sure to love these, but you will, too. Best of all, if you have made your trail mix from scratch you are sure to get just the treat you want.
savour… smooshing
TRAIL MIX SMOOSHBARS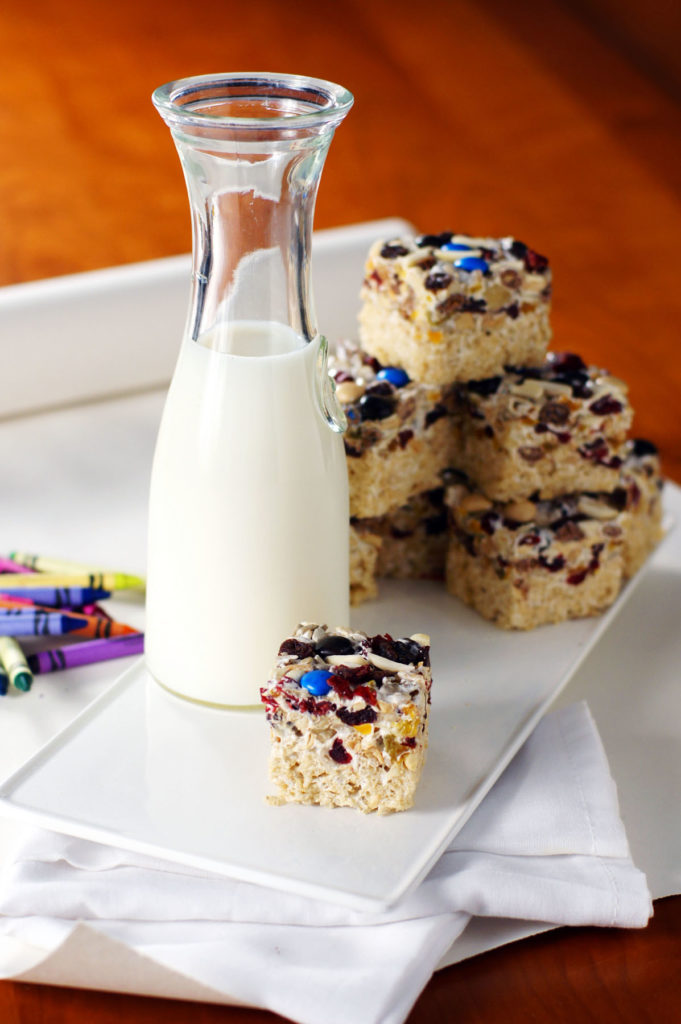 Before you start:
Always take care when cooking sugar or syrups to high temperatures. This can be very dangerous… and painful if spilled.
Avoid drizzling the hot syrup directly on the moving whisk. This could cause splatters.
We reserved a bit of the trail mix to sprinkle on the top of the bars.
The ingredients:
1/3 cup water
3 envelopes or 3 tablespoons unflavored gelatin
1 cup agave syrup
¼ teaspoon salt
1 tablespoon vanilla
5 cups crisp rice cereal
5 cups trail mix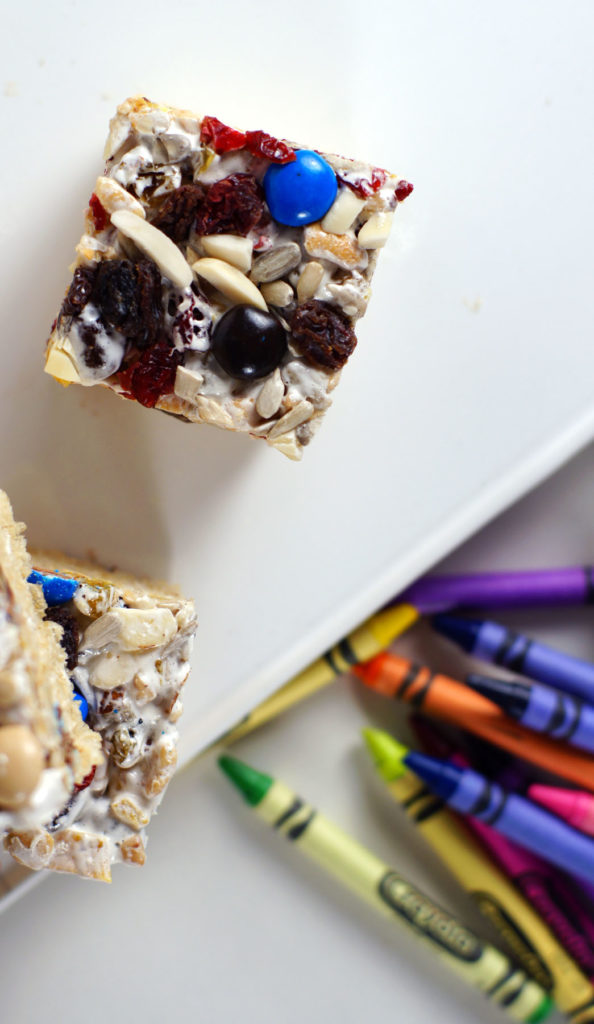 The method:
Place gelatin and water in the bowl of your mixer for 5 minutes.
After 5 min., place bowl over a pot with a small amount of simmering water.
Whisk gently until gelatin is dissolved (2-3 min).
Set bowl aside or on the mixer fitted with the whisk attachment.
In a heavy pot, heat agave syrup and salt on medium-high without stirring until it reaches 242-246 degrees on a thermometer. Do not let it heat past 246.
Remove it immediately. With the mixer on low speed, slowly drizzle in the hot syrup.
Turn the mixer to medium and whisk for 12-15 minutes until thick and fluffy and something like marshmallow fluff.
Place cereal in a bowl that has been very lightly coated with cooking oil spray.
Place the trail mix in a separate bowl that has been very lightly coated with cooking oil spray.
Prepare a brownie pan (9"x9"x2") by very lightly coating with cooking oil spray.
Add vanilla to the bowl and whisk until combined.
While still warm pour ¾ of the marshmallow over the cereal and the other ¼ over the trail mix.
Mix each separately until the marshmallow is incorporated.
Press the cereal into the bottom of the brownie pan. Make it as even and level as possible.
Pour the trail mix over the cereal and press it down.
Using lightly oiled hands or parchment paper, smoosh the ingredients until solid.
Cover loosely with aluminum foil and allow to set up for at least 6 hours before serving.
Cut into cubes. Each pan should yield 16 bars.