It is interesting how food affects mood. Many childhood memories circle around meals or gatherings where food was part of the supporting cast. As adults, we make plans and even consider vacation spots based on the cuisine involved. This Tex-Mex Chicken and Dumplings is not a recipe from my childhood, but rather a result of my childhood paired with what came next.
To relive our fond food feelings we often make dishes that are familiar. But what happens when our tastes have changed? Today we offer up a classic dish from my childhood… with a twist. As a child, chicken and dumplings was a common meal for us. Not only is it warm and hearty for those chilly falls and chillier winters, but it is cheap to make. However, the words cilantro and chorizo were not part of the culinary vocabulary in our home. It wasn't until I moved around that I started experiencing other flavors.
As I prepared this comfort food dish I was transported to a simpler, more cozy place. Lifting the cast iron lid and seeing those dumplings took me right back to a cozy seat next to the woodstove. The flavors have changed a bit, but the feelings are just the same.
savour… comfort with a spoon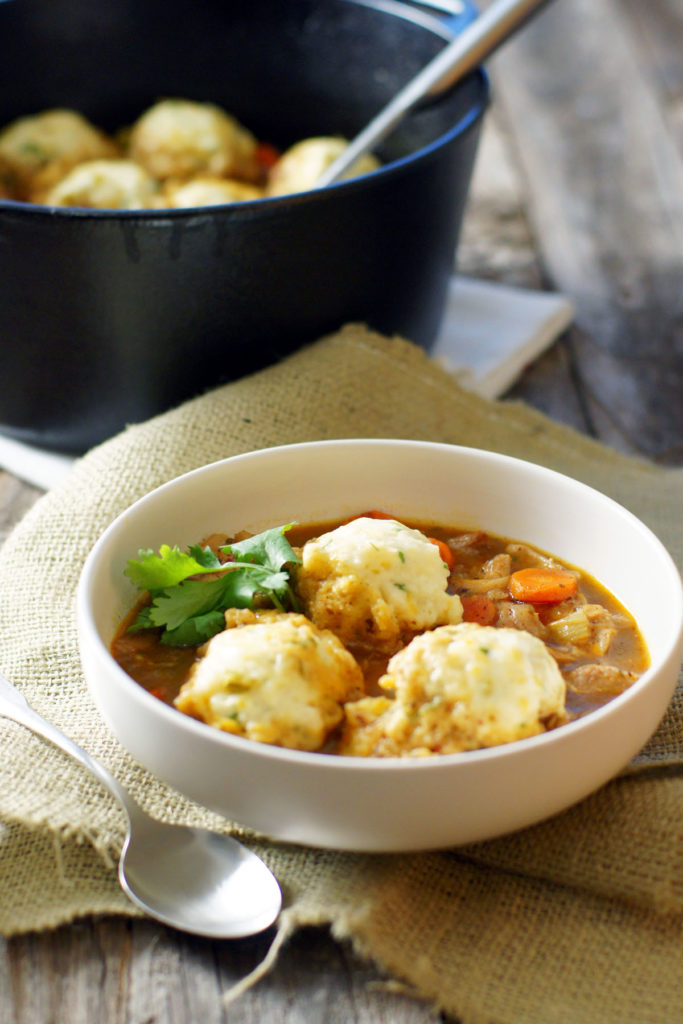 The dumplings will easily double in size so give them a bit of space between.
The steam cooks the dumplings. Therefore, it is critical that the lid remains in place for the 15 minutes it takes for the dumplings to cook. Any release of steam will hinder the process.
Make yours more or less spicy by adding some fresh jalapeño to the stock.
You may prefer to add a bit more salt and pepper depending on your preference and the spiciness of your chorizo.
Lola Cooks: Tex Mex Chicken and Dumplings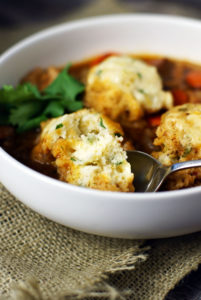 Comfort food with a Tex-Mex twist.
Prep Time

30 min

Cook Time

20 min

Total Time

50 min

Yield

6

Energy

424 cal
The ingredients:
For the soup:
1 chorizo link (about 4 oz)
2 – 2 ½ pounds of chicken pieces
2 cups water
2 cups chicken stock
1 medium onion
½ teaspoon salt
¼ teaspoon pepper
2 tablespoons chopped cilantro
¾ teaspoon cumin
1 cup sliced celery (about 3 or 4 ribs)
1 cup thinly sliced carrots (about 3 medium)
3 tablespoons all-purpose flour
For the dumplings:
1 ½ cups cake flour
1 tablespoon finely chopped cilantro
2 teaspoons baking powder
¼ teaspoon salt
1 beaten egg
milk enough to make up 2/3 cup liquid with egg (about ¼ cup)
2 tablespoons of butter (melted)
¼ cup shredded cheddar cheese
1 ½ tablespoons diced jarred jalapeño
The Method:
1
Put chicken stock and water in a large pot over medium heat. Bring to a low simmer.
2
Cook chorizo in the bottom of dutch oven type pot over medium heat. Remove from pan.
3
Salt and pepper both sides of chicken pieces. Brown chicken with skin on in chorizo renderings. Remove chicken from pan and allow to cool to the touch. Remove skin from chicken and put in stock to poach for 20 min. Remove chicken from stock and cool to the touch. Pull chicken from bones and cut into one-inch pieces.
4
Bring dutch oven back to medium-high heat. Cook vegetables for 4-5 minutes. Sprinkle with all-purpose flour. Stir continuously for another 3 minutes. Ladle in stock stirring after each addition to loosen up flour-coated vegetables. Add remaining stock. Add chorizo and chicken pieces and keep at a low simmer.
5
Make dumplings by sifting together cake flour, baking powder, and salt. Stir in cilantro and cheese. Make a well in the middle and pour in the milk and egg. Stir just until moistened.
6
Use two teaspoons to drop rounded mounds of dough into the pot on top of the simmering stew. Place the lid and cook covered for 15 minutes without lifting the lid. At 15 minutes check dumplings for doneness. If not done, cover again and cook for an additional 5 minutes. Serve warm.
Amount per serving

Calories

424

% Daily Value*

Total Fat

15.6 g

20%

Total Carbohydrate

37.6 g

13.67%

Protein

32.3 g

64.6%

* The % Daily Value (DV) tells you how much a nutrient in a serving of food contributes to a daily diet. 2,000 calories a day is used for general nutrition advice.
NOTE: These nutritional values have NOT been verified by any laboratory. They are estimates based on publicly available information to help you make informed food choices.
calorieking.com