Our third entry for Cookie Week is this delightful little pinwheel cookie. We typically try to include at least one filled cookie with our holiday treats and this one answers the call perfectly. Not only does the swirl give you plenty of cookie to filling, but the pattern is interesting and adds an element of fun to your cookie package.
The flavors here are great together. The dates add to the caramel flavor of the cookie and the nuts add just a little more plus just the right amount of texture. This cookie is (pardon the wordplay) well-rounded and may soon become your holiday favorite.
savour… warm woolen mittens
CARAMEL DATE PINWHEEL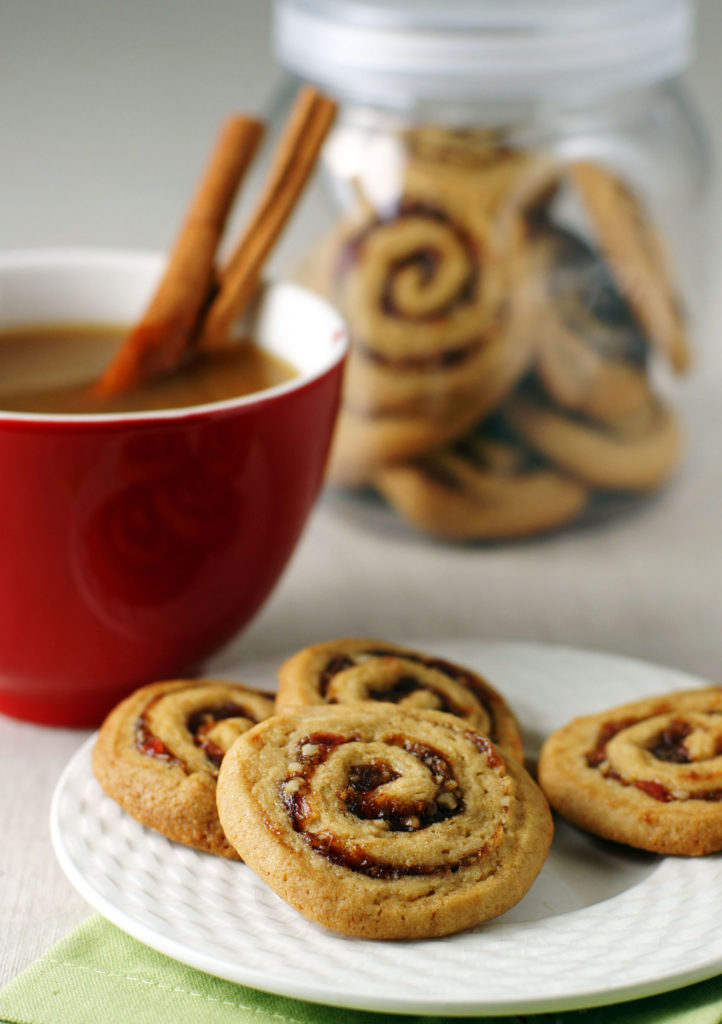 Cookie Week Tip #3
Beyond reading your recipes carefully for ingredients, it is important that you have a good understanding of your time commitment. This recipe, for example, requires hours of chilling for the dough. Use the space between to make other doughs and bake those that don't require chilling. Also, by understanding your recipe in advance (especially if you've never made it before) will ensure that you meet any deadlines you may have.
Before you start:
This dough is quite soft and sticky. That is the primary purpose for chilling. Be sure to work with it right away from the refrigerator.
The light dusting of flour on the wax paper will make it much easier for you to roll the dough into a log.
The cookie will still be soft when it comes from the oven. Allow some cooling time on the tray before removing it to the wire rack to cool completely.
The ingredients:
The cookie:
2/3 cup butter, softened
1 cup light brown sugar, packed
1 egg
1 teaspoon vanilla
1 3/4 cup flour
1/2 teaspoon baking soda
1/4 teaspoon salt
The filling:
8 oz chopped dates
1/2 cup water
1/3 cup sugar
1/2 cup finely chopped walnuts
2 tablespoons chopped red candied cherries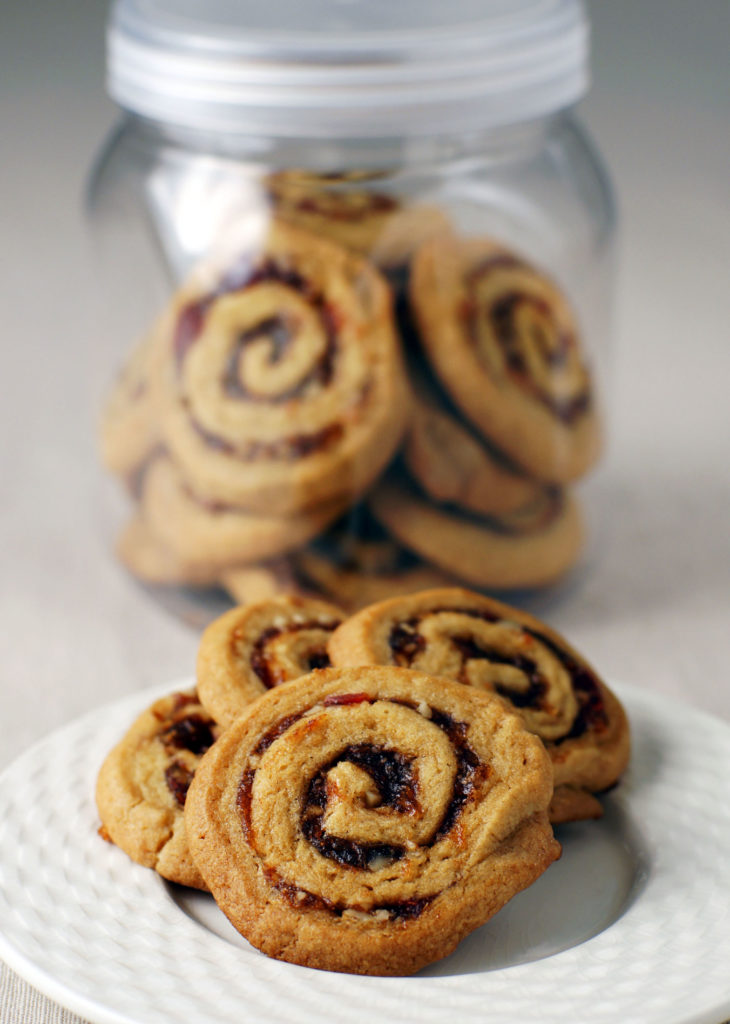 The method:
The cookie:
Cream together butter and sugar in a medium bowl.
Beat in egg and vanilla until well combined.
Sift together flour, baking soda, and salt in another bowl. Whisk to combine.
Add dry ingredients gradually to butter/sugar mixture on the lowest speed.
Mix just until combined.
Refrigerate for at least 2 hours.
The filling:
Combine dates, water, and sugar in a medium sauce pan.
Cook and stir over medium heat until thickened (about 5 min).
Cool completely.
Assembly:
Divide the dough in half and roll out each between two sheets of lightly floured waxed paper to about 10×12 inches.
Spread the filling over the entire sheet.
Starting with the longest edge tightly roll into a log.
Wrap tightly in plastic wrap and refrigerate for 2 hours or until firm.
Preheat oven to 375˚F.
Unwrap dough and slice into 1/4 – 1/2 inch slices.
Bake at least 1 1/2 inches apart on a parchment-lined baking sheet until lightly browned (9-11 min).
Allow to cool on the sheet for 2 minutes.
Remove to a wire rack to cool completely.