It doesn't always go right. My original plan for today's post was very different than what you see. I typically make the treat of the week on the weekend before it is to be posted. That way I have a few days to edit the photos and prep the post, and worst-case scenario, come up with something new in the event that my first plan didn't work. The latter almost never happens, but it did this weekend. I had planned a very tantalizing and unique chess pie that ended up looking like curdled milk in a pie shell… definitely NOT Lola approved.
Inspired by a clip I saw (and presented) of the short film The Tsunami and the Cherry Blossom I got back to work on this week's offering. The cupcakes are pretty in pink and dotted with maraschino cherry bits. Both colors of icing are almond flavored buttercream which pairs very nicely with the cherry-flavored cake.
This treat is very easy to make and would be perfect for Valentine's Day. The two-toned swirled buttercream is easier than you think. The instructions are here with the recipe.
savour… the cherry on top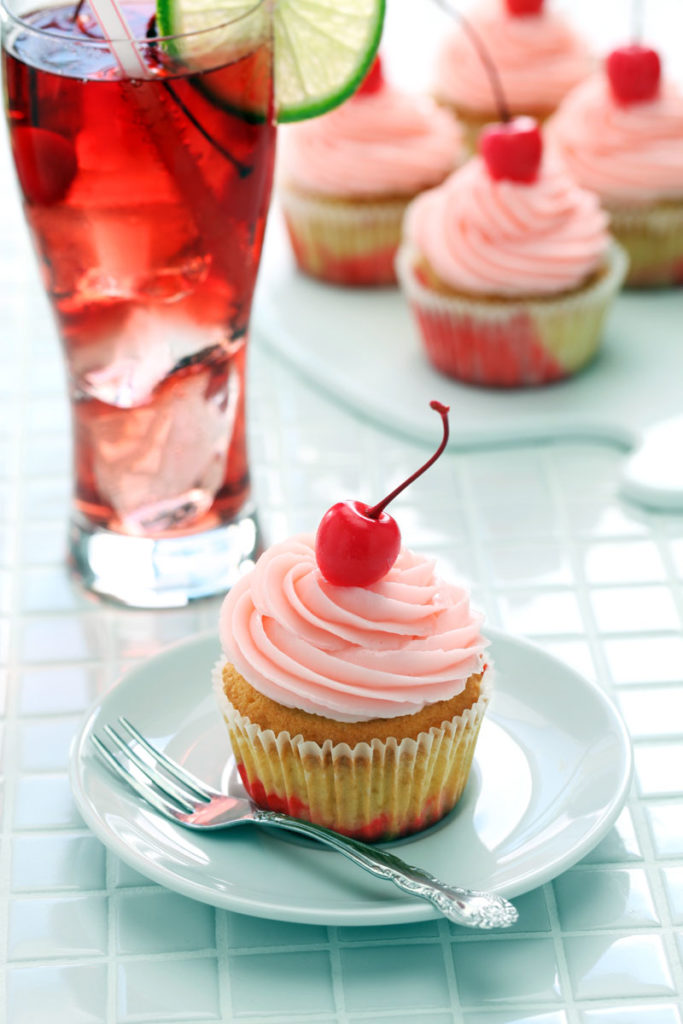 CHEERY CHERRY CUPCAKES
Before you start:
We used a standard white cake recipe here, but you could use a box mix and we won't tell.
You will need two regular size (10-12 oz) jars of maraschino cherries.
This icing is rich. There are times that you just have to bite the bullet to get the flavor and experience you want. This is our go-to recipe for bakery-style buttercream. It turns out perfectly every. single. time.
This icing was ideal for our project today because the base is very white. The almond extract is almost clear no effect on the outcome. If you want vanilla flavor be prepared for the color to change slightly.
I typically use powdered food color for icing and fondant. If that is not readily available where you are use gel as a backup. Liquid dyes can have too great an impact on consistency.
The ingredients:
For the cake:
White Cake Recipe or Mix
2/3 cup finely chopped maraschino cherries
½ cup of the syrup from the maraschino cherries
24 whole maraschino cherries with stems intact
For the buttercream:
1 cup (2 sticks) unsalted butter, at room temperature
1 cup non-hydrogenated shortening
7 cups of confectioners' sugar
1 teaspoon almond extract
Pink food color powder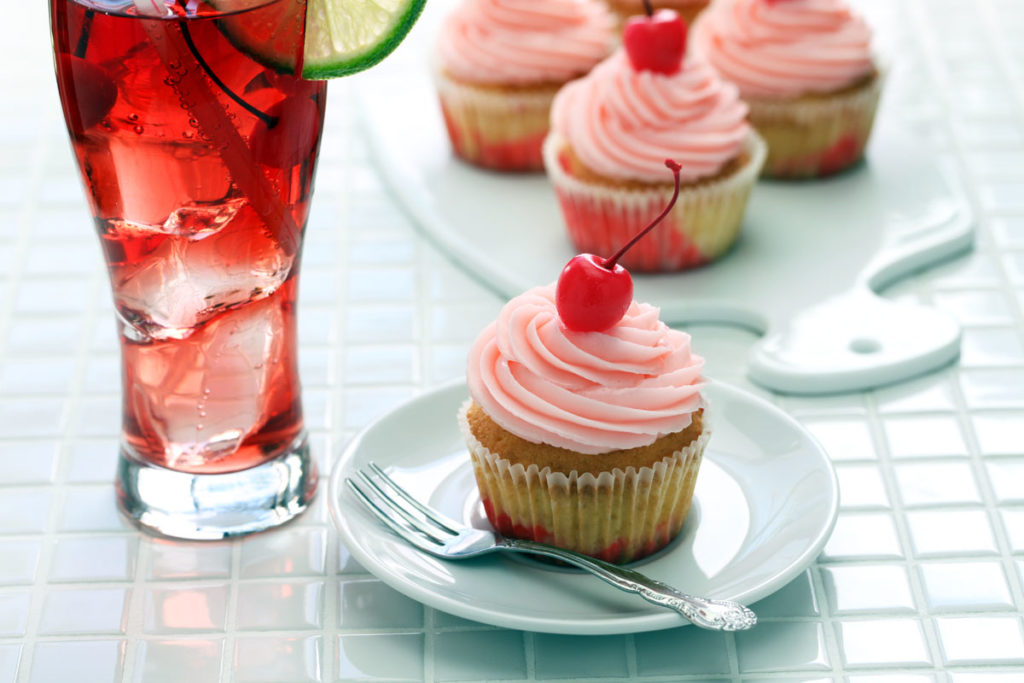 The method:
For the cake:
Preheat oven to 350°F.
Make the cake according to your recipe or mix instructions but replace ½ cup of the milk or water that is required with ½ cup of the cherry syrup.
When the batter is done, gently fold in the chopped cherries.
Pour into cupcake papers and bake until lightly browned on top. They should pass the clean toothpick test (probably 20-25 minutes).
Allow cakes to cool on a wire rack while you prepare the icing.
For the buttercream:
Mix shortening and butter on medium-high until well mixed, light, and fluffy.
Add sugar 1 cup at a time, mixing slowly to start and then on medium to fully incorporate.
Add almond extract. Mix on low to combine.
Turn mixer to medium-high and mix for 3 minutes.
Place half of the buttercream in a separate bowl and add food color to the remainder still in the mixer.
Mix on low to combine and then turn to medium-high for another 30 seconds to 1 minute to ensure even distribution.
Place each of the buttercreams in separate plastic bags (tip: reinforce seams with duct tape if you are concerned about a blowout).
Fit a pastry bag with a wide star tip. Snip the tips (about ½ inch wide) off of the butter cream bags and insert them both into the pastry bag evenly.