We have dedicated each Treat of the Week this month to chocolate. The first week we gave you Chocolate Hazelnut Mille Crepe and last week, one of my all-time favorites… truffles. This week we lighten things up just a bit with a light and airy meringue base for our dessert. It makes the perfect backdrop for fresh mint and of course, plenty of chocolate.
The vacherin (vash-rahn) is a fairly common French dessert. Ours is made with whipped cream, but you will see many of these made with ice cream, as well. Beyond the fact that it is delicious, it is very pretty to serve and will make you look like a kitchen genius. The best part of all, it's really simple to make.
savour… luscious layers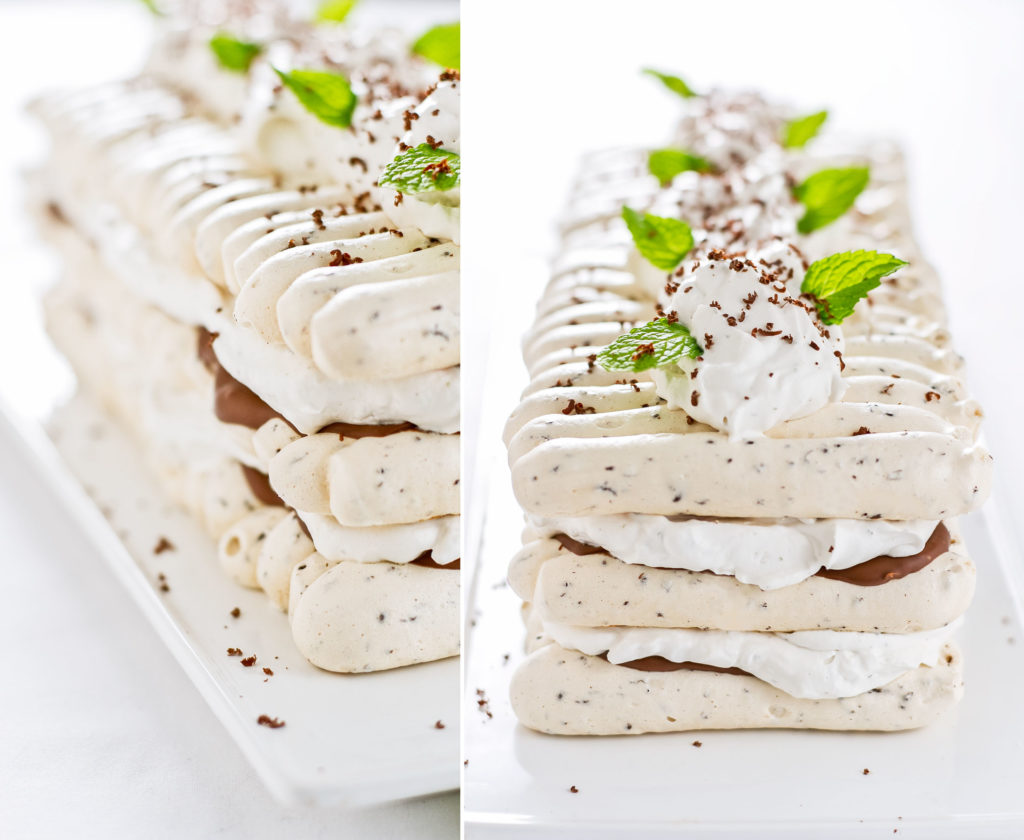 MINT CHOCOLATE VACHERIN
Before you start:
If you don't have superfine sugar, simply put granulated sugar in your food processor for about 30 seconds.
Folding must be done gently and just enough to incorporate ingredients. Too much folding will deflate your egg whites.
Be sure your lines of piped batter touch slightly to keep the meringue in one solid piece.
Try to keep your lines as consistent in terms of height by applying even pressure from start to finish.
Be gentle with finished meringues while assembling. They are quite fragile.
Likewise, you must be cautious when serving. For best results, cut with a very sharp knife. Do not press, but use a sawing motion to slice.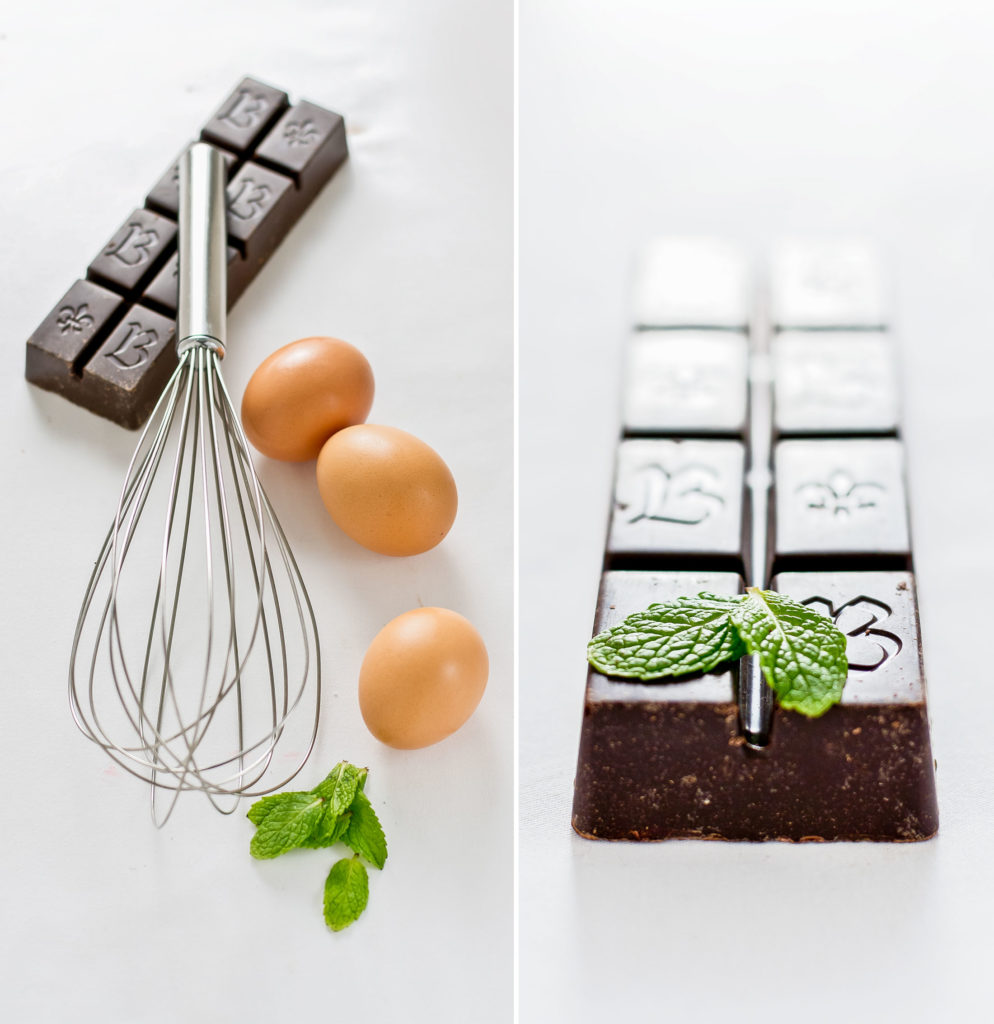 The ingredients:
For the meringues:
3 egg whites
¾ cup superfine sugar / 175g
1 tsp cornstarch
1½ ounces grated semisweet chocolate
For the filling:
8 ounces of milk chocolate
1 1/2 cups heavy cream
1 tablespoon finely chopped fresh mint leaves
2 tablespoons superfine sugar
Garnish:
Semisweet chocolate
Fresh mint leaves
The method:
For the meringues:
Preheat oven to 275°F.
On a piece of parchment paper draw 3 rectangles approximately 4 inches wide and 10 inches long. Place the parchment on the baking sheet and set aside.
Beat eggs in a clean mixing bowl fitted with a whisk attachment until soft peaks form.
Add ½ cup of the superfine sugar and whisk until the mixture is quite stiff and glossy.
Fold in the remaining sugar, cornstarch, and grated chocolate.
Fill a pastry bag fitted with a ½ inch plain tip. Pipe lines of batter across the rectangles.
Bake for 45 minutes. Rotate tray. Bake another 45 minutes.
Turn off the oven and allow the meringues to cool completely inside the oven.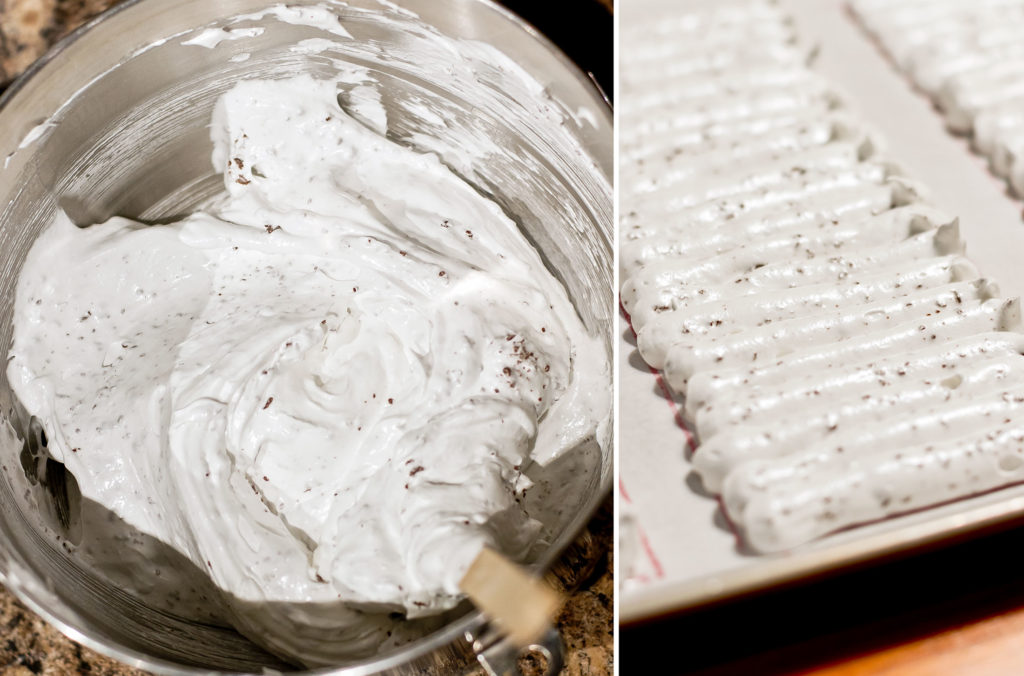 For the filling:
In a heatproof bowl over a simmering pot of water, melt the milk chocolate.
Stir the chocolate until smooth.
Spread the chocolate on two of the meringue layers while still warm. Set aside.
Muddle the chopped mint leaves with the sugar in a pestle and mortar.
Add sugared mint and cream to a chilled bowl and whip to soft peaks.
Place one of the chocolate covered meringues on your serving dish. Spread a third of the cream on top of the chocolate layer. Add the other chocolate-covered meringue and repeat the cream layer.
Add the final meringue disk. Add the remaining cream right down the center of the top disk.
Grate just a bit of semisweet chocolate over the top and place a mint leaf on alternating sides of the cream about every inch along the top.