You picked the perfect day to visit. Today I am going to share the secret to making someone happy. Ready? Here it is: find out what they like and make it. Make it well and make it often. I learned a long time ago that my wife LOVES cashews. She loves cashews with caramel and chocolate. I bought them for years but then decided to make them instead. You can make a lot of cashew clusters for very little money.
Several years ago we were able to find some clusters that were just the tiniest bit spicy. The heat added a nice element to the treat so I have replicated that here. I often make homemade caramel, but this is so easy to make with pre-made caramels it seems silly not to use them. This little bite is the perfect amount of salty, sweet, crunchy, and chewy all at once.
savour… giving 'em what they want
CASHEW CARAMEL CLUSTERS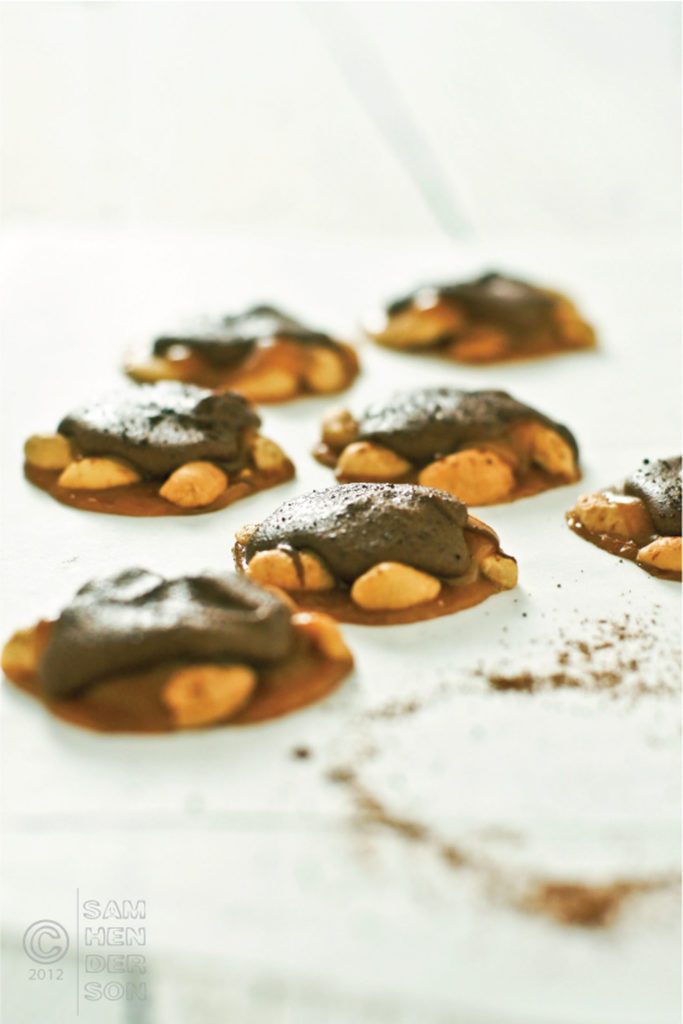 Before you start:
Don't bother buying whole cashews (unless you just want to). The halves actually lay better and the savings are substantial.
For more nutty fun be sure to check out our infographic post… Know Your Food: Nuts
For the best appearance, keep all curves pointed in the same direction.
The ingredients:
24 caramels
144 cashew halves (about 1 cup)
4 ounces chocolate (milk or semi-sweet)
Cocoa chili powder for garnish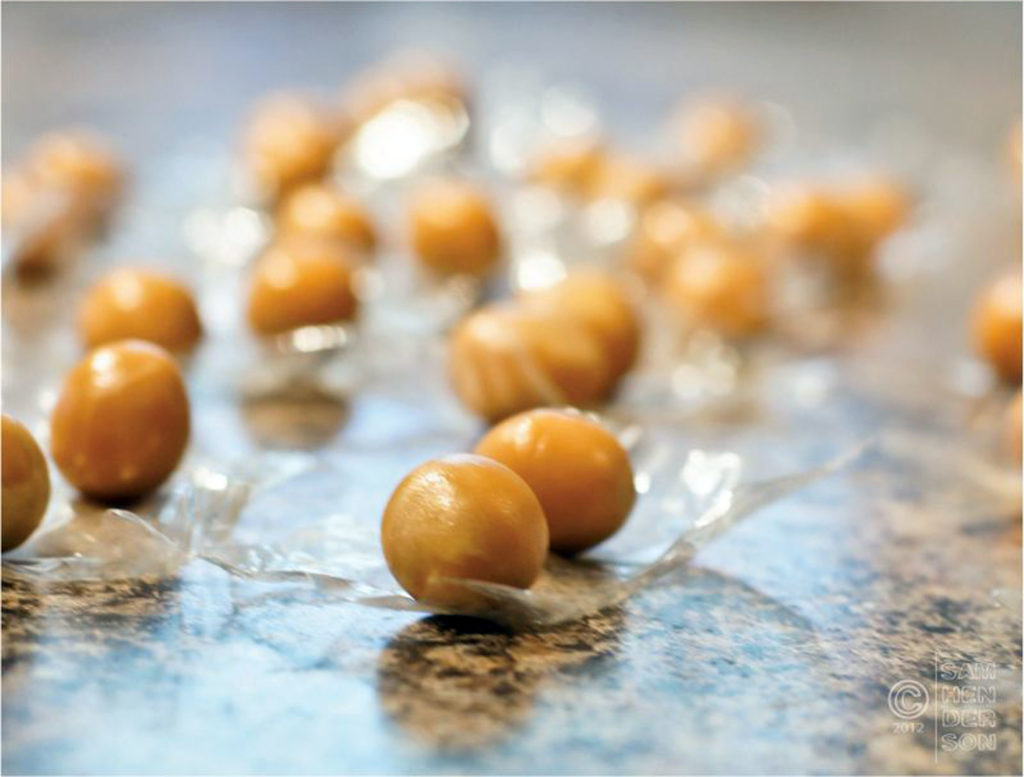 The method:
Preheat oven to 300°F.
Line a baking sheet with a silicone mat.
Unwrap the 24 caramels and cut each in half. 
Roll each half into a ball using the palms of your hands.
Roll ½ of the balls into disks approximately 1/8 inch thick and 2 inches wide.
Roll the remaining balls into disks approximately ¼ inch thick and 1 inch wide.
Arrange the big disks on the baking sheet leaving some space between.
Arrange six cashew halves on each big disk in a pinwheel fashion.
Center the smaller disks on top of the cashews and press gently to keep in place. Use your finger to curl up any caramel for the bottom disk that sticks out too far.
Bake for 10 minutes.
Remove and allow to cool completely.
Melt 3 ounces of the chocolate in a heat-safe bowl over a simmering pot of water.  Remove from the heat and cool for 1 minute.  
Add the remaining one ounce of chocolate and stir until melted.
Use a teaspoon to drop a spot of chocolate in the center of the cooled clusters and spread with the back of the spoon.
Sprinkle a light dusting of cocoa chili over the tops.  Allow to set completely before serving.