A couple of years ago I did an article called Summer Berry Pavlova with Hibiscus Cream. I loved doing that article because of the story associated with it. The dessert was made in honor of the famed ballerina from Russia who was traveling to Australia and New Zealand. As this was such a momentous occasion for the time, many rolled out the red carpet for her.
Our treat for today has a similar story. The much-anticipated arrival of opera soprano Nellie Melba spurred some creativity in the kitchen. Chef Auguste Escoffier created this dessert delight to honor her and it has been a favorite ever since.
Of course, there have been many variations over the years. Today we have decided to take some of the best of both and combine them. Our peach melba has a pavlova base. We top the crispy marshmallow-y base with some homemade vanilla ice cream, a poached peach, and some fresh raspberry sauce. This combination of textures, sweetness, and just the right amount of tartness is enough to make your heart sing… and dance.
savour…command performance
PEACH MELBA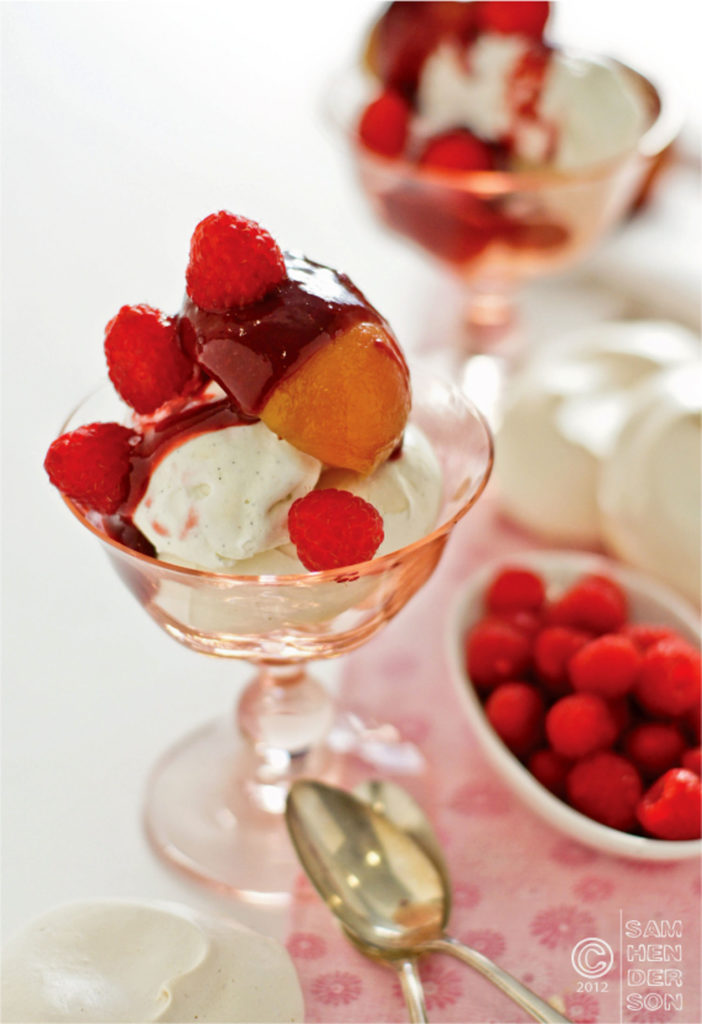 Before you start:
We used store bought vanilla bean ice cream for our treat, but if you have time make it yourself. Nothing beats homemade ice cream!
Save any extra raspberry sauce for more ice cream or even pancakes!
Strain and store the poaching syrup to use in iced tea or even cocktails.
The ingredients:
For the pavlova base:
For the poached peaches:
2 cups water
1 1/2 cups sugar
3 peaches, halved
3 whole cloves
1 1/2 teaspoons vanilla
1 cinnamon stick
For the raspberry sauce:
12 oz red raspberries
1/3 cup red currant jelly
1/3 cup sugar
1/2 teaspoon cornstarch
pinch salt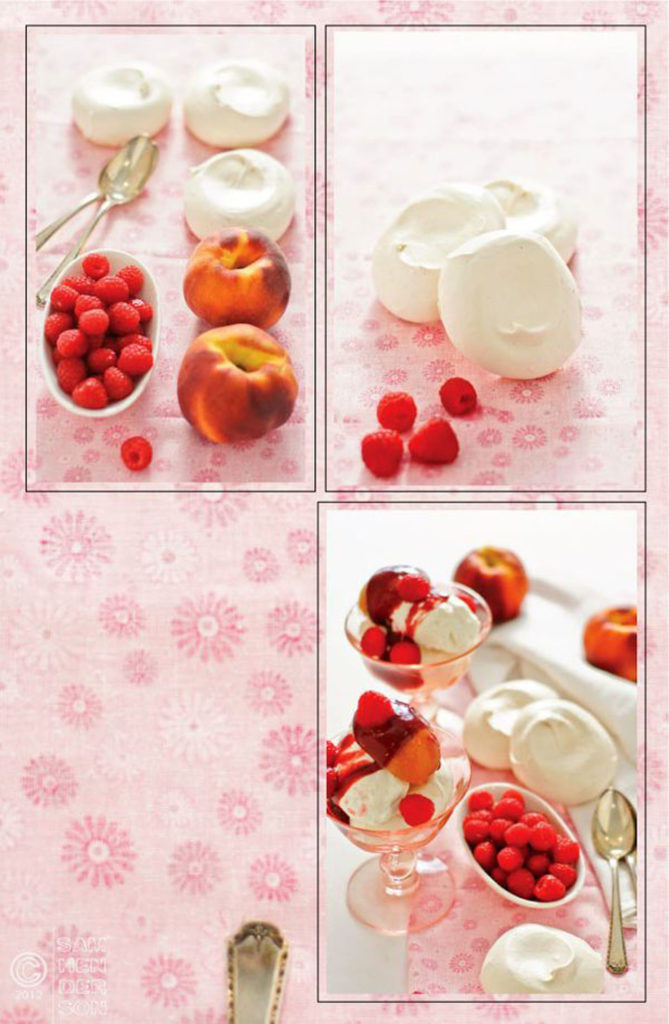 The method:
For the pavlova base:
Follow instructions from Summer Berry Pavlova post but reduce time to 60-75 minutes for smaller pavlova sizes.
For the poached peaches:
Place all ingredients except peaches in a medium saucepan over medium-low heat.
Bring to a simmer stirring occasionally to dissolve sugar.
Place peaches in the syrup and place a lid smaller than the pan on top to keep them submerged.
Cook for 7-9 minutes until soft depending upon the ripeness of the peaches.
Remove from heat and cool completely before using.
For the raspberry sauce:
Place raspberries in a food processor and process until smooth.
Press the puree through a fine mesh sieve to remove seeds.
Add seedless puree, jelly, and sugar to a medium saucepan over medium low heat. Bring to a low boil.
Add cornstarch and salt and continue simmering for another 9 minutes until foam dissapates and sauce is smooth and glossy.
Remove from heat and cool completely before storing in refrigerator.
Assembly:
Place the pavlova on the bottom of the bowl and top with a scoop of vanilla ice cream and then a peach half.
Drizzle raspberry sauce over the top and sprinkle with a few fresh raspberries.