Enter the inspirational pork chop.
A few weeks ago I enjoyed a seared pork chop with green peppercorn sauce. This was the best thing I've eaten so far this year. I know it's early, but I assure even in November it will be hard to beat. The pork chop was moist perfection, but what really grabbed me was the peppercorn sauce. While sopping up every bit of it, I thought to myself, "Why isn't someone putting this in a cream-based soup?"
Well, it turns out there are some recipes out there, but none quite captured what I envisioned. I think straight pepper soup might be too much for me. It would have to be a cream-based soup that could be enhanced by the addition of spicy, snappy peppercorns and not be overpowered. Then it hit me.
I adore clam chowder, but never never eat it without hot sauce. The weight of the chowder and the robust flavor makes it suitable to take on a companion flavor profile. This, friends, is a match made in heaven.
What you have here is a very simple clam chowder recipe that is a sure crowd-pleaser. The addition of the peppercorns will elevate this dish for you and even bite you back a bit. It is quite hearty and very satisfying and perfect with a hunk of bread…no hot sauce required.
savour…the inspirational pork chop
PEPPERCORN CLAM CHOWDER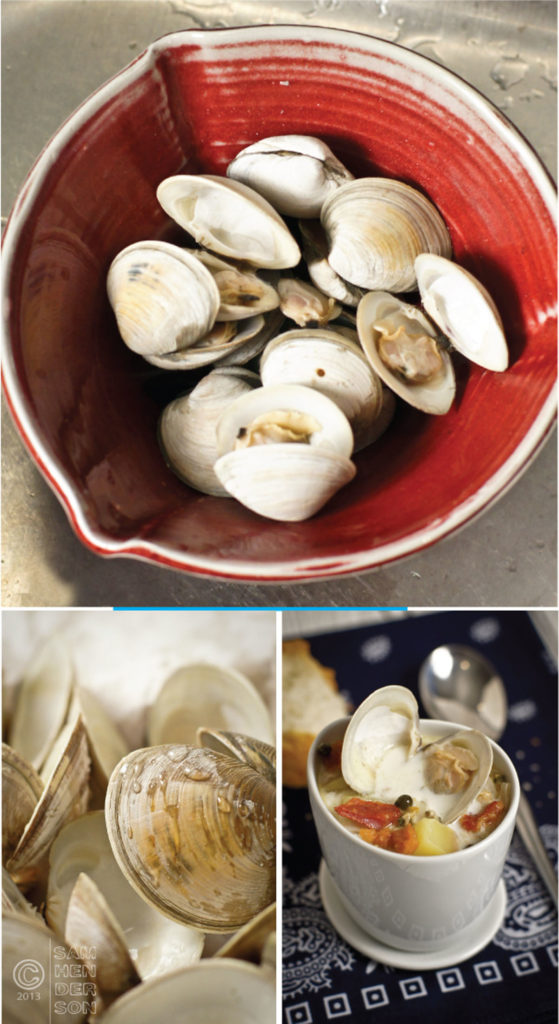 Before you start:
I bought my clams from Captain Dave in Plano. I'm not telling you that to promote him. In fact, he probably won't ever see this post. Rather, I am telling you that because he is an expert who has been running his shop for over 20 years. I trust him to always provide me the very best seafood. If you enjoy making seafood, find an expert in your area.
It may go without saying, but any clams that do not open when steamed are not to be eaten.
Scrub the outside of the clamshells with a nail brush or something like it to remove and sand or grit. They live in the sand and that can mean grit.
Be sure to rinse the peppercorns. You can crush them against a cutting board with the side of your knife…just enough to loosen them up and release some of the goodness inside.
If you cannot find salt pork, you could maybe, sort of, kinda, if you really have to use thick-cut bacon. It's not quite the same, but it'll do. Hopefully, you will find a hunk of salt pork and cut it up and freeze the extra pieces for future meals.
The ingredients:
5-6 pounds clams in shells
2-3 ounces salt pork
1 tablespoon butter
1 teaspoon dried thyme leaves
1 medium onion, chopped
1 bay leaf
1 pound of potatoes, diced into ½" cubes
1 cup whole milk
1 cup cream
2 tablespoons green peppercorns in brine, rinsed and slightly crushed
Salt and pepper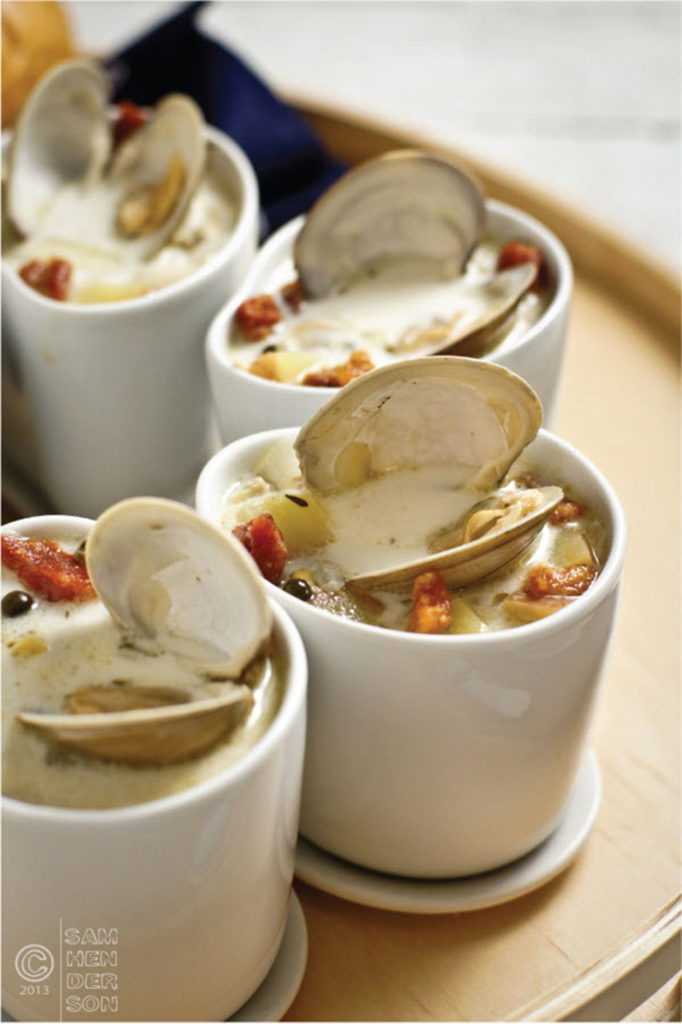 The method:
In a large pot bring 2 cups of water to a boil over high heat. Add clams and cover.
Cook for 10-12 minutes or until clams are steamed open.
Remove from heat and cool.
Remove meat from the shell, chop it into small pieces, and set aside.
Pour liquid through a mesh strainer and set aside. You will need 3 cups. Add enough water to make 3 cups.
Cut salt pork into small pieces and place in a large pot over medium heat. Cook for about 10 minutes or until fat is rendered.
Add butter, onion, bay leaf, and thyme and cook until onion is soft (about 8 min).
Add cooking liquid from clams, peppercorns, and potatoes and bring to a boil. Reduce heat to medium-low and cook until potatoes are cooked (about 15 min.). Stir occasionally.
Add clam meat, milk, and cream. Cook until warm (5-10 min).
Season with salt and pepper to taste.