Welcome to COOKIE WEEK! We are kicking off our 4th annual Cookie Week this week with the Classic Florentine. I cannot tell you how much I adore these cookies. I have sworn allegiance to the chocolate chip cookie, but this cookie might just make me (and you) rethink that. The base of the cookie is a little crispy and a little chewy. The dried fruits make it scream HOLIDAY and then… the chocolate. It has it all!
Make these cookies for your guests or as part of a baked goods gift. Your cookie recipient will be blown away!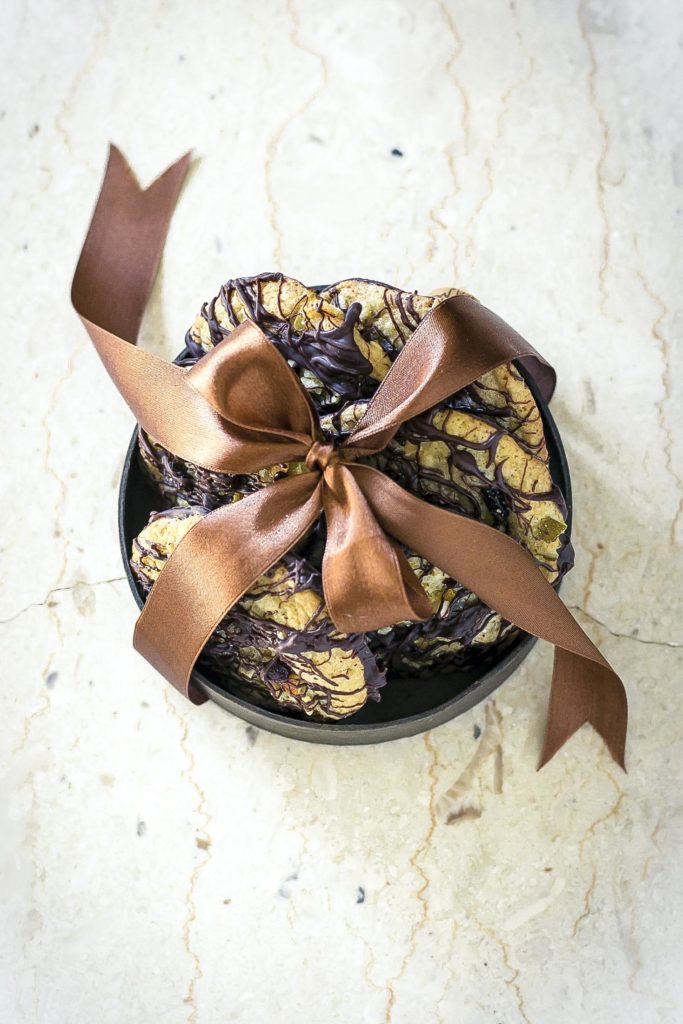 CLASSIC FLORENTINES
Before you start:
There are two schools of thought regarding florentines. Some folks like them very thin and crispy. Others like them to be a bit thicker and more hearty. Ours are somewhere in between. They are thin but just thin enough to be a bit crispy… and thick enough to offer a little chew.
These cookies will spread considerably by design. Make sure you leave plenty of space between for best results. See diagram below.
Many florentine recipes call for candied cherries. The truth is, I don't like them. For that reason, I have replaced them with dried cherries… which I LOVE.
If you can't find mixed peel at your supermarket, make some. Check out our article on making candied fruit peel for the full instructions. We used orange, lemon, and lime. Make more than you need and save them for more baking… or a delicious treat on their own or dipped in chocolate.
(makes about 20 cookies)
The ingredients:
1/2 cup (1 stick) unsalted butter, softened
1/2 cup superfine sugar / 130g
1 egg, beaten
1 1/4 cups all purpose flour / 160g
1/2 teaspoon baking soda
pinch salt
1/4 cup blanched almonds, chopped / 45g
1/4 cup dried cherries / 50g
1 cup mixed candied citrus peel / 100g
1/3 cup golden raisins / 55g
1 1/2 cups semisweet chocolate chips / 300g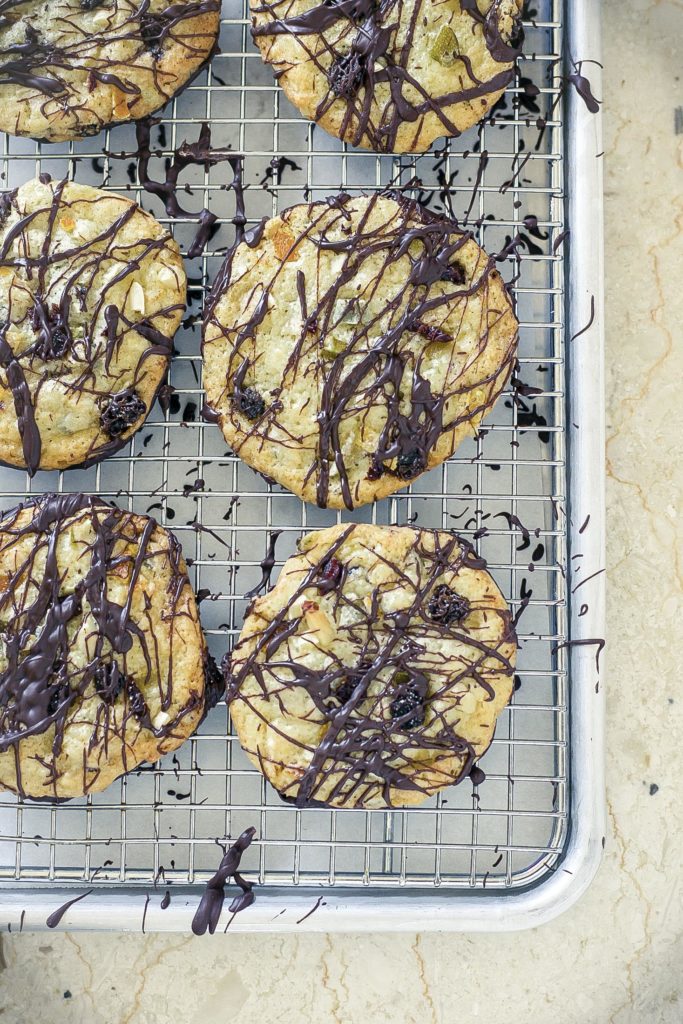 The method:
Preheat oven to 350˚F. Line 3 baking sheets with parchment paper.
Place butter and sugar in a bowl and beat until light and fluffy. Add beaten egg and mix until fully incorporated.
Sift in flour, baking soda, and salt. Mix until fully incorporated.
Stir together the almonds, cherries, citrus peel, and raisins in a separate bowl. Add about two-thirds of the mixture to the dough. Stir just until incorporated.
Use a medium cookie scoop to place dough on baking sheets (no more than 8 per sheet) with plenty of space between. *See diagram below*
Flatten the tops of the mounds slightly with the bottom of a glass dipped in sugar to prevent sticking. Sprinkle the tops with the remaining third of fruit and nut mixture.
Bake for 12-15 minutes or until the cookies are slightly browned with golden brown edges. Remove the cookies and let them cool on the baking sheet for at least 8 minutes before transferring them to a wire rack to cool completely.
Melt chocolate in a heatproof bowl inside a wide skillet filled with about an inch of water over medium-low heat.
Use an offset spatula to spread a thin layer of chocolate on the bottom of the cookies. Place the cookies back on the parchment paper and place them in the refrigerator for the chocolate to harden.
When the chocolate has hardened, move the cookies to a wire rack over a baking sheet, and reheat the chocolate. Use the tines of a fork to drizzle chocolate over the tops of the cookies. Allow chocolate to harden completely before serving.
Store in an airtight container.