Our tribute to the glorious food that is soup continues with this classic that should be in just about everyone's recipe file. Minestrone is one of those soups that gets tweaked from one home to the next. This recipe is a good basic recipe that you can manage to suit your tastes. If you don't have pancetta, use bacon. If you have some extra kale kicking around, substitute it for the spinach. The basic onion, garlic, carrot, celery, and the herbs are the real backdrop for the rest of the characters.
This soup is hearty and filling. Served with a hunk of bread and a salad, it is a full meal. Don't forget the garnish of parmesan and drizzle of olive oil at the end. That makes the dish.
savour… boun pasto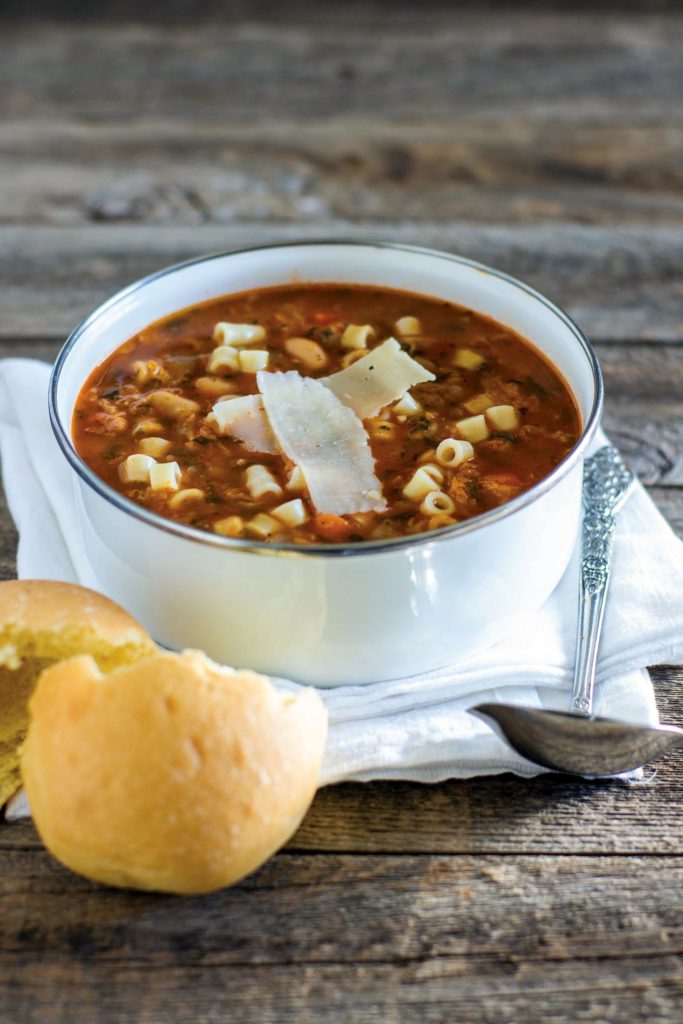 CLASSIC MINESTRONE
Before you start:
If your parmesan no longer has a rind, add a piece of the cheese about 1/4 inch thick and a few inches long.
If you don't intend to eat the soup right away, reheat it about 15 minutes before eating, adding the pasta after about 5 minutes.
The ingredients:
3 tablespoons olive oil
1 1/2 ounces pancetta, chopped
1 medium onion, chopped
2 cloves garlic, finely chopped
2 medium carrots, chopped
2 ribs of celery, minced
2 1/2 cups cabbage, chopped
1 1/2 cups fresh spinach, chopped
1 teaspoon dried rosemary
1/3 cup fresh basil, finely chopped
1/4 cup fresh parsley, finely chopped
1 14 oz. can of crushed tomatoes
1 15 oz. can of cannellini beans, rinsed
8 cups chicken stock
2 cups water
1 1/2 teaspoons salt
parmesan rind
1 cup ditalini pasta
parmesan cheese
salt and pepper to taste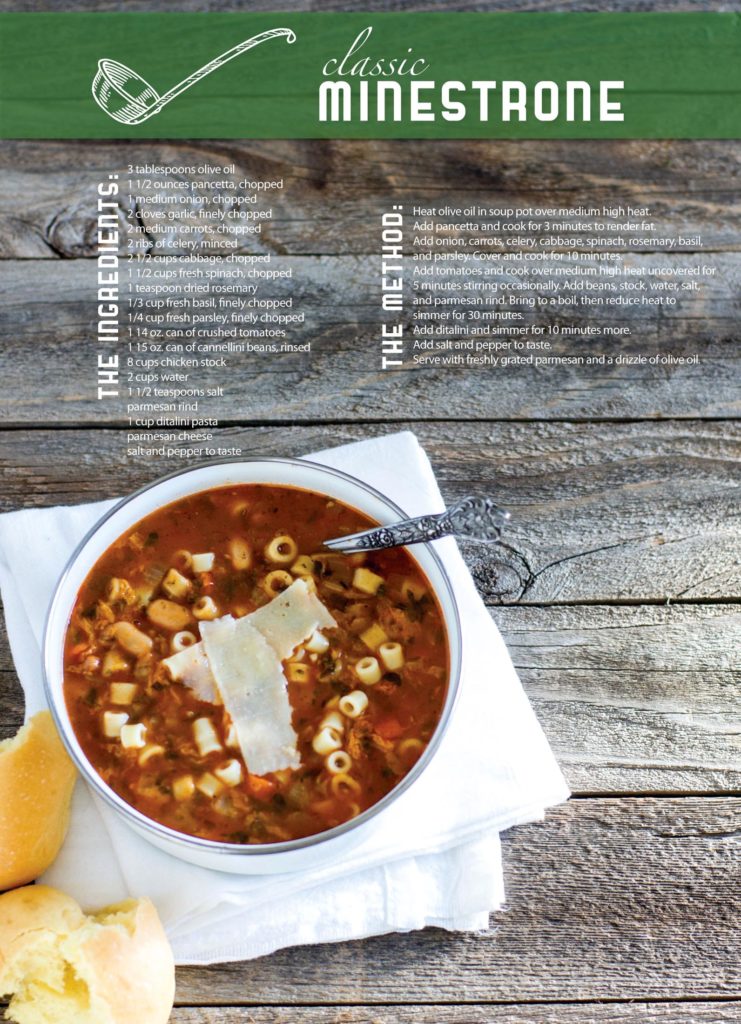 The method:
Heat olive oil in a soup pot over medium-high heat. Add pancetta and cook for 3 minutes to render fat. Add onion, carrots, celery, cabbage, spinach, rosemary, basil, and parsley. Cover and cook for 10 minutes.
Add tomatoes and cook over medium-high heat uncovered for 5 minutes stirring occasionally. Add beans, stock, water, salt, and parmesan rind. Bring to a boil, then reduce heat to simmer for 30 minutes.
Add ditalini and simmer for 10 minutes more. Add salt and pepper to taste.
Serve with freshly grated parmesan and a drizzle of olive oil.