I am a die-hard popcorn fan. It is my go-to snack. I eat it routinely, although I am always on the lookout for a snack alternative. My criteria is usually salty and crunchy. I also would like it to have at least an element of healthiness, even if only to support my case of rationalization.
These roasted chickpeas are a delicious choice. The garbanzo beans are loaded with nutrition (scientists are just starting to learn more about their value), although it is possible that some of the goodness is cooked out with roasting. The roasting itself is done with olive oil, which has its own list of nutritional values. Overall, it is a healthier alternative than many snack foods, and you have control over the process and flavor.
The seasonings I've used here are fairly straight forward, but the sky is the limit. Introduce some of your favorite flavors for variety. I think peppercorn and parmesan could be really good. Best of all, a pound of this snack cost less than $2 to make.
savour... crunch and chew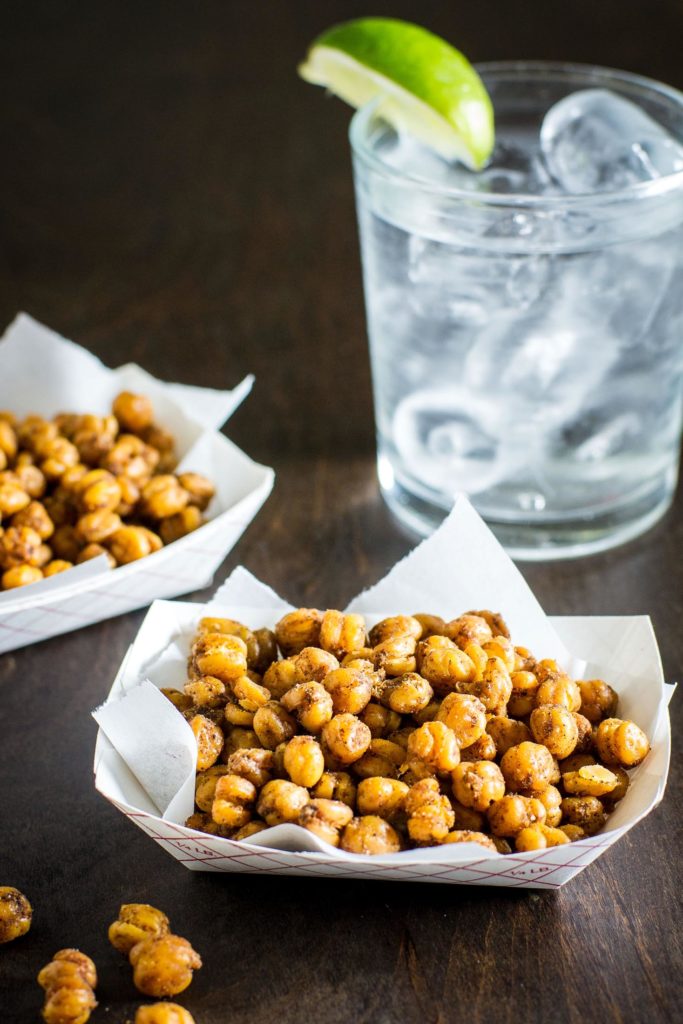 ROASTED CHICKPEAS
Before you start:
You could substitute canned beans for the dried beans, but be sure to rinse them fully before beginning. Adjust the spices as necessary and use 1 tablespoon olive oil for each cup of cooked beans.
For skins stuck to the beans, squeeze the bean between your index finger, middle finger, and thumb. The bean should shoot out of your fingers leaving the skin behind.
The roasted beans should stay crunchy for several days if kept in an airtight container or zipper storage bag.
The ingredients:
1 lb. dried chickpeas (garbanzo beans)
4 tablespoons olive oil
1 1/2 teaspoons cumin
1 1/2 teaspoons chili powder
3/4 teaspoon cayenne pepper
1 teaspoon coarse salt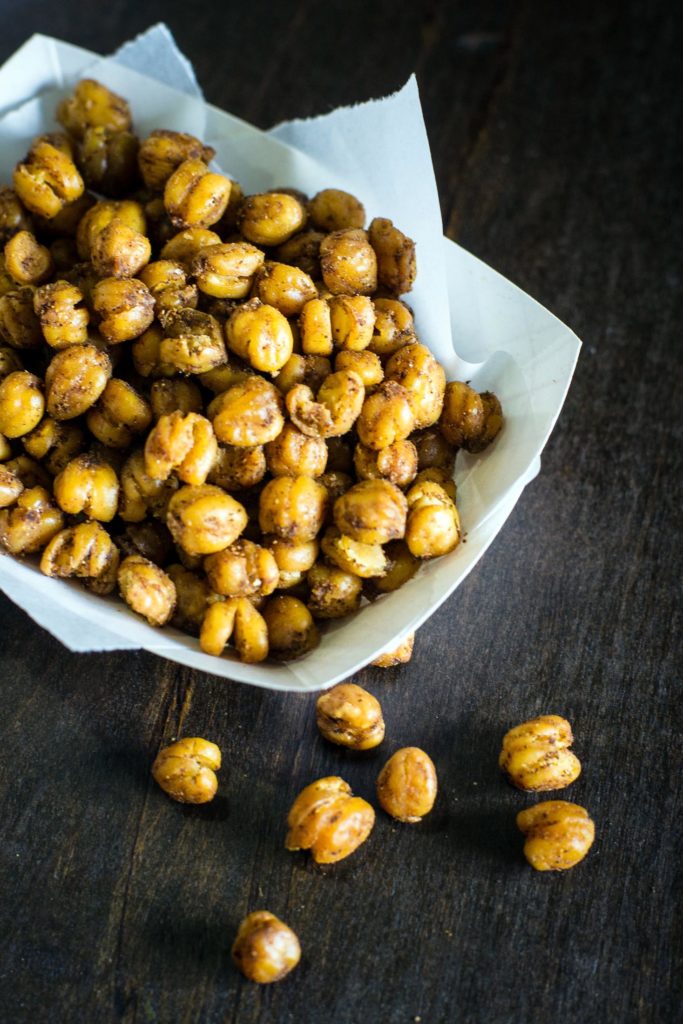 The method:
Pick out any debris from the dry beans, rinse them, and add them to a large pot with 8 cups water. Bring to a rolling boil and continue boiling for 2 minutes. Remove from heat, cover, and let soak for 1 hour.
Drain beans, rinse and return to pot with 6 cups of water. Bring to a boil, then reduce heat to medium-low. Continue cooking for 1 1/2 – 2 hours or until beans are tender.
Drain beans and pour out on a dry, lint-free towel. After beans cool, remove any outer skins.
Preheat oven to 425˚F.
When beans are dry, add them to a large bowl with the remaining ingredients. Toss to fully coat all of the beans.
Place the beans on a baking sheet and spread out into a single layer. Cook for 45-50 minutes, stirring every 10 minutes. Remove from the oven and allow to cool completely before serving.
Store beans in an airtight container.