Looking for a sure-fire win for Valentine's Day (or any day) ? These raspberry lime madeleines are a sure bet. We took everything that is wonderful about madeleines (crispy edges, cakey centers) and paired it with the fantastic flavor combination of raspberry and lime. They are just as unique and delicious as the orange anise madeleines we made before.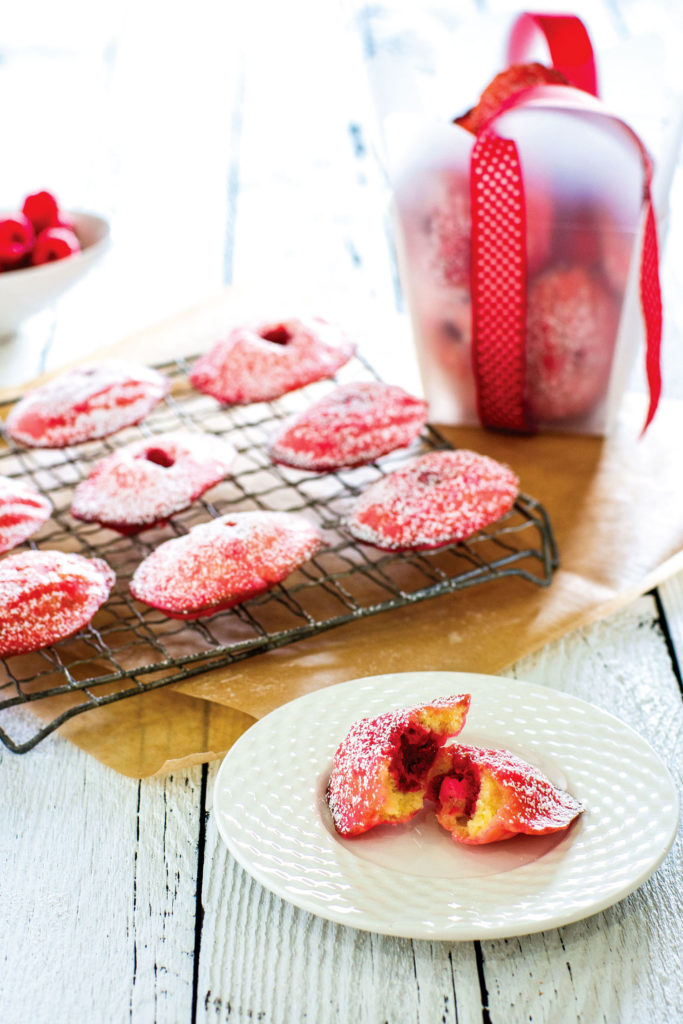 You will need about 1¼ cups of fresh raspberries for this recipe. 2 small clamshell containers should do the trick.

The resting time for the batter is essential. It should rest at a minimum of an hour or as much as overnight before baking.

For best results, a cold pan and batter are a must. After the first batch, rinse the pan in cool water removing any stuck pieces. Dry the pan and oil it and return it to the freezer while you glaze the first batch.

For consistency, I find it best to use a medium cookie scoop, leveled off. It provides just the right amount of batter to spread evenly and not overflow.

You will find that these are best eaten the same day, but will last a couple of days in an airtight container.
Raspberry Lime Madeleines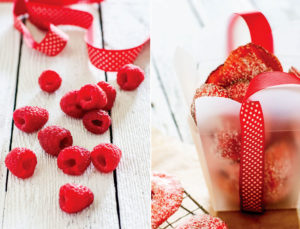 Perfect for Valentine's Day… or any day.
Prep Time

30 min

Cook Time

10 min

Total Time

40 min

Yield

2 dozen
The ingredients:
FOR THE MADELEINES:
1½ cups cake flour / 180g
½ teaspoon baking powder
¼ teaspoon salt
¾ cup (1½ sticks) unsalted butter at room temperature, in small pieces
3 eggs + 1 egg yolk
¾ cup granulated sugar / 165g
1 teaspoon lime zest (about one lime)
24 raspberries
FOR THE GLAZE:
2½ cups confectioners' sugar / 310g
3 tablespoons fresh lime juice (from 1 or 2 limes)
6 tablespoons raspberry puree (about 40-50 raspberries smashed and pressed through a fine-mesh strainer)
additional confectioners' sugar for dusting (optional)
The Method:
1
Lightly oil madeleine pan and place it in the freezer.
2
Sift together flour, baking powder, and salt.  Set aside.
3
Using the back of a rubber spatula, smooth and mash down butter in a bowl until it is smooth and creamy (mayonnaise consistency).
4
In a mixing bowl, whisk eggs and yolk, granulated sugar, and zest on high speed until thick and light yellow (about 5 minutes). Sift flour mixture over the egg mixture in thirds.  Stop after each addition and gently fold in flour just until moistened.
5
Place a dollop of egg/flour mixture into the butter and fold together. Pour all of the butter into egg/flour mixture and fold together gently. Cover with plastic wrap and place in the refrigerator for at least 1 hour.
Preheat oven to 425˚F.
6
Drop enough dough into each Madeleine to fill ¾ full.  Do not spread it out. Press a raspberry (hole side up) into the batter in the deepest part of the madeleine well. Bake for 8-10 minutes or until lightly golden brown on top with browned edges.
7
While they bake, make the glaze by adding all of the ingredients together and mixing until smooth.
8
Remove from the oven and immediately loosen from pan with the tip of a knife. Carefully tip out of the pan and cool slightly on wire baking rack. As soon as they are cool enough to handle, dredge them through the glaze. Place them on the wire rack with the shell side up to cool completely. Dust with confectioners' sugar, if desired.