School is back in session. You're busy. The kids are busy. You need something simple to throw together for dinner. Got it. This month I am dedicating the majority of my food posts to weeknight meals. Those dishes that are simple to make, don't require loads of 'hands-on', and still taste spectacular.
I'll do my best to also manage cooking times to allow dinner to be ready fairly quickly (45 min or less) with some 'hands-off' time in between to allow you to change clothes or check homework or whatever your evening routine involves. I know what a difference 10 minutes to yourself after a long day of work can make.
Our first dish is baked farfalle with summer squash. It couldn't be easier to make. It requires a bit of chopping, but the rest is mostly stir and bake. There is no meat in this dish (I often skip meat throughout the week), but it does not lack in flavor. If meat is a must, it would go nicely with a grilled or broiled chicken breast. Otherwise, enjoy the Italian flavors of this warm, cheesy, fresh-tasting dish.
savour... weeknight wonderful
BAKED FARFALLE WITH SUMMER SQUASH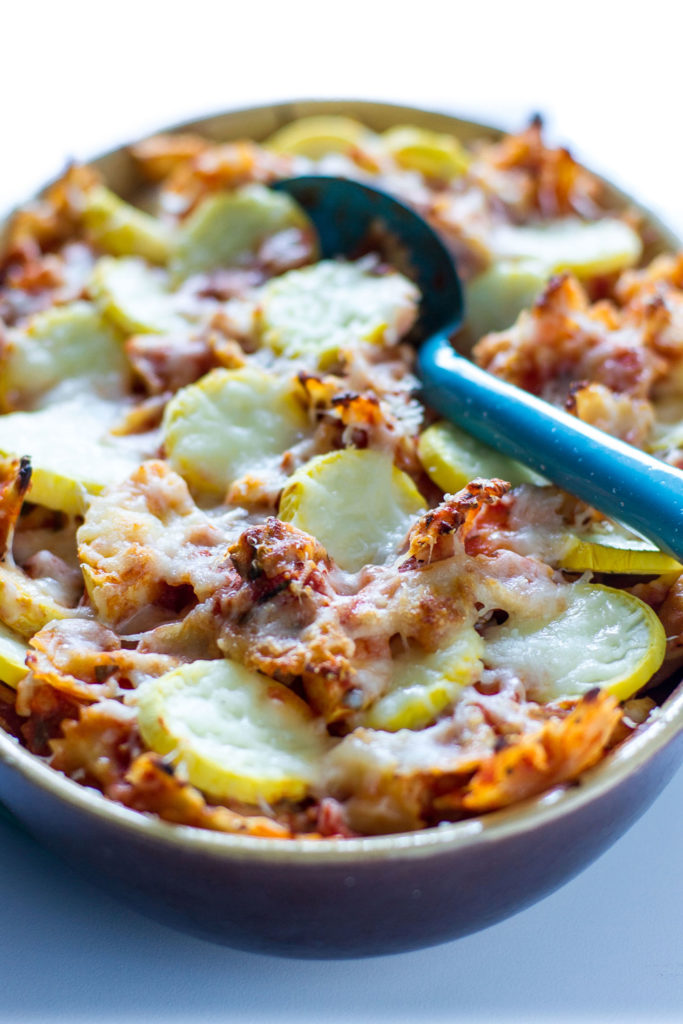 Before you start:
If you don't have fresh basil… how can I put this? Get some. Grow some. Have some. And don't substitute dried basil, at least not in this recipe. This recipe, while baked, still screams freshness. The basil should shout, not whisper.
Be sure to UNDERcook the pasta. It is going to do some more cooking in the oven. If cooked fully before it will be overcooked when you serve it.
I have used fresh thyme here, but the thyme could easily be switched out for rosemary with equally good results.
Because the cheeses will add saltiness to the dish, it is important to taste for salt after you have combined all of the ingredients. Add as necessary.
The ingredients:
1 lb farfalle
3 tablespoons olive oil + enough to coat baking dish
3 cloves garlic, minced
pinch of red pepper flakes (or two)
1/2 a medium onion, diced
15 oz can of diced tomatoes
28 oz can of crushed tomatoes
1 cup water
1 cup chopped fresh basil
1 tablespoon fresh thyme leaves
3-3 1/2 cups summer squash, cubed (+ some slices for the top, if desired)
2 cups fontina or mild provolone, shredded
1 cup parmesan, grated
salt to taste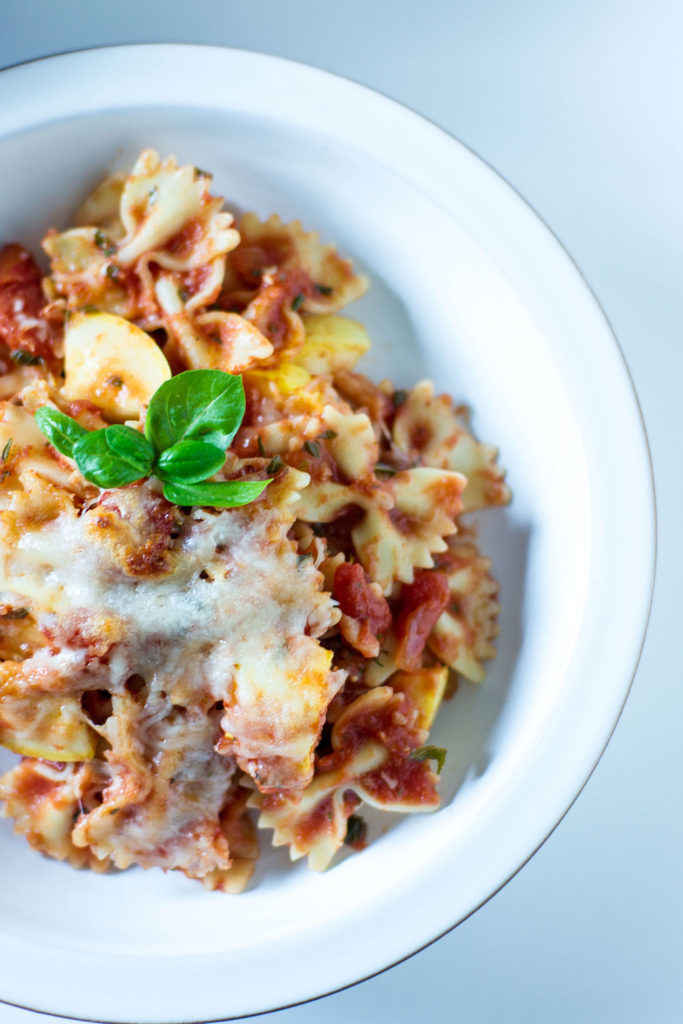 The method:
Put on the pasta water to boil (lidded to help speed up the process). Turn the oven on and preheat to 450˚. Open the cans of tomatoes and set aside. Get out a large skillet, 3-4 quart baking dish, colander, large bowl, rubber spatula.
While pasta water heats mince garlic, dice onion, and cube squash. Remove leaves from basil stems and chop. Remove thyme leaves.
When water is boiling, salt generously. Add pasta and set a timer for 2-3 minutes less than cooking directions suggest (about 9 minutes).
Put a skillet on the stove over medium-high heat. When the pan is heated, add olive oil and heat slightly. Add onion and turn heat to medium. Cook until softened, stirring occasionally (about 5 minutes). Add garlic and crushed pepper flakes. Cook for 1 more minute.
While garlic cooks, remove pasta and drain. Add both cans of tomatoes to the skillet. Use 1 cup of water to rinse out the cans and add to the skillet. Stir in the basil and thyme leaves. Continue heating over medium heat, stirring occasionally, for 15 minutes.
Go change, check the mail, whatever.
Place the cubed squash in a large bowl with 1/2 of the cheese. Pour the sauce over the squash and stir. Add the pasta and stir. Taste and salt as necessary.
Place enough olive oil in your baking dish to coat (about 1/2 teaspoon) and use your hands to completely coat the inside of the dish. Pour the mixture into the baking dish. Top with squash slices (optional) and sprinkle with remaining cheese. Bake for 15 minutes.
Tidy up your mess, set the table, walk the dog, whatever.
Remove baking dish from the oven and let rest for 15 minutes before serving.
Get someone else to do the dishes.