Shake off the weeknight dinner doldrums with something a little out of the ordinary. This couscous with pine nuts and currants is ridiculously easy to make… in practically no time. It is flavorful and versatile enough to serve as a side with many types of dishes. Of course, it pairs perfectly with a wide variety of Mediterranean recipes.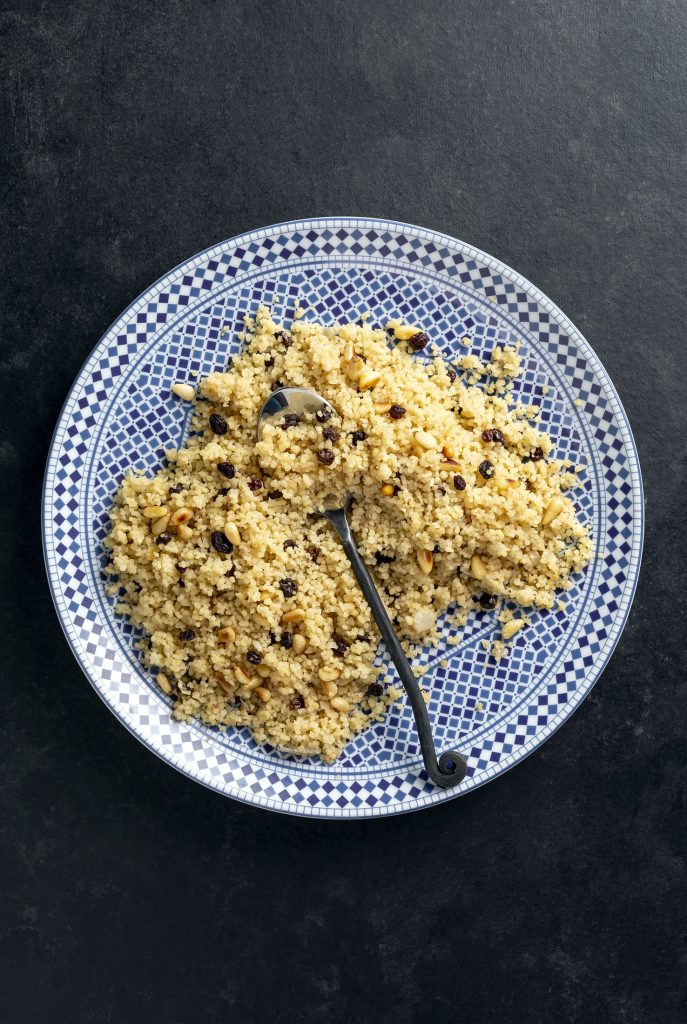 Toast the pine nuts in advance by placing them in a dry skillet over medium heat. Cook them, stirring frequently, for about 5 minutes or until they become lightly toasted and fragrant.
Couscous with Pine Nuts and Currants
A quick, tasty side for your Mediterranean dishes.
Prep Time

5 min

Cook Time

15 min

Total Time

20 min

Yield

6 servings
The ingredients:
4 tablespoons unsalted butter
¾ cup shallots, minced
3 cups chicken stock
½ teaspoon salt
½ teaspoon black pepper
1½ cups dry couscous
½ cup pine nuts, toasted
¼ cup currants
The Method:
1
Melt butter in a large skillet over medium heat. Add shallots and cook for 3 minutes or until softened and lightly browned.
2
Add chicken stock, salt, and pepper. Increase heat to high and bring liquid to a boil. Remove the skillet from heat and add couscous. Stir just enough to fully incorporate the couscous. Cover the pan and let it rest for 10 minutes.
3
Add pine nuts and currants and toss lightly with a fork.