Add a little Mediterranean flair to your weeknight lineup. These lamb kefta (or kofta… or kafta, depending on who you ask) are easy to make, full of flavor, and are presented in a way that makes a regular weeknight seem a like something special. This is a complete meal with fresh herbs, vegetables, and wholesome chickpeas.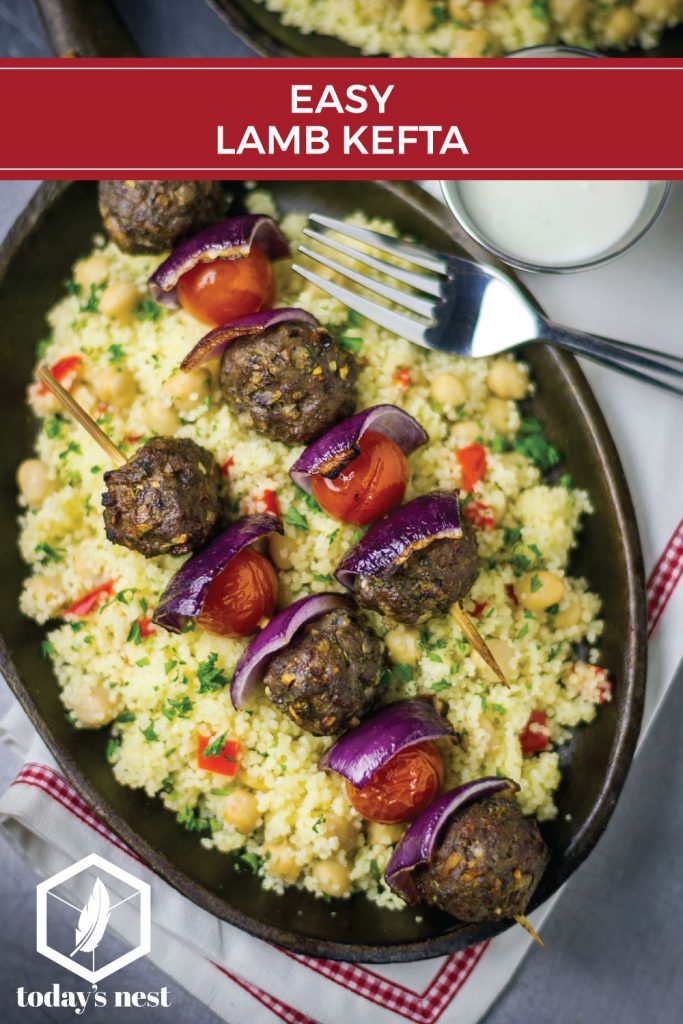 We strongly recommend that you serve this dish with
tzatziki sauce
. It is fresh, cool, and adds a different and traditional dimension.
If you use wooden skewers, soak them in water for at least 15 minutes before assembling.
Easy Lamb Kefta
All the best flavors of the Mediterranean come together in one simple, delicious dish.
Prep Time

20 min

Cook Time

30 min

Total Time

50 min

Yield

6 servings

Energy

242 cal
Cuisine

Course

Cooking Method
The ingredients:
1 red onion
3 cloves garlic
1 pound ground lamb
2 tablespoons finely chopped fresh mint
salt and pepper
10 oz couscous
2 cups water
½ cup diced red bell pepper
1½ cups cooked chickpeas
2 tablespoons chopped fresh parsley
juice of 1 lemon
3 tablespoons olive oil
12 cherry tomatoes
The Method:
1
From the outer layers of the red onion, cut 24 equal squares and set aside for assembling the skewers. Finely chop the remaining onion and garlic.
2
Add the chopped onion, garlic, ground lamb, chopped mint, salt, and pepper to a bowl. Mix the ingredients together by hand just until everything is fully incorporated. Divide the mixture into 18 equal portions and roll into firm balls. Place the balls on a tray and refrigerate for at least 30 minutes before cooking.
3
Place the water and red bell pepper in a medium saucepan and bring to a boil. Remove the pan from the heat, stir in the couscous, cover, and let rest for 10 minutes. Add 1½ tablespoons of olive oil, chickpeas, parsley, lemon juice, and salt and pepper to taste. Toss the mixture with a fork to fully incorporate all of the ingredients. Cover and set aside until ready to serve.
4
Coat the onion squares and tomatoes with the remaining 1½ tablespoons of olive oil. Assemble the skewers in the following order: meatball, onion, tomato, onion, meatball, onion, tomato, onion, meatball. Grill the skewers for 4-5 minutes on each side, or until each side of the meat is browned and fully cooked. If using a broiler, place the meat 4-6 inches from the heat source and turn every 4-5 minutes or until each side of the meat is browned and fully cooked.
Amount per serving

Calories

242

% Daily Value*

Total Fat

11.9 g

15.26%

Total Carbohydrate

15.3 g

5.56%

Protein

18.5 g

37%

* The % Daily Value (DV) tells you how much a nutrient in a serving of food contributes to a daily diet. 2,000 calories a day is used for general nutrition advice.
NOTE: These nutritional values have NOT been verified by any laboratory. They are estimates based on publicly available information to help you make informed food choices.
calorieking.com