The struggle to find something new and interesting to serve for dinner is real. Chicken is a staple for so many of us, but what to do with it? A tagine is an excellent choice, especially for weeknight cooking. Get it started when you get home and let it cook away while you handle the mail, help with homework, or just relax a bit. In no time you'll be treated to a delicious and uncommon meal thanks to the circulating steam within the tagine. The tagine is not essential, but it does cook this type of dish well. Plus, it makes an excellent serving dish.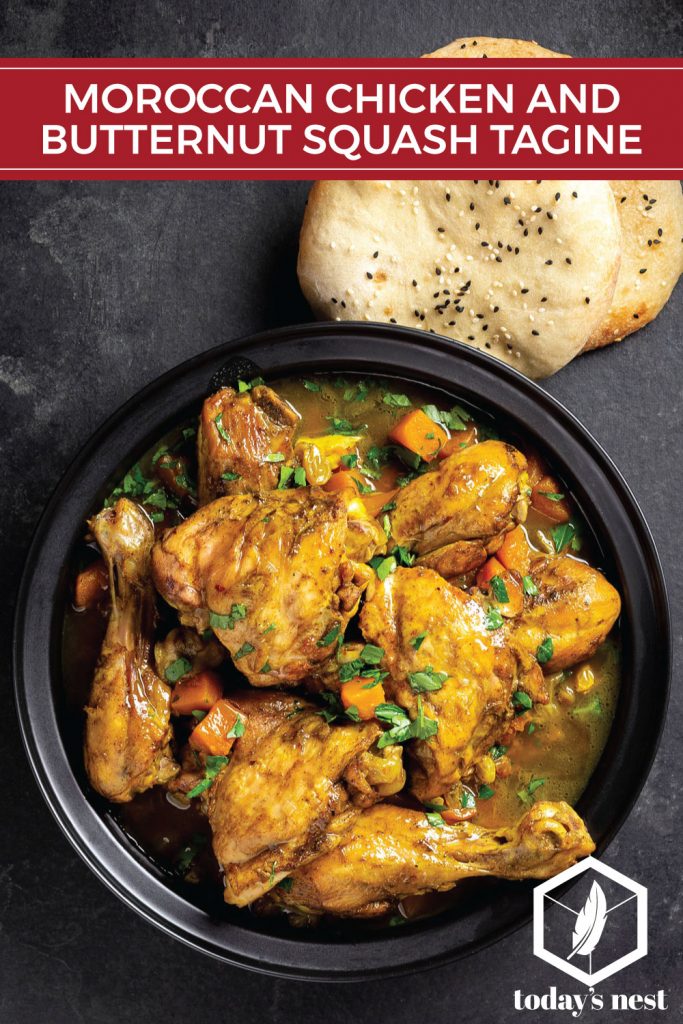 The diffuser is essential to ensure that you do not damage your tagine. Direct heat can cause your tagine to crack. Further, if you have an induction stove, the vessels will not work.
Take your meal a little further by serving it with flat bread, such as pita, and some couscous.
Moroccan Chicken and Butternut Squash Tagine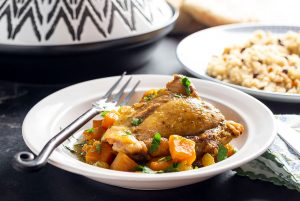 Slow-cooked goodness. Make this recipe for tender chicken and squash with a Mediterranean flair.
Prep Time

20 min

Cook Time

1 hr 25 min

Total Time

1 hr 45 min

Yield

6 servings

Energy

387 cal
Cuisine

Course

Cooking Method
The ingredients:
1 teaspoon salt
½ teaspoon crushed red pepper
½ teaspoon ground cardamom
½ teaspoon ground cloves
½ teaspoon turmeric
½ teaspoon ground cinnamon
½ teaspoon ground ginger
½ teaspoon ground coriander
¼ teaspoon ground black pepper
2 pounds chicken pieces, skinned
3 teaspoons olive oil
2 medium onions, cut into wedges
6 large garlic cloves, minced
5 saffron threads
1 butternut squash (2-2½ pounds), peeled, seeded and cut into 1-inch chunks
1 cup chicken stock
1 cup golden raisins
¼ cup fresh parsley, chopped
The Method:
1
Place salt, red pepper, cardamom, cloves, turmeric, cinnamon, ginger, coriander, and pepper in a small bowl and stir to fully combine. Rub chicken pieces with half of the spice mixture.
2
Place the bottom of the tagine on a heat diffuser on the stove over medium-high heat. When the tagine base is hot add the 2 teaspoons of oil to heat. Add the chicken and cook 3-4 minutes on each side until browned. Do this in two batches if necessary. Set chicken aside. Reduce heat to medium. Add the remaining oil, onions, garlic, and saffron to the tagine base. Cook for 2 minutes, stirring occasionally.
3
Place the squash in the tagine base and cover with remaining spice mixture. Toss lightly.  Return chicken to the tagine base and add
chicken stock
. Bring liquid to a boil, then reduce heat to medium-low and cover with tagine lid.
4
Simmer for 1 hour, then add
raisins
. Cook for an additional 20-25 minutes or until chicken breasts are fully cooked (165˚F) and squash is tender. 
5
Garnish with fresh parsley. Serve from tagine or on a platter, reserving liquid for serving.
NOTE: If you do not have a tagine, this recipe can be made in a Dutch oven with a lid.
Amount per serving

Calories

387

% Daily Value*

Total Fat

13.9 g

17.82%

Total Carbohydrate

35.4 g

12.87%

Protein

32.9 g

65.8%

* The % Daily Value (DV) tells you how much a nutrient in a serving of food contributes to a daily diet. 2,000 calories a day is used for general nutrition advice.
NOTE: These nutritional values have NOT been verified by any laboratory. They are estimates based on publicly available information to help you make informed food choices.