You are going to LOVE roasted asparagus farro risotto. Creamy, warm, and mildly cheesy… just the mention of risotto conjures up images of melt in your mouth comfort. We are taking risotto up a notch with freshly-roasted, in-season asparagus and prosciutto. To make it a little healthier, we have swapped out rice for the ancient Italian whole grain, farro.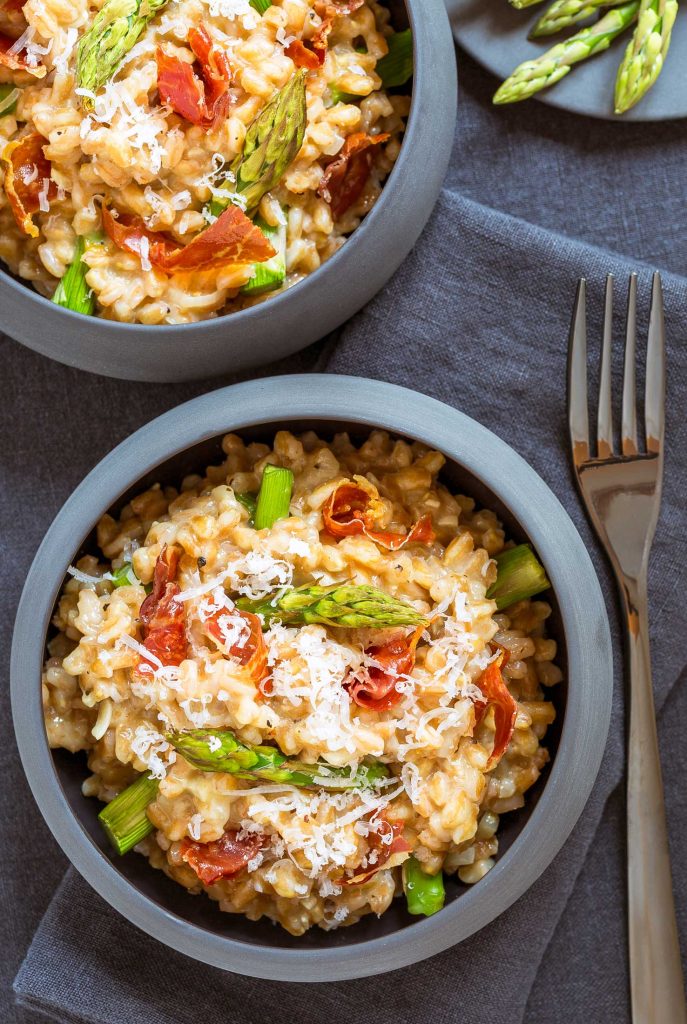 Risotto is hugely rewarding, but it requires attention. For this reason, mise en place ( or prep) is recommended. Have all of the ingredients ready and near the stove before beginning to make your risotto.
This ancient Italian wheat grain is a whole food that is packed with fiber, protein, and vitamins. As a healthy alternative to other refined grains, farro looks like wheat berries when dry and like barley when cooked. It can be used for soups, salads, and granola or muesli.
For the presentation of this Roasted Asparagus Farro Risotto, set aside the tops of the asparagus and poke them into the top of the risotto after plating. Finish it with a few of the curliest pieces of prosciutto and a bit of grated parmesan.
Roasted Asparagus Farro Risotto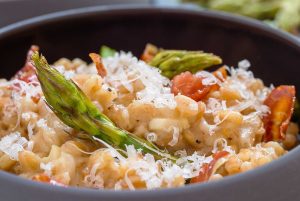 Risotto gets an upgrade… if that's even possible.
Prep Time

20 min

Cook Time

30 min

Total Time

50 min

Yield

6 servings

Energy

467 cal
The ingredients:
10 thin slices prosciutto
1½ pounds fresh asparagus, cut into 1-inch pieces
6 cups chicken stock
1 shallot, diced
3 gloves garlic, minced
1 tablespoon olive oil
2 cups uncooked farro
½ cup dry white wine
½ teaspoon cracked black pepper
salt to taste
1 cup grated Parmesan cheese
The Method:
1
Preheat oven to 400˚F. Place prosciutto slices on a baking sheet and bake for 10-12 minutes, or until crisp. Allow prosciutto to cool before crumbling it into small pieces.
2
Place asparagus on another large, ungreased baking sheet in a single layer. Bake at 400˚F for 20-25 minutes while you are preparing the risotto. Set prosciutto and asparagus aside until the end of the preparation.
3
Add stock to a large saucepan and bring it to a boil. Reduce the heat to just below simmer to keep the stock warm throughout the cooking process.
4
Heat olive oil in a large skillet over medium-high heat. Add shallot and garlic and cook until tender (about 3 min.). Add the farro and cook for 3 minutes, stirring frequently. Reduce heat to medium and add wine, salt, and pepper. Cook, stirring continuously, until all of the wine is absorbed.
5
Add the stock, about ½ cup at a time, and stir while cooking until the liquid is absorbed. Repeat until the risotto is creamy and the farro is al dente (about 25 min.). Remove from the heat and stir in the prosciutto, asparagus, and Parmesan. Check the risotto for seasoning and add salt to taste. Serve immediately with a bit of parmesan for garnish.
Amount per serving

Calories

467

% Daily Value*

Total Fat

15.4 g

19.74%

Total Carbohydrate

56.6 g

20.58%

Protein

27.8 g

55.6%

* The % Daily Value (DV) tells you how much a nutrient in a serving of food contributes to a daily diet. 2,000 calories a day is used for general nutrition advice.
NOTE: These nutritional values have NOT been verified by any laboratory. They are estimates based on publicly available information to help you make informed food choices.
calorieking.com