Think chocolate chip cookies meets rum soaked fruit cake. These spiced rum chocolate chunk cookies are a taste of the holidays in every bite. They are chewy, crispy, chocolatey goodness… and the rum flavor is an added bonus. While they are delicious 'as is', if you are a nut lover you might consider adding some chopped walnuts for added texture.
Use light or dark rum, but not spiced rum (despite the name of the cookies). The ground spices will take care of the flavor factor.
For this recipe, we chopped quality dark chocolate to create the chunks. However, if you prefer, you can use pre-formed chocolate chunks instead (about 2 cups).
If your raisins don't seem to be soaking up the rum, zap them in the microwave for about 30 seconds.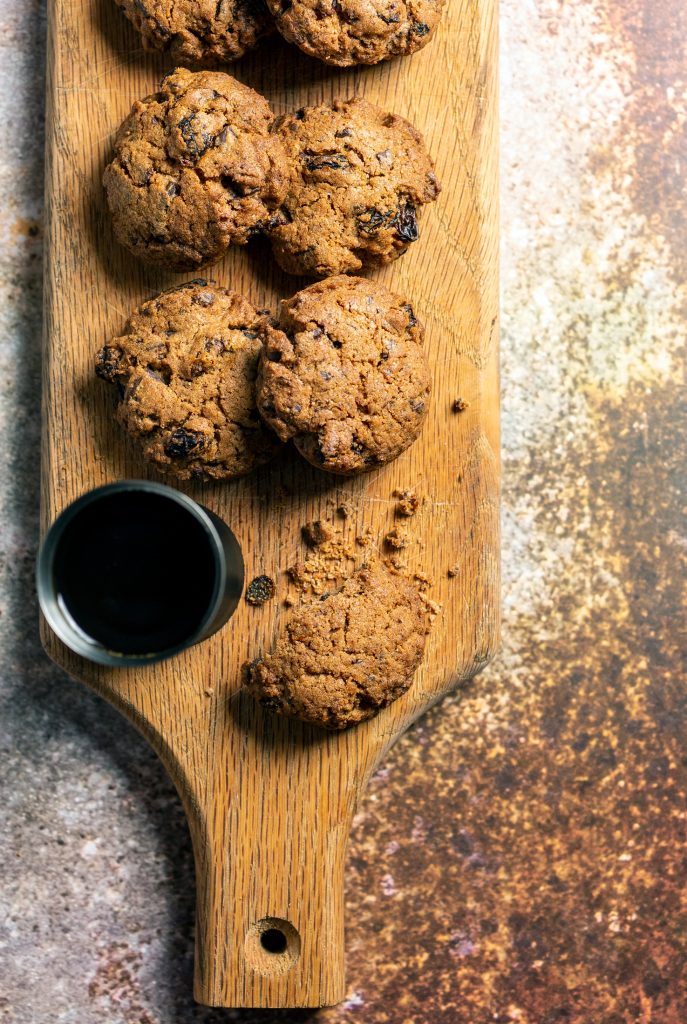 Spiced Rum Chocolate Chunk Cookies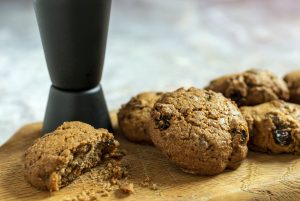 Chewy, crispy, chocolate cookies… plus rum!
Prep Time

20 min

Cook Time

20 min

Total Time

40 min

Yield

3 dozen

Serving Size

1 cookie

Energy

196 cal
Cuisine

Course

Cooking Method
The ingredients:
1½ cups raisins
⅓ cup rum, light or dark
3⅓ cups all-purpose flour
1 tablespoon cocoa powder
1 teaspoon baking powder
½ teaspoon baking soda
1 teaspoon ground ginger
1 teaspoon ground cinnamon
1 teaspoon ground nutmeg
1 teaspoon ground allspice
a pinch of salt
1 cup unsalted butter, at room temperature
1¼ cups sugar
1 teaspoon vanilla extract
zest of 1 orange
zest of 1 lemon
1 egg
10 ounces of dark chocolate, chopped into chunks (about 2 cups)
The Method:
1
Place raisins and rum in a shallow bowl. Allow raisins to soak up rum, at least 10-15 minutes.
2
Sift together the flour, cocoa powder, baking powder, baking soda, ginger, cinnamon, nutmeg, allspice, and salt into a medium bowl. Set aside.
3
Add butter and sugar to a mixing bowl. Beat on medium-high speed or until light and creamy. Add vanilla, zests, and egg. Beat on medium speed until well incorporated.
4
Reduce mixer speed to low. Add raisins (and any remaining rum) and chocolate and mix just until incorporated.
5
Make balls of dough of 1½ tablespoons (#40 cookie scoop). Place the dough balls on parchment lined sheets and refrigerate for at least 30 minutes. Pre-heat oven to 375˚F.
6
Bake the cookies for 16-18 minutes or until they become lightly browned and firm around the edges. Remove from the oven and allow the cookies to cool at least 5 minutes before transferring them to a wire rack to cool completely.
Serving Size

1 cookie

Amount per serving

Calories

196

% Daily Value*

Total Fat

8.8 g

11.28%

Total Carbohydrate

26.3 g

9.56%

Protein

2.5 g

5%

* The % Daily Value (DV) tells you how much a nutrient in a serving of food contributes to a daily diet. 2,000 calories a day is used for general nutrition advice.
NOTE: These nutritional values have NOT been verified by any laboratory. They are estimates based on publicly available information to help you make informed food choices.
calorieking.com